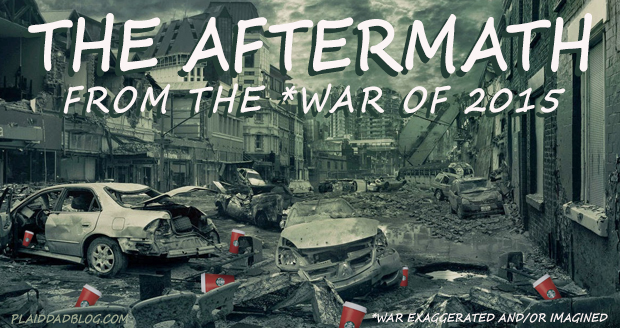 Hey, remember the Christmas Starbucks Cup War of 2015?
Dude, that was just a few days ago.  And I'm trying to forget.
Remember how social media exploded with countless impassioned pleas to force Starbucks to put Christmas stuff back on their cups?
Bro, with the exception of one "internet pastor" and a few of his Facebook friends, that's the opposite of what happened.
Wasn't it awesome how many Christians took to the internet to defend Christmas?
Man, they took to the internet to defend why they didn't care about the red cups and how Christmas was way more than a stupid cup.
But Starbucks is waging war on Christmas!!!
Seriously?  Leave me alone and let me drink my peppermint mocha.
Last week's Starbucks red cup ridiculousness has reminded me of something I must teach my kids:  Not everything is a battle to be fought.  Not everything is worth falling on your sword for.  Not everything is a hill to die on.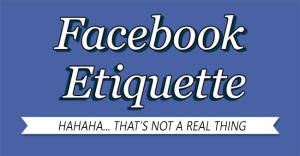 Social media (and Facebook in particular) have destroyed any remaining manners we might have had.  Less than ten years ago, we tended to keep most opinions to ourselves.  The only ones we'd share them with were the contacts in our cell phones or friends we saw in person.  We'd glance at the newspaper (remember those?) and scan the reader's opinion columns.  We'd chuckle over the amount of crazy it required to write those off-the-wall rantings.
Now we see them every five seconds.  We've typed a few bunch ourselves.
Our kids are now growing up in a culture that we've built for them; a culture where opinions and feelings have overtaken humility and graciousness, where the "right" to never be offended and to always feel safe is warping an entire generation's view of reality.  As a dad, this saddens and angers me.  I helped build this culture.  Now I must help my children both engage it and change it.  And it must start with me.
So what can we do to help our children discern between what issues are worth fighting for and which ones are not?
First, filter it.  Run your desire to get your opinion out there through this filter:  will this issue matter in six months?  If not, it probably isn't worth raging about.  Yeah, I know–we can justify anything.  But let's be honest: will the red cup thing matter on December 26?  No (and it didn't matter five seconds after it came out).  The Syrian refugee crisis?  Yeah, that's going to matter for a long time.
Second, say it with grace.  Remember what grandma said:  "If you can't say anything nice, post it on Facebook."  OK, grandma didn't say that.  But that's what we do.  We fire up our keyboard flamethrower and launch a nuke onto Facebook.  We need to cool our jets.  Take time to word your posts carefully instead of letting your emotions flow instantly through your thumbs.  The old saying is true:  you draw more flies with honey than vinegar.  Don't bombard a thread with multiple replies at once or with a post that makes 'War and Peace' look like a short read.  Say it with grace, keep it simple, and leave it at that.  If need be, just let it go.  We don't have to have the last word.  If it's getting intense on a thread, just back away and leave it alone.
#HashtagActivism is easy. Doing something is hard.

Third,
do something.
  Hashtag activism is easy.  Feeling bad (and then feeling good that you felt bad) about a tough situation is easy.  Doing something is hard.  Again, take the Syrian refugee situation as an example.  A lot of people are posting things like, "We have homeless veterans.  We need to help them first."  Fine.  A
re you helping homeless veterans?  Are you personally taking time out of your schedule to help homeless veterans find food, shelter, medical care, and local assistance programs to get the help they need?
No?  Then don't post something about an ambiguous "We" doing something unless you're willing to personally help shoulder the responsibility.  If you post an opinion calling for action, then act.  And have your kids join with you.  There's nothing cooler than having your kids serve along with you.
As we draw nearer to the holidays, where we sing about peace on earth, let's actually live that out.  Digitally, let's keep the rhetoric to a minimum and show our kids how to act like an adult online.  When we can manage to remove our phones from our hands (some of us may require surgery), let's do something tangible to bring peace to those who don't have it–and let's bring our kids along to help.  Actions speak louder than words anyway.
AARON SAUFLEY
Aaron Saufley, author of 'The Jumbo Shrimp Gospel' and 'Deep Roots', is a husband and dad who happens to moonlight as a hospice chaplain and preacher. He thinks Netflix is the greatest human invention next to pizza. He loves hanging out with his family, and when he has the time he also enjoys writing, a good cigar, craft root beer, smoking a mean rack of baby backs, movies, and trying not to die while running. Follow Aaron on Twitter.
---
Comments
comments