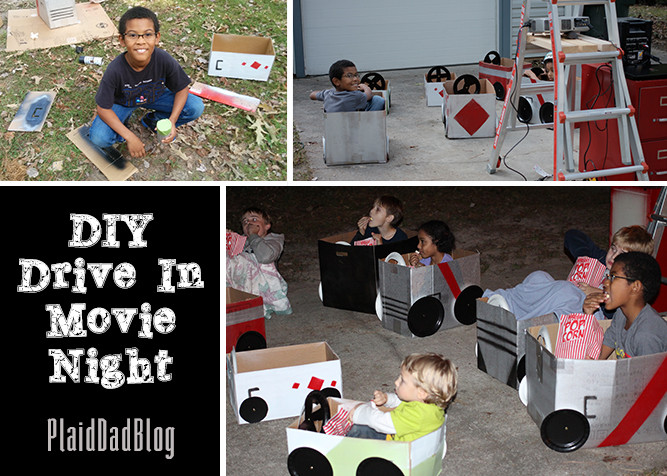 One of the things I missed out on was drive in movies. Each time I've had a chance to visit one as an adult, it's either just closed down, or I've been told, "you don't want to go there – unless you want to leave in an ambulance." Yeah. I visit the high-end vacation destinations of our nation, obviously.
So, it was this need to visit the quickly disappearing piece of Americana, that drove me (get it? get it? hahaha I slay me) to create my own drive in movie experience. Since it wouldn't be as much fun with out our monsters, we decided to all chip in, get our hands dirty, and make it a memory for all.
Step 1: Cars
What's a drive in without the automobiles? Sure, we could just sit in chairs, or maybe flip the seats down in the back of Mom's mini-van, but to experience a drive in movie, you need wheels. So, we searched high and low, asking everyone we knew if they'd recently purchased even a tooth brush from Amazon. As we all know a tooth brush requires a minimum of a 5ftx3t box with enough bubble wrap to create a bullet proof vest (*citation needed).
This is the perfect chance to teach your kids how to use spray paint. If they mess up, it doesn't matter. You can always re-spray or just leave as original art. It's also outside, so overspray isn't an issue. Just make sure they have dirty clothes and shoes on. We also used a fair bit of Silver spray paint. I'd recommend you not letting them watch 'Mad Max – Fury Road' before hand. You don't want them racing to Valhalla. Anyway, after looking over DIY tips we got started and here is what happened.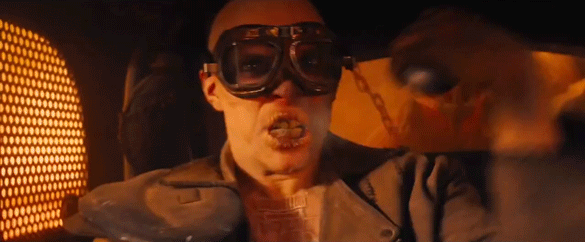 Here's our our work and our worker bees:

STEP 2: The Equipment
This is the step most people have an issue with. Sure you can paint boxes and pop some corn, but you may not have a projector (or proyectores comprar as the Spanish would say!) Projectors have plummeted in price over the last few years. But you don't have to buy one. You can ask your church if you borrow (or donate some cash) theirs. Heck, your office may have one sitting around for giving PowerPoint presentations. Well, it's better than having to look into getting a DCP editor as this is what you'd normally have to do if you wanted to show your movie on the big screen. I've heard that this is what they do at theaters and festivals. But a projector is definitely a good place to start. Ask the boss if you can borrow it for a weekend. Invite his horrible, spoiled brat of a kid and score double points – and maybe an early-out that Friday. Be aware, you may need a cable like this
to attach your laptop/pc to an old projector. For those of you that aren't that technologically savvy, you'll probably have to look at pages such as how to connect laptop to projector.
If you want to buy a projector, this one has very positive Amazon reviews, but remember, the cheaper the projector, the darker it needs to be.
We also used our CUBE speaker for sound. Cranked all the way up, this baby can make the neighbors three streets away feel like they're at the movies. But be kind, and don't go full blast. You don't want the cops to bust your night of fun. Unless the kids are out of control…. then you can blame old man Wilson.
STEP 3: The Movie
Picking the right movie is crucial. We decided to let each kid invite friends over, so the ages ranged from 2 – 13. This can present some challenges. Go too young and you loose the oldest, 'too-cool-4-school crew. Got to old and the little ones get bored with all the talking and story set-up scenes. This generally means you need to pick an animated flick. We held our drive in movie on 'Back to the Future' day. This would have been the obvious choice if everyone was nine and up, but like I said, we had a wider range. We went with 'Astro Boy'. It has a perfect mix of deep story (creating life, segregation, life and death), and fun one liners: "I've got machine guns… IN MY BUTT!?!" Perfext mix for all ages. Plus, one of the charachters is voiced by Nick Cage. When in doubt, always go with Nick Cage.

STEP 4: Popcorn, Blankets, & Intermission
You can't have a drive in without popcorn and candy. At least I don't think you can. I base all of this on the dancing food in 'Grease'. OK, we didn't have sentient hot dogs, but two out of three ain't bad. Blankets are of course key if the weather is starting to dip. Make sure you don't use baby's favorite WooBee, but ones you don't mind getting dirty, or can go in the wash.
Intermission is key. Let's face it, you have kids with kid size bladders. This also gives them a chance to stretch their legs, and the bigger ones can decide if they want to upgrade from box car to lawn chair. We set out a slew of treats on the porch; candy, cookies, rice krispie treats – all made by parents who dropped off their children to go enjoy a date night.
After 10 minutes or so, let the kids crawl back in their boxes, hands full of popcorn and sugary goodness. You don't have to worry about vacuuming these cars later, just flip them upside down and give a shake. You definitely want to do this is you're saving your boxes for a repeat performance.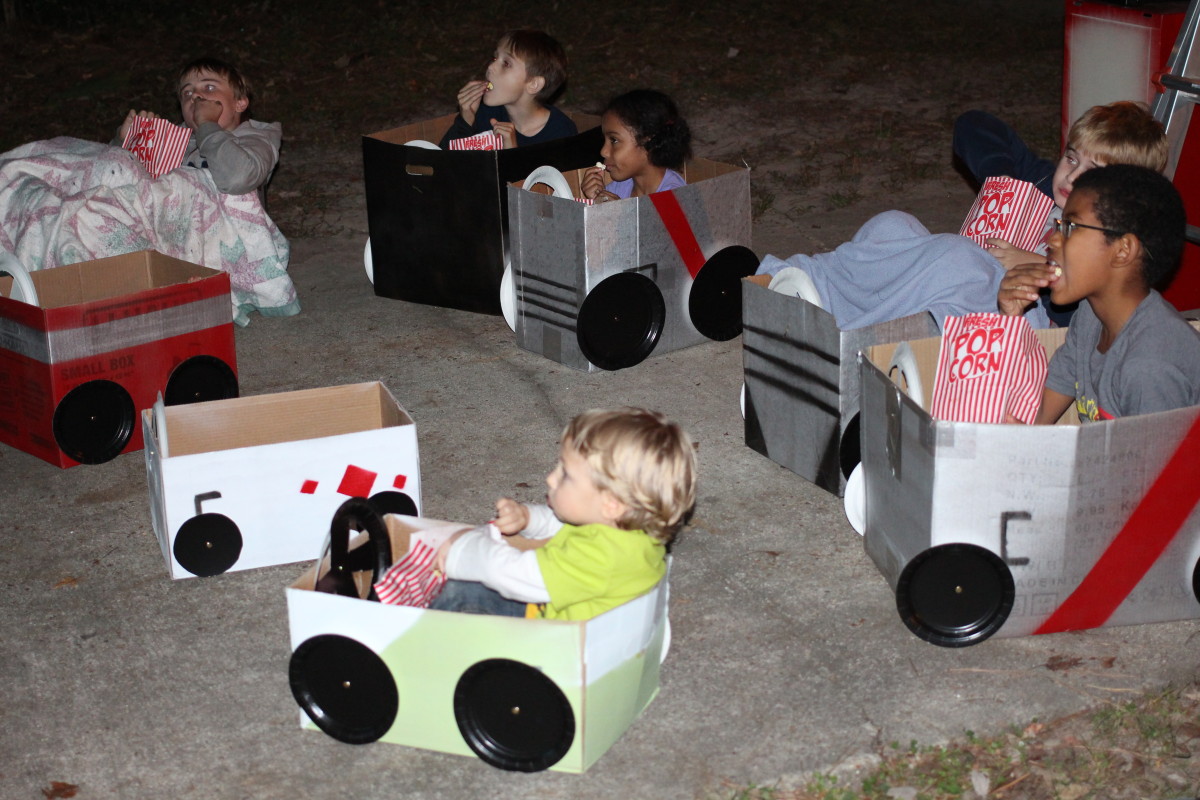 TAKEAWAY:
We had a great time, and the kids enjoyed it even more. They got to be the 'cool kids' with the movie theater in their yard, and you just can't beat that kind of neighborhood street cred. Clean-up was simple. We had an industrial sized trash can between the driveway and the front door. Any spills got swept away, eaten by squirrels, or melted in the rain the next night. You could always do this indoors, but clean-up is infinitely easier outside.
I heartily recommend you give this – or something similar – a shot with your family. Your kids may forget the movie you watch, but they'll not soon forget making their own roadsters and sitting beneath the stars with their friends and family.
Now, if I could just find a dancing hot dog.
CHRISTIAN LEE
Christian has had many roles in life. He's been a minister's son, a poor student, a computer geek, a bible college drop out, a corporate suit, a traveling comedian, and a failure at much he's tried. But he counts 2 huge successes in his life. He is husband to a wonderful wife, and father of 2 exceptional kids he wanted… and a third, 'surprise baby', who's likability has has yet to be determined. He draws a web comic about their life at ForeverFamilyComic.com. Having just missed Aaron in college by a few years, they connected online, finding they had a similar sense of humor [read: DARK] and decided to launch PlaidDadBlog.
---
Comments
comments