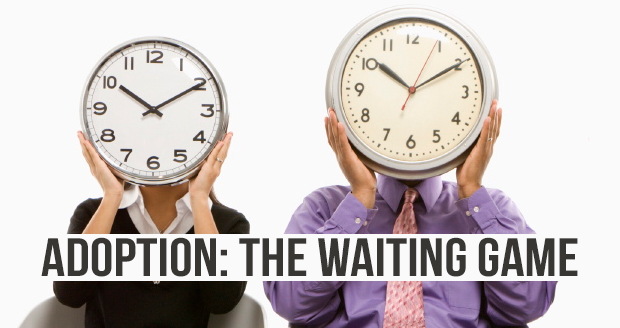 Earlier this year, my wife and I started the journey of adoption.  We're going through the foster care system.  The amount of paperwork required to adopt through the foster care system meant that, somewhere, a small forest was leveled.  The classes required us to sacrifice five straight weeks of Saturdays in the spring.  Home inspections, two fire inspections, background checks–you would think we were refugees applying for asylum.
We finally dotted our last "i" and crossed our last "t" two months ago.  Our social worker, who has been every bit of amazing, sent our final paperwork to the state for license approval.  We were told we would likely have to wait a minimum of six weeks.
Waiting sucks.
We waited until last Wednesday.  Thanksgiving Eve.  Eight weeks. My wife had checked her email religiously for days.  Nothing.  We were making final preparations to leave for my in-laws for Thanksgiving when my wife decided to check her email one last time.
The email was there.  The state approved.  We're now licensed to be foster parents.
Now we wait some more.  But this waiting will be different.  Instead of waiting on someone to read a two inch thick stack of paperwork, we're waiting for a phone call.
The call telling us a little girl, whose life has been turned upside down, needs a home.
The call telling us a little girl, confused about why she can't be with her birth family, is coming to stay with us.
The call telling us that someone in desperate need of love will be coming to live with us.
Until that call comes, we pray for this child and her birth family.  We prepare our home. We talk with our kids.  We encourage other friends on this journey; we receive encouragement by those who've already been down this road.  We experience joy, fear, excitement, anxiety.  Our family is going to grow.  But not yet.  Not until we get that call.
Until then, we wait.
AARON SAUFLEY
Aaron Saufley, author of 'The Jumbo Shrimp Gospel' and 'Deep Roots', is a husband and dad who happens to moonlight as a hospice chaplain and preacher. He thinks Netflix is the greatest human invention next to pizza. He loves hanging out with his family, and when he has the time he also enjoys writing, a good cigar, craft root beer, smoking a mean rack of baby backs, movies, and trying not to die while running. Follow Aaron on Twitter.
---
Comments
comments