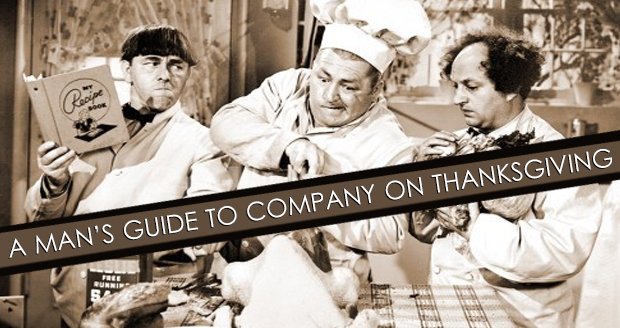 Guys, Thanksgiving is only hours away.  To us, Thanksgiving means we get to eat too much and watch football.
(Maybe we should rename every Sunday between September 1 and Valentine's Day "Thanksgiving") 
Our wives don't mind us taking Sunday afternoons to scarf down junk food and fall asleep to Payton Manning barking "Omaha" as long as we clean up after ourselves.
Thanksgiving, however, is different. It is the first day in a six week span we know as "The Holidays."  The days leading up to Thanksgiving turn our wives from the beautiful, sweet, caring women we love into creatures who only lack a hatchet of morphing into Lizzie Borden.
So in the interest of increasing holiday cheer, here are six simple steps you can take to make this Thanksgiving a holiday to remember for something other than attempted murder:
STEP ONE:  FINALIZE THE GUEST LIST
Guys, we don't see the problem with inviting every single relative within a twelve hour driving distance to Thanksgiving.  A big, old fashioned family Thanksgiving would be great, right?
WRONG.
You see joyous chatting over pumpkin pie; your wife sees your drunk uncle blurting out dirty jokes in front of the baby.  You envision engaging in spirited banter with your grandpa about important global issues; your wife sees a senile old man castigating her cousin for voting for a President who is secretly plotting to overrun the country with aliens.  From Mars.  (Your wife's cousin is sixteen–two years shy of actually being able to legally vote)
Keep in mind that more people means more toileting.  If you invite every person you share DNA with, there's a greater chance that your second cousin's adorable hellion of a son will likely pee around the toilet. Guess who gets to clean that up?  Not your second cousin.  She just chuckles about how hard it is raising a boy (who, by the way, is fifteen).  Meanwhile, as your wife goes into the bathroom with the Lysol and a mop for the third time (your grandpa's aim is also suspect), she drills holes through your skull with her imaginary laser vision… which could become actual laser vision if that vein in her forehead throbs any harder.
So keep the guest list to a minimum:  parents, in-laws, maybe a sibling who is single and childless.  You may also consider handing out a list of approved table conversation, which will exclude talking about politics, religion, sports, the President, parenting techniques, immigration, the moisture level of the turkey, how your brother's wife would have done things differently, Miley Cyrus, the New England Patriots, and pretty much anything else with a snowball's chance in hell of sparking the slightest disagreement.
STEP TWO:  CLEAN THE HOUSE
Gents, we take a quick gander around the house and think it's ready for company.  Sure, our dirty underwear is on the floor in the bathroom and Junior spits his toothpaste all over the mirror instead of into the sink, but who notices?
Our wives, that's who.
They look at the house and see a post-nuclear dystopian bunker that must be cleaned, organized, and sterilized to the point that it makes a Martha Stewart magazine spread look like Pigpen's dust cloud. Here is a simple instructional video to prepare you for helping the mother of your children get your home presentable for company:
It is quite possible that your wife will misplace her sanity during this process.  Your job is not to find it.  Your duty is simple:  do what you're told exactly how you're told to do it.  This is vital if you want to make it through Thanksgiving alive.
STEP THREE:  COOK THE MEAL
As awesome of an idea as it is, do not suggest the following for Thanksgiving.
Yeah, I know–it's cheaper, the cleanup is quicker, no one can blame the cook if the turkey is dry. Resist the temptation to even joke about it.
Your wife and the other ladies who are coming to dinner will likely take care of the sides.  That means you will be asked to cook the turkey.  You will be tempted to do something manly, like deep fry the turkey.  If you have never attempted this before, Thanksgiving day is not the day to try it out.  You have 364 other days during the year to experiment with deep frying, smoking, grilling, or microwaving a turkey. Go for the tried and true method–bake it in the oven.  Need a recipe? Bake that bird exactly how the Pilgrims did:  use an Alton Brown recipe.
STEP four:  EAT
Let grandpa carve the turkey.  Always pass the food to the right. To keep conversation to a minimum, keep your head down and your fork moving.  If you have to fart, excuse yourself and step out of the room or hold it until your colon perforates.  Better to undergo emergency butt surgery than to hear the voice of Pazuzu erupt from your wife's mouth as she screams, "Seriously?  Did you grow up in a barn?!?"
STEP five:  clean up
At this point, you usually retire to the living room to carry on the Thanksgiving tradition that American men have passed on to their sons for generations:  watching the Lions and Cowboys get clobbered.  Guys, you know the script.  It will be no different this year.  The Kitty Cats and the Cowgirls are a combined 6-14 this year. They suck. Be a good husband and help your wife clean up from the feast.  The only game that has a potential of being interesting is the night game, where my beloved Bears, who are playing better with every week, renew the oldest rivalry in professional sports as they take on the sinking Green Bay Packers.  The game starts at 8:30, so that gives you plenty of time to straighten up, tell the wife how much love her, and usher your guests out of your house.
STEP SIX:  START DRINKING
Because Thanksgiving is just the pre-season to Christmas.
If you follow these six simple steps, you too can enjoy a perfect Thanksgiving holiday.  Happy Turkey Day!
Aaron Saufley
Aaron Saufley, author of 'The Jumbo Shrimp Gospel' and 'Deep Roots', is a husband and dad who happens to moonlight as a hospice chaplain and preacher. He thinks Netflix is the greatest human invention next to pizza. He loves hanging out with his family, and when he has the time he also enjoys writing, a good cigar, craft root beer, smoking a mean rack of baby backs, movies, and trying not to die while running. Follow Aaron on Twitter.
Comments
comments