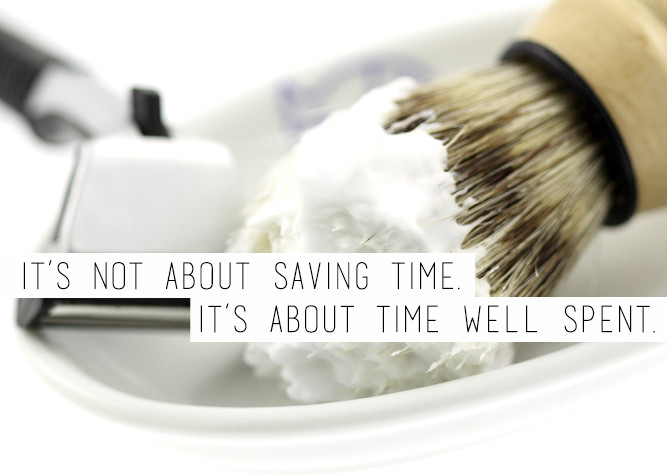 We were recently was contacted by MenEssentials asking if we'd be interested in trying some of their Premiere shaving products. How quickly we said "yes" and "please" may be up for debate, but it was quick. Pretty, pretty, pretty quick.
Shaving products are right up our alley here at Plaid Dad Blog. I've recently started wearing a goatee. Now, the beauty of a full beard is that it doesn't require daily maintenance (unless you go full-on lumberjack Civil War General beard, like my fellow Plaid Dad Aaron. But that's another story for another post). With three kids and a baby, this extra time–even if it's just a few minutes–is highly sought after. So why would I advocate mixing your own shaving cream?
Because I need this time. It's not only a little 'me time' as the kids say, but it's also a meditative process. Spinning a horse hair brush and working the cream into a nice foam to coat your face pre-shave is truly a transformative moment. It not only gives you pause in your day, it transports you in another time. A time when everything didn't come in a ready-made can. This is not your father's shaving cream–it's his father's and his father's father's shaving cream.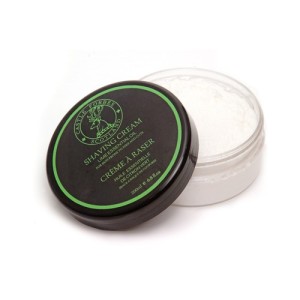 If you think that you need a gel shaving cream for a smooth shave, you're not using quality cream or quality razors… or maybe both. MenEssentials describes the Castle Forbes Lime Essential Oil Shaving Cream as a, "luxuriously thick and creamy shaving cream. Creates the most comfortable shaving experience with its rich lather that conditions and moisturizes the skin. Made with lime essential oils that are as deliciously fragrant as they are nourishing."
Yes, yes, and yes! The first thing that hits you is the fragrant aroma of lime. It's not overpowering, but fresh and 'clean' smelling. This isn't a feminine smell. It reminds you of being down in the Florida Keys (if you haven't been, go and you'll understand immediately). Now you're not only in a different time, but a different place. You can imagine Hemingway eschewing your shaving ritual. Not because his beard is more manly, but because it would cut into his drinking time, and he'll have none f it.
To see how easy it is to mix your own shaving cream, check out 1quickdub's video below. Be warned, you may become transfixed by the motion and beauty of something so simple, but wonderful, as the growing waves of foam crashing against the sides of the bowl.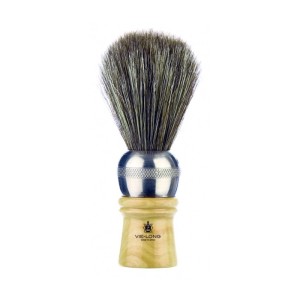 Having a top shelf shaving cream would be wasted without an equally high end brush. In canters the Vie-Long Cachurro Professional Horse Hair Shaving Brush. You recognize the pedigree of this player right away. The hair is the perfect mix of soft and firm, the handle hewn in wood, not molded in cheap plastic. It fits your hand perfectly as it rolls around the bowl whipping up a lather that puts those pressurized cans to shame.
When holding this brush, you can imagine yourself in one of the quickly disappearing barber shops that used to dot every Main St. across the nation. This was a tool that if used correctly could sculpt something grand. No different than David being chiseled from stone, a great Barber could pull greatness from your rough form. In would walk a disheveled pauper, out would walk a prince.
This is what the old ways  bring you. A purpose. A distinction amongst your peers. This is why we mix our own shaving cream, to connect to the men who walked before us and carry on their tradition.
If you would like to try these products, or one of the many other solutions on offer for taking care of your manly visage, visit MenEssential today. If you're a beard lover, there are plenty of oils and creams to coax that facial hair from scraggly fuzz to full-blown lumberjack in no time flat.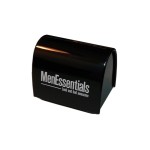 If you've enjoyed this article, please share and leave a comment below. You will be registered to win a Razor Safe from MenEssential. Keep those old blades out of little Timmy's reach and don't worry about rusty blades slipping into your counter's nooks and crannies.
While we were provided products for review, we were not compensated in any other way for this post. All thoughts and comments are our own.
CHRISTIAN LEE
Christian has had many roles in life. He's been a minister's son, a poor student, a computer geek, a bible college drop out, a corporate suit, a traveling comedian, and a failure at much he's tried. But he counts 2 huge successes in his life. He is husband to a wonderful wife, and father of 2 exceptional kids he wanted… and a third, 'surprise baby', who's likability has has yet to be determined. He draws a web comic about their life at ForeverFamilyComic.com. Having just missed Aaron in college by a few years, they connected online, finding they had a similar sense of humor [read: DARK] and decided to launch PlaidDadBlog.
---
Comments
comments