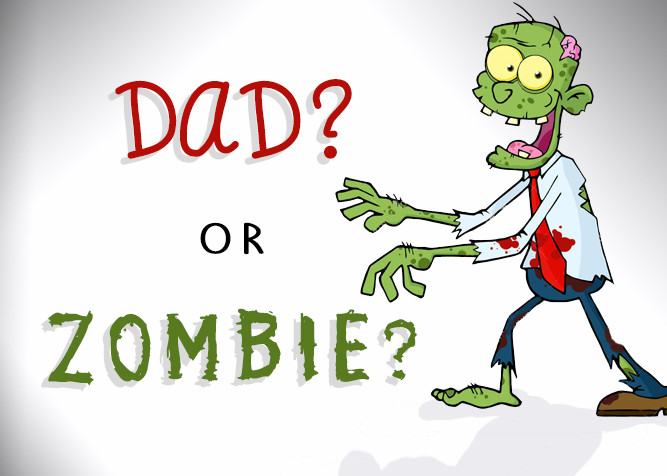 It's a shade past 11:00 PM on Sunday night.  I just returned from my neighbor's house, where we watched The Walking Dead.  Last week's episode.  Yes, five minutes into season 6 of everybody's favorite zombie show, and I'm already a week behind.
In case you missed it (and you probably didn't), this episode featured the biggest herd of walkers featured on the show to date–close to 400 of them.  As I sat there, allowing my already mushy brain to liquefy just a bit, I couldn't help but feel like I was one of those poor zombies.
99.8 percent of the brain not working.
Disheveled appearance.
Unable to utter much more than a grunt.
Hallow eyes.
Trudging forward with the rest of the herd.
Snacking on whatever I can find along the way.
(Which, tonight, is Chef Boyardee Ravioli).
Sometimes, adulting just sucks the life right out of you.
The roughly thirteen weeks between my birthday and Christmas are my favorite time of year.  It's lost a little bit of its luster this year, mainly due to busyness.  We've got so much going on–I don't (or can't) remember autumn being so crammed full of stuff:
Work job #1.
Work job #2.
Plan and execute a memorial service for our families at job #1.
Participate in Christmas play practice at job #2.
Help wife launch a new business venture (which may as well be job #3).
Run eldest child to community youth theater play practice every day.
Run middle child to community youth theater play practice some days.
Run baby child to dance.
Remember to pick all children up at the right place and the right time.
Write articles and record podcasts for Plaid Dad Blog.
Help eldest daughter record podcast for Plaid Dad Blog.
Remember to pay the bills.  On time, preferably.
Jog and hit the gym (more than once a week or so).
Come home and help with the chores.
Hang out with the kids.
Try to spend some time with the wife that doesn't involve talking about jobs or children.
Prepare for the adoption of child #4.
Sleep.  Maybe.
Take time to strengthen my own spirit.
Eat.  Can't forget to eat.
Adulting is hard.  But it's also taught me so much.
Working the jobs reminds me that I have two of something that some people don't have one of. All that running the kids around reminds me that I have creative, active, happy children. Paying those darned bills reminds me that I'm able to do so. Sore muscles and burning lungs remind me that I'm able to exercise (even if I don't do enough). This blog reminds me that I've got experience to share that just may help someone else. Occasionally wondering how I'll get it all done reminds me that I am not alone, and that I am not in control; that God is good.
I guess adulting isn't so bad after all.  Except for the lack of sleep.
Oh, who am I kidding?  I'll sleep when I'm dead.
AARON SAUFLEY
Aaron Saufley, author of 'The Jumbo Shrimp Gospel' and 'Deep Roots', is a husband and dad who happens to moonlight as a hospice chaplain and preacher. He thinks Netflix is the greatest human invention next to pizza. He loves hanging out with his family, and when he has the time he also enjoys writing, a good cigar, craft root beer, smoking a mean rack of baby backs, movies, and trying not to die while running. Follow Aaron on Twitter.
Comments
comments