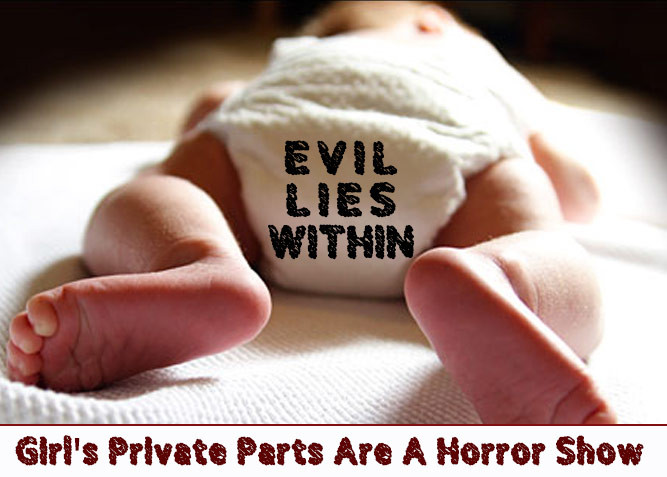 OK… wait…
I get it. The title seems click-baity. It's not. I have seen monster movies and slasher films that are not as frightening as what's inside my youngest daughter's diaper.
Back story for those who don't know me: we adopted our first two children at five (boy/Carlin) and three (girl/MileenaB). MileenaB has major kidney issues, so there's a bit of monitoring and maintenance when it comes to her care and well being. Heck, I've seen pictures of her ovaries. I once sat in a room while the Doc taught her kegels as she played a VIDEO GAME WITH HER VAGINA. That last bit made me queasy again.  Be right back…
When we had our second son (1st birth), I had no problems changing diapers. I find fathers that brag how they never change nappies as borders in their own house. Are you their Dad? Then you're all in. Shut up and grab the wipes.
But two weeks ago, my lady gave birth to our second (and last or else….) daughter, and I was not prepared.
Yes, I know the front-to-back rule, "Head to Feet to Clean the Leak. Feet to Head, and Everybody's Dead." Thank's Hank Hill.

(4:50 mark)
I was not, however, prepared for the glimpse of hell I received when opening her first soiled diaper. I experienced meconium before with Ollie. Meconium isn't like poop. It clings, it's sticky, it looks disgusting. No big deal, though. You just take a box of wipes and go to town like you're cleaning up a toxic oil spill. I treated his winky like it was a baby pelican mired in sludge. But when it comes to girls…. Well folks, if you haven't dealt with it, let me just say, it's horrific.
I audibly gasped and once my wife got over the near heart attack I gave her (Pro Tip: don't gasp about new babies around mom. You're no match for the strength and anger of a hormonally imbalanced woman), she assured me it was all fine. What I discovered in her diaper wasn't the issue. It was WHERE I discovered it. It was all over everything. It was IN everything. There are things you should see. I, for one, think all teenage boys should do community service taking care of baby girls. It will turn them right off the idea of hanky-panky. It will be years before the wade into the waters in search of the Feminine Mystique. Teen pregnancy would drop to zero within weeks, if not days.
I grabbed a container of wipes and started to rid her of this evil the same way I did my newborn son, as my wife yelled, "No, NO! Don't wipe too much. There's stuff in there that supposed to stay. It helps keep her from getting infected." And that's when i saw it. There was another layer of goo, this one white. I now understand why in movies, bad cowboys wear black, and heroes, the opposite. It's been that way since birth. The problem is, that other substance, the 'good stuff', looked just as bad as the first. Oh, and once the regular poops start to come, it keeps happening. Everyday. All day. It. Is. Everywhere.
Let me just say, it was an eye opening experience. Never have I been so happy to have a penis. It has nothing to do with glass ceilings, power constructs, or privilege. Wait. Actually I do feel privileged (or is it blessed) to have what I do downstairs. I couldn't take it the other way around. I just don't have the time or fortitude to deal with the possible problems ladies have lurking over the horizon. So mad props to the women of the world. I give you my unabashed respect (and fear).
Once I finally got used to the process of cleaning my daughter's BM's, my wife walked up to me and said, "Now, I don't want you to freak out, OK? But there's this thing called 'baby periods'…."
I woke up to a cold compress after I passed out.
---
CHRISTIAN LEE
Christian has had many roles in life. He's been a minister's son, a poor student, a computer geek, a bible college drop out, a corporate suit, a traveling comedian, and a failure at much he's tried. But he counts 2 huge successes in his life. He is husband to a wonderful wife, and father of 2 exceptional kids he wanted… and a third, 'surprise baby', who's likability has has yet to be determined. He draws a web comic about their life at ForeverFamilyComic.com. Having just missed Aaron in college by a few years, they connected online, finding they had a similar sense of humor [read: DARK] and decided to launch PlaidDadBlog.
Comments
comments