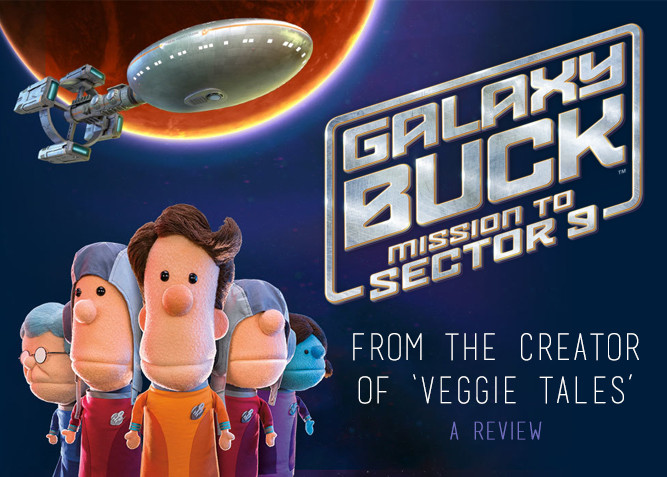 Here's an quick admission to start us out: my wife and I were married 16 years before we adopted/had kids. We used to watch 'Veggie Tales' long before we had the excuse of buying it "for the kids." Can you believe the series debuted on December 21, 1993? That being said, I'm in the tank for whatever creator Phil Vischer is hawking.
'Galaxy Buck' opens up as a pretty familiar 'Star Trek' parody. I watched wondering if it was going to be anymore than a kid's SNL sketch. Luckily, it quickly took a turn much like 'VeggieTale' is known to do.
The story is centered around a fellow named Buck who wishes to do great things, which he doesn't feel he's accomplishing at a TBN-esque call center. That little bit of writing tickled me. The entire conversation about handbags was so funny, it had to come from a real-life sap embroiled in such a job.
Buck often dreams about doing "big things for God." Don't worry about your kids missing the premise because Buck will tell you again. And again, and again, and again…
This is the only real problem I have with the movie. It's very 'on the nose.' I remember the original run of 'Veggie Tales' always came with a Biblical moral/message, but they wrapped it in humor, sarcasm, and pop cultural references. Then, if the mood was getting the least bit heavy, they'd break into silly songs about hairbrushes or cebus. "Sing it with me!!"
Buck breaks free of his dead-end job, only to encounter bigger problems as a spaceship captain. All the while, he talks about God wanting him to do big things. Thankfully, there is a turn in the character's arc–he discovers God is just fine with him presenting himself, not as a doer of great things, but as man seeking the Lord.
Overall, the presentation is great. I enjoy puppets. There, I said it. I like the move from animation to a tactile character. The big head with tiny, dangly arms is wonderful. In typical 'Veggie Tale' fashion they even comment on the absurdities of the character design inside the story itself. Very meta.
If you're a 'Veggie Tales' fan, you'll recognize all the voices you've come to love over the years. Pa Grape is there, along with versions of Larry and Bob. You'll probably notice straight away, but it doesn't pull you out of the story.
If you're looking for a fun movie that is Biblically based (and of course family friendly), definitely check out 'Galaxay Buck – Mission to Sector 9.' Your kids will love it and the message can't be beat. IF YOU'd LIKE TO WIN A FREE COPY OF TH DVD, just leave a comment below.
OFFICIAL GALAXY BUCK WEBSITE \ OFFICIAL TRAILER \ FACEBOOK \ TWITTER \ PINTEREST \ INSTAGRAM
Disclosure: Many thanks to Propeller Consulting, LLC for providing this prize for the giveaway. Choice of winners and opinions are 100% my own and NOT influenced by monetary compensation. I did receive a sample of the product in exchange for this review and post.  Only one entrant per mailing address, per giveaway. If you have won a prize from our sponsor Propeller / FlyBy Promotions in the last 30 days, you are not eligible to win. If you have won the same prize on another blog, you are not eligible to win it again. Winner is subject to eligibility verification.
CHRISTIAN LEE
Christian has had many roles in life. He's been a minister's son, a poor student, a computer geek, a bible college drop out, a corporate suit, a traveling comedian, and a failure at much he's tried. But he counts 2 huge successes in his life. He is husband to a wonderful wife, and father of 2 exceptional kids he wanted… and a third, 'surprise baby', who's likability has has yet to be determined. He draws a web comic about their life at ForeverFamilyComic.com. Having just missed Aaron in college by a few years, they connected online, finding they had a similar sense of humor [read: DARK] and decided to launch PlaidDadBlog.
---
Comments
comments