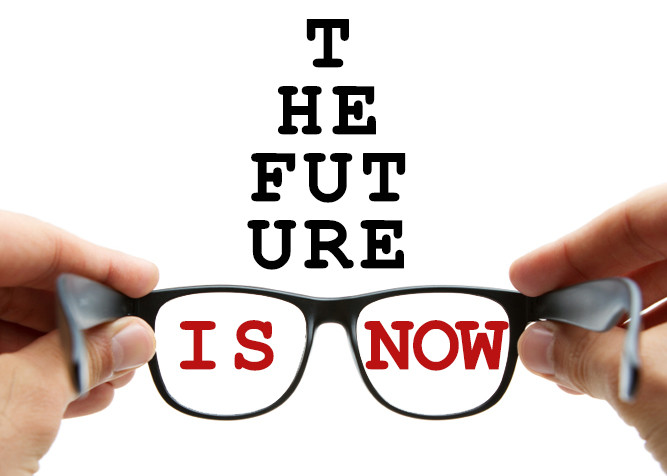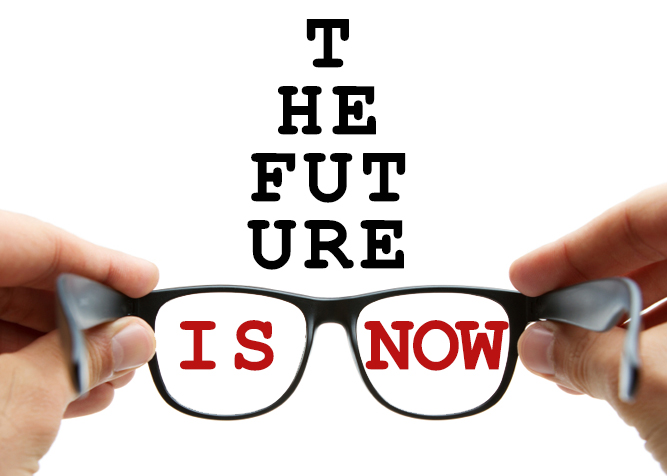 I received some brutal news on my last trip to the eye doctor. Sit and cry in the corner type of news. Clutch your legs while rocking back and forth facing your own mortality type of news.
I was told I need bifocals.
Ok,  I was told I will need bifocals within a year. So at least there's time to get my last will and testament in order, knock some items off the ole bucket list, and say my goodbyes. The end is nigh, good people. The only thing that could save me is technology that doesn't exist yet.
We don't have cybernetics from 'Terminator' or replaceable eyes from 'Minority Report'. Heck, they still haven't gotten the hoverboard they promised us in 'Back to the Future', so I have little hope that even the tech from the 'Six Million Dollar Man' will be arrive in my lifetime.
Well, I was wrong. At least in part. Enter the AdLens.
When I was first contacted by AdLens, I was still reeling from my old man diagnosis and doing a fair bit of wallowing. This was like a lifeline after floating for days in a sea of despair. Am I overstating things? Maybe, but have a doctor tell you you're getting old two months before you have a new baby (yeah, that also happened) and see how you feel rounding 40.
I had the option of trying out a number of different AdLens products, but being as I'm online for so much of my day, I went for the AdLens Interface.This model is built specifically to help reduce eye staring when working in front of screens on a daily basis. So far, I've been impressed with the tech.
So what is the AdLens? Well, to put it simply, it's a mix of old-school readers and modern polymer technology. You know the term 'readers'. They're the specs your Granddad buys at Dollar Tree and then buys again two days later when he loses them in his Lazy-Boy. No way do you want to wear them, but as I said, this is a mix of old and new.
How does it work? Well, I'm just going to quote the website:
Named for the inventor and Nobel Prize laureate, Luis Alvarez, this lens technology is the basis of our instantly adjustable non-prescription eyewear. Each lens is comprised of two wave-shaped polycarbonate plates that are able to glide across one another. The power of each lens can be adjusted to suit your vision, all at the turn of a dial.
The beauty of the technology is that you can adjust each eye with precision. This is definitely something Pops can't get at the Dollar store.
So how did it work out for me? Well, I had great results, providing I still wore my glasses. I still have a major prescription to deal with, so I'm not sure I'm the ideal candidate for this model. I always wore them with my regular glasses on, as I can't use contacts. That said, I noticed a distinct difference in clarity when wearing the AdLens. My wife does wear contacts, so I gave the AdLens to her for a day.
I never got them back.
She was the perfect guinea pig  (note to self, never use the term pig anywhere near your wife's description in print) for the AdLens. She was able to dial in for small print like sewing or coupon cutting, then dial out for reading on our TV, which we uses as a second PC. The product was a resounding success.
Now, had I been wearing the Adlens Focuss, their prescription line, (also with adjustable lenses), I'm positive this would be my last set of specs. Here's hoping AdLens sends me a pair of these to review, as I'd be willing to trade one of my kids for the privilege, maybe even the newest one. After all, we haven't really built up much of a rapport yet.
I'm very pleased with what I've seen from the AdLens over the past few weeks. My son has even snuck a turn with them while my wife grabbed a nap. He says they're great for seeing his artwork close up as he has a mild prescription. This allows him to dial in for close work and then ditch them when going outside to play. And at the current cost of eyewear (and how easily kids break/lose them), I appreciate the AdLens even more.
While we were sent the product for a review, I have to say the following is my opinion and my opinion alone – it was not paid for or requested. I give the AdLens a solid Two Thumbs Up! Or is that Two Eyeballs? I don't know, but either way, if you need 'readers' or have a low prescription and don't want to pay the high prices of doctors visits and glasses, I'd definitely give AdLens a shot.
You can find out more at AdLens.com
Comments
comments