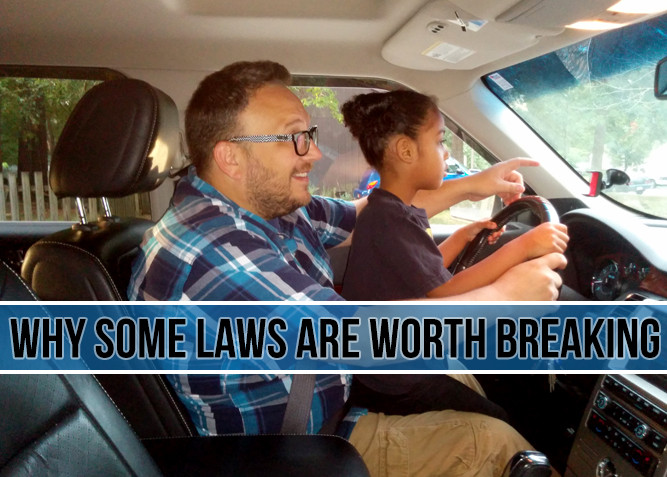 My dad didn't have the patience to teach me how to drive. He started by trying to teach me how to drive a stick. It wasn't happening. I couldn't get the feel of the clutch and when to hit the gas. So he gave up that endeavor and we moved on to an automatic. Here's where it became quite obvious it wasn't me. He couldn't handle the jerky stops and starts. He felt like I was endangering the entire family (who teaches a kid to drive with the entire familial line in the car anyway?) There was screaming, yelling, and a few tears. One day was all it took for me to earn a slap on the mouth and be relegated to the back seat of the Caravan for the remainder of my high school years.
It was, in a word, crushing.
Now, I don't fault him for ditching the manual lessons. I tried to teach my wife how to drive a stick (insert thousands of jokes here) and we also hit a roadblock so to speak. The year I got married, I also bought my first motorcycle. And after driving it into the side of an Insurance building from the dealer's parking lot – NONE of that is a lie or stretched truth – I learned how to shift and was off to the races. I was then able to hop in a stick shift car, throw it in reverse, and peel out the driveway with the wind in my hair. Well, as much wind as you can get from the triangle vent of a '71 Volkswagon Squareback. 
…it's all those things, but with the promise of freedom and never ending journeys

If you've never driven a stick before it's hard to describe, but as I said, it's a
feeling
. You have to since when the clutch is ready to grab right before the engine chugs out. It's catching a ball with the edge of your mitt. Snatching fire flies. It's all those things, but with the promise of freedom and never ending journeys attached to it.
Luckily, when my Dad gave up on teaching me one of the most important life skills you need at that age, my gym/driver's ed teacher took pity on me. As soon as I got behind the wheel he said, "You need more practice." I almost sunk to the floor. This was it. I was never gonna learn how to drive. I just looked sheepishly at him and replied, "I can't get any more practice. My Dad won't let me."
This is the moment he could have said. "Tough luck, buddy." He was the the same guy that told me I ran like a duck in gym class. Chided me for not giving full effort. Rolled his eyes as I strained and failed to pull off a single pull up. But in this moment, he looked at me like a father… a patient father, and said, "It's OK. I'll teach you."
He gave me extra time in the car. Other kids were naturals and only spent a day or two in the car. They came and went as I stayed. I listened. I watched. I soaked up everything he said. When we were done, I could parallel park with the best of them. At school our relationship never changed, but in that car, he was gracious and patient. He made sure I felt safe, and in turn, I learned to drive the same way.
Now, as you read this you may be sympathetic to my case. I may lose some or most of you from here on out. I'm teaching my kids to drive.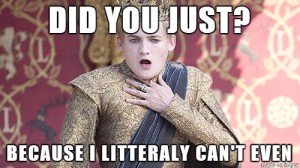 They're 9 and 7 years old.
OK. I'll wait as you gasp and clutch your pearls. Yes, I'm teaching my kids how to drive before they've even learned how to spell puberty, let alone hit it. Maybe I'm allowing the pendulum swing too far in the other direction, but I don't really think so. My goal is to start the process before I get to that point where I lack the patience to try. Before it's a make-or-break situation for them that puts too much pressure on them to perform. Heck, right now it's a super big 'secret' that Dad lets them drive while everyone else is only doing so on their Xbox.
Before you ask, no, I don't let them drive on the roads. We tool around an empty parking lot nearby. At first they both sat on my lap, but Carlin got so big it I started needing athletic support so I wouldn't get crushed. He now drives on his own. With me alongside in the passenger seat. Mileena still steers while I operate the pedals. They're getting pretty good at it too. It's fun for them and me. When it comes time to take their test, driving will not only be old hat, it will be a good memory, not an emotional scar. Hey, if anything at least I won't be throwing money away when they want to play a driving game at the arcade. Geez! They were bad when I met them.
I won't tell you about driving with my 2 year old, OllieMac on my lap. Nope. That never happens.
CHRISTIAN LEE
Christian has had many roles in life. He's been a minister's son, a poor student, a computer geek, a bible college drop out, a corporate suit, a traveling comedian, and a failure at much he's tried. But he counts 2 huge successes in his life. He is husband to a wonderful wife, and father of 2 exceptional kids he wanted… and a third, 'surprise baby', who's likability has has yet to be determined. He draws a web comic about their life at ForeverFamilyComic.com. Having just missed Aaron in college by a few years, they connected online, finding they had a similar sense of humor [read: DARK] and decided to launch PlaidDadBlog.
---
Comments
comments