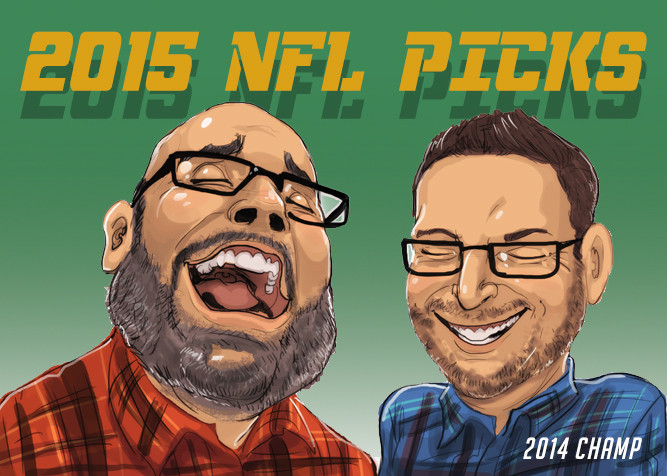 We are giving away a FREE NFL Jersey at Plaiddadblog​. YOU MUST: Leave your Super Bowl predictions in the comments section – TEAMS AND SCORE. The closest wins. If you hit a perfect Team AND Score, you'll also win $50.
It's the most wonderful time of the year.  No, not Christmas.  It's football season.  Last year, Christian correctly predicted that his cheating, deflated Patriots would win their fourth title.  Aaron let a drunk spider monkey make his picks for him.  It wasn't even close.  Christian dominated.
This year, Aaron looks to redeem himself.  With his beloved  Bears in full rebuilding mode, he has no expectations of Super Bowl glory (yes he does).  With that, here are our picks for the 2015 NFL season:
AARON'S PICKS
NFC EAST
Philadelphia (11-5)
Dallas (10-6)
New York (7-9)
Washington (3-13)
NFC NORTH
Green Bay (12-4)
Detroit (8-8)
Minnesota (7-9)
Chicago (7-9)
NFC SOUTH
Carolina (9-7)
New Orleans (8-8)
Atlanta (7-9)
Tampa Bay (5-11)
NFC WEST
Seattle (12-4)
Arizona (10-6)
St. Louis (9-7)
San Francisco (5-11)
NFC CHAMP:  GREEN BAY (I can't believe I typed that)
AFC EAST
New England (11-5)
Buffalo (8-8)
Miami (8-8)
New York (6-10)
AFC NORTH
Baltimore (10-6)
Pittsburgh (10-6)
Cincinnati (9-7)
Cleveland (4-12)
AFC SOUTH
Indianapolis (12-4)
Houston (8-8)
Jacksonville (6-10)
Tennessee (5-11)
AFC WEST
Denver (11-5)
Kansas City (10-6)
San Diego (8-8)
Oakland (5-11)
AFC CHAMPS:  INDIANAPOLIS
SUPER BOWL 50:  Colts over Packers, 28-24
CHRISTIAN'S PICKS (I don't pick #'s of games won, because it's a fool's errand, and hey, I won last year. Shows you!)
NFC EAST
Philadelphia
Dallas (w)
New York
Washington
NFC NORTH
Green Bay (w)
Detroit
Minnesota
Chicago
NFC SOUTH
Carolina
New Orleans (w)
Atlanta
Tampa Bay
NFC WEST
Seattle (w)
Arizona
St. Louis
San Francisco
NFC CHAMP:  GREEN BAY 
AFC EAST
New England (w)
Buffalo
Miami
New York
AFC NORTH
Baltimore
Pittsburgh (w)
Cincinnati
Cleveland
AFC SOUTH
Indianapolis (w)
Houston
Jacksonville
Tennessee
AFC WEST
Denver
Kansas City (w)
San Diego
Oakland
AFC CHAMPS:  PATS – I don't really know if the Pats can get back to the SuperBowl. They lost half their defense and EVERY other team in the division has gotten better….. but they're pissed. You do NOT want a pissed of Brady & Belicheck.
SUPER BOWL 50:  Packers over Pats, 28-24 (I just used your points prediction Aaron – since it's meaningless)
Comments
comments