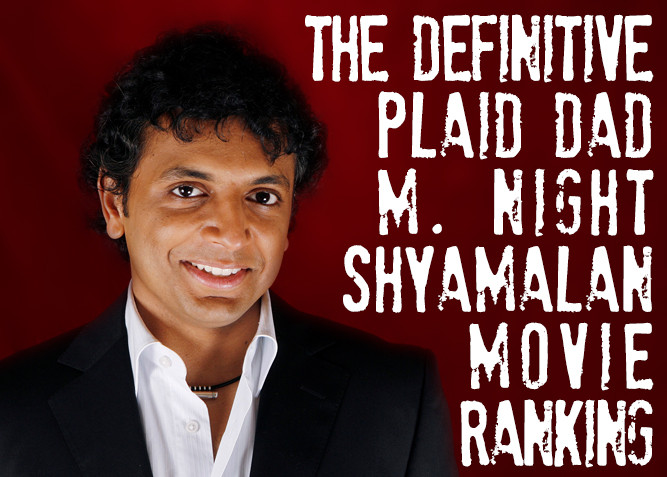 The six weeks before Halloween are scary movie season in my house.  My kids all love scary films.  I broke all of them in on Karloff's Frankenstein and Legosi's Dracula–not scary by today's standards, but classics in the genre.  They know that, every year, on my birthday, we'll pull those films out and watch them (we started a few days early this year).
Earlier this year, I introduced them to one of my favorite directors:  M. Night Shyamalan.  My eldest and middle each love The Sixth Sense.  My youngest loves Signs.  Shyamalan has received a bad rap (and rightly so) the last few years for releasing some awful films. Many, including myself, wondered if he had lost his touch. When I saw the trailer for his latest film, The Visit, I crossed my fingers that he'd recovered his mojo.  I was not disappointed.  It was a wonderful film–funny, tense, scary, and has a trademark M. Night twist.  My wife and I loved it.
So, in celebration of M. Night's return to film greatness, here are my rankings of his films that he has directed.  This list does not include films that he has solely contributed the screenplay (Stuart Little) or solely produced (Devil).  It also doesn't include TV series (Wayward Pines, which has gotten rave reviews).
This post does contain some spoilers.  So if you haven't seen these films, you might want to check them out first.
11.  After earth, the last airbender, praying with anger.
I put these tied for last place because I haven't seen any of them.  Praying with Anger was M. Night's first film.  I haven't been able to find it anywhere.  Every review I've read of After Earth and The Last Airbender absolutely trashed each one.  Each of those films, however, made nearly double their budgets at the box office.  So while they were critically panned, people around the world flocked to see them.  I didn't want to see After Earth or The Last Airbender because the subject material didn't interest me.  Thus, the jury is still out on these films. Now, on to the real ratings…
8.  the happening
I had such high hopes for this film.  A mysterious illness sweeps over mankind because nature is getting revenge for what man has done to the environment.  A hokey premise, but I held out hope.  Horrible from the opening scene until the credits.  The acting was terrible, the pacing was horrendous.  The boom mic showing up in one of the scenes (which was reportedly on purpose… but it didn't show up in the DVD release).  This one soured me on M. Night for a long time, which is part of the reason I didn't see The Last Airbender or After Earth.
7.  lady in the water
Shyamalan stated that this movie was a tremendous gamble, that people would love it or hate it.  People mostly hated it.  It's a bedtime story that he used to tell his kids when they were little, and he wanted to make it into a film.  He did it after the success of his first four widely-released films.  He should have left it as a story.  I will admit that, after watching it a second time, I didn't hate it as much.  It was not as bad as most of the reviews stated.  If I watch it a third time, I may like it even more.  But for now, it's still a huge disappointment.
6.  wide awake
This was Shyamalan's second film.  It's about a boy who tries to determine if God really exists.  It is nothing like his most successful films.  It's a family drama.  There is no tension.  It is not a thriller.  There is no twist.  Having said that, I liked this movie.  The performances were good (even Rosie O'Donnell).  Denis Leary makes an appearance as well.  I appreciated the plot.  This isn't earth-shattering cinema, but it was pretty good.  At the time of writing, this film is available on Netflix.
5.  the village
The people of a late 19th century village must decide what to do when one of their own is nearly murdered.  Some one must go into the woods… the territory of "those we do not speak of."  Most people didn't like this movie.  I loved it.  It was beautifully shot, the score is brilliant (one of the best film scores ever written), and the acting is pretty good (although the performances do lean toward being wooden).  As with most films, there are a few flaws.  But overall, this is a great film.
4.  the visit
Two kids go to visit their grandparents, whom they've never met.  Everything's fine until weird things start to happen.  I really hoped this was M. Night's "comeback" after years of terrible films.  I was right.  He's got his mojo back.  Scares interwoven with tension and comedy, along with the M. Night twist.  This is great horror film, and will definitely be added to my library and watched every October.
3.  signs
I'm not big on alien movies.  I find the whole premise of alien invasion ridiculous.  But, in this film, it worked.  Great performances by pre-crazy Mel Gibson and pre-weird Joaquin Phoenix drive this film that isn't really about aliens.  It's about a man's loss of faith due to the tragic loss of his wife, and the rekindling of that faith through the events that unfold in the film.  The real thrust of the film–are there really coincidences, or is there something more?  The final scene, where Gibson emerges wearing his clergy garb again and walks out of the frame to reveal his bathroom door, which plainly looks like a cross, is powerful.
2.  unbreakable
Before the ridiculous avalanche of the "Marvel Cinematic Universe," there were few superhero films.  Now, there's one released every five seconds.  Most of them, to me, are horrible (with the exception of Christopher Nolan's Batman trilogy).  Unbreakable, however, is the greatest superhero movie ever made.  Based around comic books, it's an origin story of both a superhero (played by Bruce Willis) and a villian (masterfully played by Samuel L. Jackson).  Masterfully shot with great performances, the evolution of the hero/villian tension is masterfully played out.  So before you go melt your brain with the next Avengers tripe, give this film a go.  You'll be glad you did.
1.  the sixth sense
"I see dead people."  Rarely does a film line become part of the culture, and now, sixteen years later, people still utter this line.  This is M. Night's first widely released film, and his best.  Great performances from every cast member.  The tension and fear build throughout the film.  And the twist is so satisfying.  The more I watch this film, the better it gets.  This is truly a film classic.
What are your thoughts?  Are you an M. Night Shyamalan fan?  What would your rankings of his films be.  Let us know in the comments.
Aaron Saufley
Aaron Saufley, author of 'The Jumbo Shrimp Gospel' and 'Deep Roots', is a husband and dad who happens to moonlight as a hospice chaplain and preacher. He thinks Netflix is the greatest human invention next to pizza. He loves hanging out with his family, and when he has the time he also enjoys writing, a good cigar, craft root beer, smoking a mean rack of baby backs, movies, and trying not to die while running. Follow Aaron on Twitter.
Comments
comments