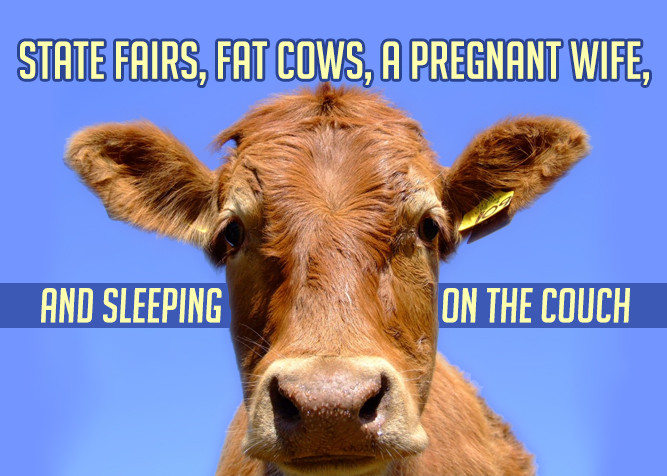 Each year I can, I make the trek to the State Fair. If you follow our blog, you know how much I love fair food. Well there's one event I keep missing out on.
Ever since I was a wee lad, I've excitedly hit every booth and building at the fair. The freaks, the geeks, the barkers, the carneys, religious zealots handing out tracts, guys yelling into microphones about the only household cleaner you'll ever need – "only $9.99!" I hit the art exhibits, the cake contests, biggest pumpkin submissions, the chicken egg hatchery…. and the pregnant cow.
That damn pregnant cow.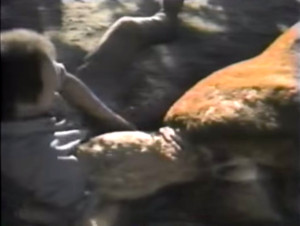 In 1991 I saw 'City Slickers'. I really loved that movie. More than any fifteen year old, still decades away from a mid-life crisis, had reason to. The seminal moment in the film, the turning point for Billy Crystal's character, was helping a cow deliver her calf. It was life changing. He suddenly understood his place in the world. His mid-life crisis did a quick 180 and he went home with purpose and a skip in his step.
There's a building at the fair that houses different aspects of farming, the aforementioned chicken hatchery, tractors, sheep getting sheered, and of course, a pregnant cow. Over the two weeks of the fair, there may even be more than one bovine birth. There's a white board close by that gives you the time and weight of the latest calf. Heck, last year they installed a TV that plays a video showing the entire act on a loop. It's a messy process that sometimes involves chains and a lot of leg work. (HA! I just gave E. L. James a line for her '50 Shades' follow-up.)
It's a messy process that sometimes involves chains and a lot of leg work.

Every year I've been met with disappointment. I'd arrived too early or late. One year I missed it by thirty minutes.
Thirty lousy minutes
! Mom and baby were walking around with a smug look of satisfaction on their faces. They knew. Of course they did. Last year I wasn't going to miss it. Nope, I grabbed an overpriced bag of kettle corn, snagged a primo spot on the bleachers (yeah, there's bleachers people – it's the fair), and I waited. And waited. My kids visited every exhibit at least five times. My wife was tired, my one year old was cranky, but we were close, I just knew it. And then… nothing. I had to pack it up and pump the kids full of sugar just to get them to the car.
Another year, another failure.
Now many of you may be thinking, nay shouting, 'Why are you so obsessed with seeing a cow give birth, man?" Well, my answer to you is, "I uh, ummm, don't know." Maybe it's just the curiosity of seeing a new life brought in the world. Maybe it's because the calf in 'City Slickers' was animatronic, and I knew I was witnessing Hollywood trickery. Maybe it's just because I keep missing it, my own golden dragon.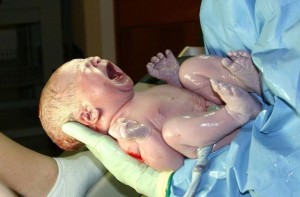 This year, I'm not missing out on witnessing a birth. I know this because my wife just hit forty weeks and the Doc has scheduled her induction for this coming Monday. This is our second birth, as the first two were adopted. To be honest, we've not given this pregnancy much thought, other than dread. When OllieMac was born, we were Googling "what does your baby look like today?", every hour, as if it would change. There was excitement in the air. We were all eager to meet the little guy, if a little apprehensive about the actual delivery. This time around it's old hat. No real surprises. We quickly gathered what we knew we'd need and soldiered on.
There's not a lot to do once you have three kids and find out a fourth is on the way. Sure, You worry about bills, daycare, the lack of college funds and your cherub's future, but there's not much to do other than re-buy that crib you just sold on Craigslist for an inflated price. The mystique is gone.
But this Saturday, two days before my wife's scheduled induction, the State Fair is back in town. She's decided to stay home, and I sure don't blame her. The forecast says rain, and I can't imagine what it feels like walking for five to six hours with what equates to a watermelon strapped to your stomach. I'll be taking the three monsters for a muddy day of fried food and stinky animal enclosures. It should be a blast.
Just don't make the same mistake I did tonight. I called a friend and asked if he wanted to join us, as we had an open seat in the family van. If only my wife hadn't walked in on the phone conversation as I was saying, "Yeah. And in a couple of days, I'm watching that damn cow give birth!"
At least she tossed me a pillow and blanket. The couch isn't that uncomfortable.
See you at the fair, Norman.
CHRISTIAN LEE
Christian has had many roles in life. He's been a minister's son, a poor student, a computer geek, a bible college drop out, a corporate suit, a traveling comedian, and a failure at much he's tried. But he counts 2 huge successes in his life. He is husband to a wonderful wife, and father of 2 exceptional kids he wanted… and a third, 'surprise baby', who's likability has has yet to be determined. He draws a web comic about their life at ForeverFamilyComic.com. Having just missed Aaron in college by a few years, they connected online, finding they had a similar sense of humor [read: DARK] and decided to launch PlaidDadBlog.
---
Comments
comments