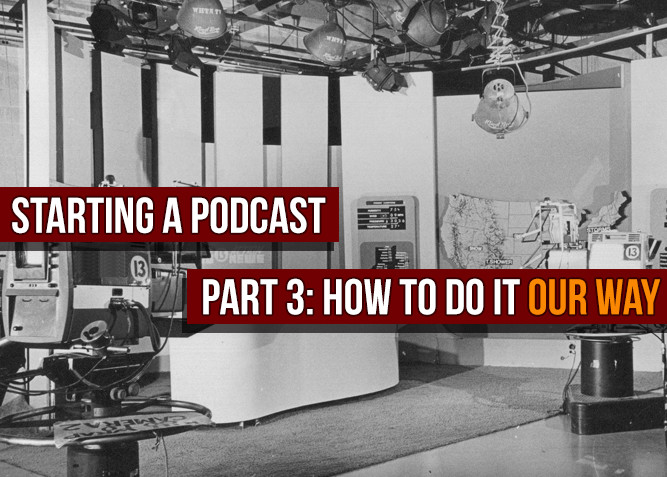 Well, it's come to the final part of our how to series. This is where we tell you exactly how we're pulling off our podcast with a list of all the equipment we use.
On both the 'Screaming Dads' and 'What Are We Watching?' podcasts, we record a video and audio version. This is because we feel video is the wave of the future (well the past by now) and getting the audio version is just a simple step of stripping it out of the already spliced and diced movie file.
We're not going to go into too much by way of instruction, as we've already pointed you to some in Part One and Part Two. This is is going to be a product heavy list with notes on how we use each piece.
Video:
$670 New Canon EOS Rebel T4i DSLR
I love this camera. You get the picture quality of the DSLR (for stills and use on your blog) and the video quality of an indie short film camera. It's perfect for vlogging/podcasting because it has a flip/front-facing screen and is easy to find any type of lens you need. I bought mine used on eBay with a kit lens for a steal.
$149 Canon EF 40mm f/2.8 STM Lens – Fixed
This is just a great lens with shallow depth of field. You can also get a 'Nifty Fifty' for a few bucks less here: Canon EF 50mm f/1.8 II Camera Lens – Fixed
$170 Davis & Sanford Provista 7518 Tripod with FM18 Head
Your tripod is IMPORTANT. It holds your shot steady and keeps your camera safe. Previously, I used a lightweight, cheap tripod from wally World. I didn't believe the hype.
I was wrong. There IS NO comparison. BTW, this is cheap by tripod standards. A Manfrotto could cost you thousands. I have done the research. Stop searching and buy this. but make sure you add:
$39 Ravelli ATD Professional Tripod Dolly for Camera Photo Video
This make you feel like you sliding your camera around on air. The stability of the D&S tripod mixed with this will have you thinking you've got a professional studio camera for a fraction of the cost.
$23 Pixel Pro Digital & Film Camera 100M Wireless Shutter Remote Control Release for Canon
An absolute MUST if you don't have a friend or associate behind the camera. This allows you to click record and then focus in on yourself once you get in position. I have 2 just incase I misplace one (which I did once and it made life HELL) – BUY THIS REMOTE! Here is one for grabbing STILLS: Opteka RC-4 Wireless Remote Control for Canon
$50 Photography Photo Portrait Studio 600W Day Light Umbrella Continuous Lighting Kit by LimoStudio LMS103
If you aren't doing anything fancy, like Green Screen, this kit will serve you well. It's a GREAT price. Easy to pack up and not too intrusive to leave out. If you ARE doing green screen (or just want bigger studio lights) check out our post and How-To here: HOW TO SET UP AND LIGHT A GREEN SCREEN
$12 Studio-98 20 X 20″ Inch (50 X 50 Cm) White Balance 18% Grey Gray Reference Reflector Card Collapsible Foldable ith a Smaller Zippered Carry bag
Stop using Auto White balance! I was doing it too up until very recently. We were both incorrect. If you're in a studio environment where everything is set-up and doesn't move, you'll only have to do it once in a while (but just do it each time anyway… different clothing reflects light back to the camera in different ways).
$14 CS Power ACK-E5 Replacement AC Power Adapter Kit For Canon EOS Rebel XS, EOS Rebel XSi & Canon EOS Rebel T1i
Stop worrying if you have enough battery power for your segment. Stop unscrewing your tripod mount every time you have to switch your batteries. Get a plug in power source for your camera. It's cheap and gives ease of mind.
$30 SanDisk Extreme Plus 32GB UHS-1/U3 SDHC Memory Card Up To 80MB/s, Frustration-Free- SDSDXS-32GB-AFFP (Label May Change)
Always, ALWAYS have extra memory cards. There's nothing worse than having to transfer files off the card in the middle of shooting – or worse – accidentally deleting a file you needed, but thought you already uploaded. Yes, this has happened to me. Yes, it really blows.
$30 NEEWER® 160 LED CN-160 Dimmable Ultra High Power Panel Digital Camera / Camcorder Video Light, LED Light for Canon, Nikon, Pentax, Panasonic,SONY, Samsung and Olympus Digital SLR Cameras
If you can only afford one light or don't have room to set up a 3-point kit, this, in absence of a natural light source, is all you need.
$75 Logitech HD Pro Webcam C920, 1080p Widescreen Video Calling and Recording
Sometimes we Skype into our podcasts or record interviews over the web. Sure, you can use the web cam in your laptop or tablet, but do you really want to? The answer is "NO".
$16 AmazonBasics 67-Inch Monopod
For shots on the go, or interviews where you don't have room to carry your tripod, get this monopod. It gets rid of your shaky cam and is awesome outdoors with it's convertible flat/pointy foot.
Whew! That's a doozie of a list, right? But it will get you set to pull off one heck of a good looking Vlog or Podcast. If I could only pick ONE THING on the list, it would be the DSLR. Even with a kit lens, it will do wonderful things for your production value. Just make sure you learn how to use it properly. The Logitech web cam is a great low price alternative, but for goodness sakes, turn off the auto-focus and change the settings to get the color and brightness right for your room.
Video Extras Bonus:
We've recently started doing GREEN SCREEN ads to help pay bills (of which you can see we have plenty). This necessitated buying or building a teleprompter. Here are some details on that plus some other video extras.

$300 New/$150 Refurb Apple iPad 2 MC769LL/A Tablet ( iOS 7,16GB, WiFi) Black 2nd Generation
Click the link and then click USED. I was able to buy a iPad 3, factory refurbished for $150. This is a steal. It's my only iPad product, but as we discussed in part 2, it has some great apps for podcasting/vlogging. One of which is a teleprompter app.
$20 Grifiti Nootle Universal iPad and Tablet Mount
You can definitely get by with attaching this to your tablet and mounting on your tripod, but if you're too close to the camera, people are going to see you reading the text. That's because you have to place it above, below, or to the side of the camera. I have one of these, but the perfect solution is next on our list.
$175 New/Half Price Used iPad iPad2 iPad3 iPad4 iPad Mini Teleprompter R810-10 with Beam Splitter Glass
Again, I bought mine USED. This time on eBay. I got it from a guy barely used, and I got it for half price. They pop up pretty often, so keep your eye out.
$13 Movo Photo NS-1 Shock-Absorbing Padded Neoprene Camera Neck Strap with Quick Release
Just a great neck strap. I thought I'd include it.
$5 6 Foot Mini to Regular Gold Plated HDMI 1080p Cable For Canon SL1 T5 T3 T6s T6i T5i T4i T3i T2i T1i 60D 70D 7D 7D Mark II 6D 5D Mark II & 5D Mark III Digital SLR Cameras
This has become a must have for us. When the camera is far enough away to film three people, it's hard to see that little flip out screen. This cable allows me to use HDMI out and have a Flat Screen as my monitor. It's just wonderfull. Just be aware, you will probably be seeing a mirror image of yourself and it takes a second to get used to.
AUDIO:
The main bits of the audio have already been covered in Part One and Part Two. Here are some of the extras we use.

$150 Behringer Xenyx 1204USB 12-Channel USB Mixer
A mixer gives you added features, especially when used with a Zoom H4N
. We have both the 1204 and the 1202 (at my partner's house). I prefer the 1204 because of the sliders and the On/Off switches, but the 1202 is $50 cheaper. Check it out here: Behringer Q1202USB 12-Channel Mixer
$13 NEEWER Microphone Suspension Boom Scissor Arm Stand
Are there nicer, more expensive mic arms out there? Yep. Do you need them? Nope. This will serve you fine. We went the extra step of drilling a whole in our podcast table to insert the arms, ditching the desk clamps that come in the box, but that's up to you.
$11 Eggsnow Camera Universal Microphone Shockmount Holder Clip for AKG D230, Senheisser ME66, Rode NTG-2,NTG-1,Audio-Technica AT-875R etc (Shock Mount)
If you're gonna buy a mic arm, you might as well add a shock mount. You can even use this attached to your camera with a shot gun mic. Why did we not put a shot gun mic on the list? Because we don't use one, but here's the one to buy: Rode VMGO Video Mic GO Lightweight On-Camera Microphone Super-Cardio
$12 Wowlife 1Pcs ABS Mic Microphone Interview Triangular Logo Flag Station 39mm/1.54″ Hole with Sponge – White –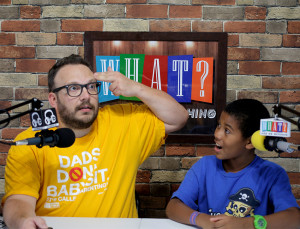 We have a really nice Mic flag we paid $60 for. If you want the company's name, ask below. When we needed a second flag, I just couldn't bring myself to spend that much cash again. This mic flag and a quality laser printed label look just as good on camera as it's more expensive predecessor.
Make you own and save that money for audio or video equipment.
$8 Hosa XVM-110M Right Angle 3.5mm TRS to XLR3M 10 Ft
This is the cable you need to run FROM your computer TO your mixing board or recorder for Skype interviews or live audio bumpers. Another must have.
$4 ANBANA @ 10 Pack Colors Handheld Stage Microphone Windscreen Foam Mic Cover Karaoke DJ
Not all mic screens need to be black. Heck, we match the color of the mic screen to the cable running into the board. Now there's ZERO confussion on who's levels we're changing.
$4.50 HDE SLR/DSLR/Point and Shoot Mounting Clip Harness for Belts
I use this to where the Zoom H4N
on my belt when using a Lav mic.  I'm not connected to a desk, which means one less tripping hazard. Can you say Blooper Reel?
EDITING:
$1,200 ASUS ROG GL551JW-DS74 15.6 Inch FHD Laptop, NVIDIA GeForce GTX 960M Discrete Graphics – Free Upgrade to Windows 10
I went with a rig that had a solid graphics processor for my editing machine. I'm still not willing to spend Apple money, and I don't want to learn a new OS. This works great. I used to leave a 30 minute video rendering all night. Now, it takes less than 30 minutes depending on how much post processing I've applied. Cutting video with this baby is a dream.
As far as software goes, we use Adobe CC. Premiere for video. After Effects for graphics and special effects. Photoshop for… duh, and Audition for audio. Like I said, we just pull the audio straight from the video file and BOOM! Two versions of your podcast.
Wrap Up:
Be sure Part One and Part Two for all of the microphone and recorder info. There lies the bones of podcasting: Good Sound. If you've found this information helpful, we'd love to hear from you. Make sure to share with your friends, and as always check out our podcasts at ScreamingDads.com and WhatAreWeWatching.com.
CHRISTIAN LEE
Christian has had many roles in life. He's been a minister's son, a poor student, a computer geek, a bible college drop out, a corporate suit, a traveling comedian, and a failure at much he's tried. But he counts 2 huge successes in his life. He is husband to a wonderful wife, and father of 2 exceptional kids he wanted… and a third, 'surprise baby', who's likability has has yet to be determined. He draws a web comic about their life at ForeverFamilyComic.com. Having just missed Aaron in college by a few years, they connected online, finding they had a similar sense of humor [read: DARK] and decided to launch PlaidDadBlog.
---
Comments
comments