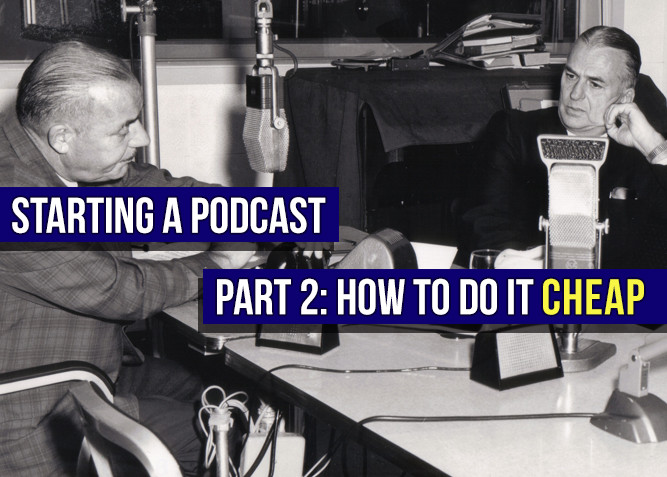 In Part 1: How to Start a Podcast for Free, I showed you that starting a podcast really is easy. The cherry on that cake: you don't have to spend a dime. Using equipment you already own, free hosting, and free software, you can deliver a solid product to your listeners.
Some of you will stop right there and be happy. Others of you, however, might use that technique for a few episodes just to get your feet wet and then move onto bigger and better things. This post is for you.
What do you mean by cheap?
OK, this is a really good question, as the descriptor "cheap" is subjective. Everything on this list can be done piecemeal, mixing in the equipment from the FREE post. But I'm going to put a cap on the total price of $300.
"$300?? That's not cheap at all!" Look, I hear you, but in terms of recording equipment and sound production, $300 is a drop in the bucket. Don't forget, this series is entitled 'How to Start a Podcast for Free, Cheap, or My Way'. Once you see the way I do things, you'll see that $300 gets you a lot and at the same time, not so much.
Also, you may already own some of these items, so your cost may only be $300+ dollars. If you're a music maker, production worker, band geek, etc., you may have much of this list lying around.
Configurations/Options
I'm going to be presenting you with tried and true equipment and advice. This didn't all originate with me, but I have done my research. Heck, if it costs more than $50, I tend to over research. I've read tons of articles, watched hours of YouTube videos, listened to many (too many) podcasts on 'How to Podcast'. This list is solid. It will allow you to deliver a great product with solid production value.
Much of the in the list is swappable, so you can use different configurations of all the products below. I will also give you some price alternatives if you have a really tight budget.
Sound Recorder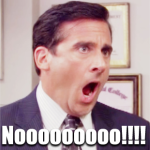 Sound is KEY. If your podcast doesn't sound good, people WILL turn it off. All of our podcasts at PlaidDadBlog also have video versions. I've run into video problems with Skype drop outs, bad lighting, a crooked shot – all of these can be managed. Some you can fix, some you can fudge, and some, the viewer doesn't really care about – as long as you're engaging! But bad audio? Well, let's ask Mr. Scott.
You need a decent sound recorder. one of the best, and most recommended, is the Zoom H4N.
So, What does $199 buy you? Well, quite a lot actually. you can use it to record on its own, or you can use it with handheld, studio, lavaliere–ANY type of microphone. This is a one-stop shop when it comes to recording. Many stand-up comedians use this to record their sets. You can set it on the stool or plug directly into a sound board. There's so many possibilities when it comes to the Zoom H4N.
It's also a TANK. My son dropped it at a live event we attended, and it just kept performing as if it never made a 5 foot drop of butt clenching doom. My butt clenched when I saw it happen… and my son's clenched as I chased him screaming "MURDER!!!"
You can always get the Zoom H1 ($99) which is very respectable, but the Zoom H4N is such a complete product, if you have the money, get it. There's also a version with a case and accessories for $5 more HERE
.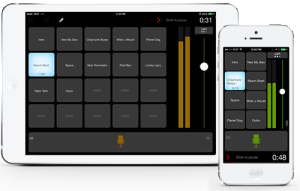 Alternatives to the Zoom? Well, do you own an iPad or iPhone? As I stated in the FREE post, you can always use a phone to record your podcast, but if you have an Apple device, there's an App for that. This app is so awesome that it made me, A: consider buying an iPad, and B: consider completely changing how I record podcasts. I had a really old iPad that needed an iPad Screen Repair so I got it fixed up and it works perfectly now. I love it and it works so well! If we didn't record a stand-along video version of our podcast, this is how I'd do all of our shows. The app is BossJack ($9.99 iTunes). It's like a mini radio station in the palm(s) of your hand. It has sound carts, fade ins/out, and everything you need to run your show. You will need an Apple Lightning to USB Camera Adapter (MD821ZM/A)
to hook up a decent microphone which we will move onto now. A smart (and flush) podcaster will run the audio out into the Zoom H4N for the security of a backup recording.
Microphones

There are many ways you can go with mics. I'm going to present two options. The standard handheld microphone and the lavaliere, or shirt clip, mic. Many people use a Blue Yeti
or Snowball
microphone. If you want to go that way, great. They have a decent sound and they just look Cool. But if you want a versitile mic with great sound, I (and so many others) recommend the Audio-Technica ATR2100-USB.
This mic can go anywhere and do anything. Going to a live show? Plug the XLR input in the board. Recording to a laptop? Go USB. I use both functions of this mic.
When I'm recording our main segments, I plug the XLR directly into the Zoom H4N (OK, I go into a board first, but that's for Part 3). Yes, you can plug two of these bad boys directly into the Zoom. But when I'm recording an interview over Skype, pop it into the laptop and have premium sound every time. It's a jack-of-all-trades and at this price point, master-to-all.

When it comes to a Lav mic, I went with the less expensive Rode Smart Lav. I did this because you can use it with your smart phone and it's cheaper than Rode's main mic. Be aware, you will need this Adaptor
to run into you Zoom.
If you want to wear your mic under your clothes, Rode also makes a cool little project called the invisiLav
for $19.99. I recently purchased this, but the one time I used it, I still got major rustling from my clothes. I think this will get better with practice and proper placement.
Editing & Hosting
Now, these two are not the same things, but I've lumped them together because the FREE options are still your best bets. I use Adobe Audition which will run you $49/mo, but you don't need to. I only use it because I also record video and it integrates with Adobe Premier. You don't need anything fancy. If you're recording to an iPad, use Garage Band, PC: Audacity.
As far as hosting goes, again, your FREE options don't get much better. I do pay for podcast hosting, but that's covered in Part 3 (and I very well may be changing that by then).
So there you go. This is how to get the BEST podcast audio for UNDER $300.
Note: Some of the links above are affiliate links, but they are the best prices I've found online, and I think I stand to make about 35 if a couple of you buy something. So, if you like putting candy money in my pocket, and cavities in my kid's mouth, we appreciate the gesture.
CHRISTIAN LEE
Christian has had many roles in life. He's been a minister's son, a poor student, a computer geek, a bible college drop out, a corporate suit, a traveling comedian, and a failure at much he's tried. But he counts 2 huge successes in his life. He is husband to a wonderful wife, and father of 2 exceptional kids he wanted… and a third, 'surprise baby', who's likability has has yet to be determined. He draws a web comic about their life at ForeverFamilyComic.com. Having just missed Aaron in college by a few years, they connected online, finding they had a similar sense of humor [read: DARK] and decided to launch PlaidDadBlog.
---
Comments
comments