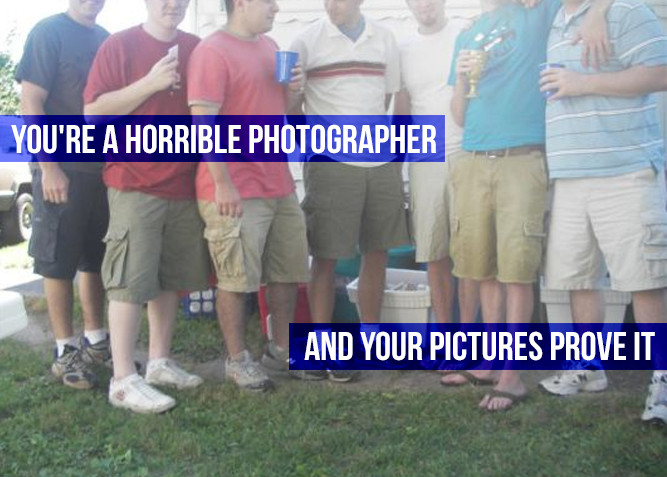 [Sponsored Post]
Smart phones, digital cameras, splashy filters, and suped up software have led us all to believe we're something we're not – great photographers. The ease and freedom to publish our "masterpieces" has furthered this thought by removing the barrier to publishing. The fact is, you can throw everything up on Facebook and not spend a dime.
But that lack of price has a cost. It's removed our need to self edit. Back when you had to pay for every print, you chose only the best photos to print and share. Now, you can share them all with the swipe of a finger.
Your friends are at fault too. Not only do they throw up the same amount of hastily taken snapshots, they click 'like' on every album you put online. This gives you the misplaced pat on the back which just encourages more of the same. The fact is, when they click the like button, they're saying they like you not necessarily your pics. If you want to know which pics are really good, or have significant meaning, scroll through your notifications for likes on individual photos. You're likely to notice a trend. Only 20%-30% make the grade.
Another reason we don't edit photos? We don't have to! We have 3 terabytes of space on our hard drives, 50GB on Dropbox, 5Gb on Google…. the list goes on and on. Why go through and delete pics when we can just save them all? Space is cheap and time is money. The problem is, whenever you want to show Aunt Sally a pic of little Lucy's dance recital, you can never find it in the thousands of photos you have stored. And once you do, you have to scroll through the 80-odd wasted takes to find the single one where your little cherub's face is in focus. That glazed look in Aunt Sally's eyes is because she has to sit through this same routine with every other family member. All Aunt Sally wants now is to be on a cruise ship alone. With a drink.
I'm here to tell you this doesn't have to be the case. You can have great photos. You can have an awesome online picture album. You can show off shots of the kids without causing family members to sever your branch from the family tree. The answer is Ruly.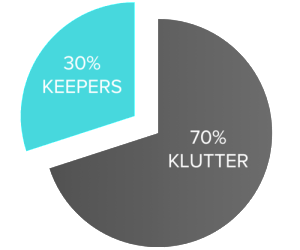 Ruly is a cost effective way to take your rudimentary skill at capturing life's moments and make it look like you aced that final in photography 101. Ruly is a group of photo specialists who pick and choose which images are Keepers, and which ones are just Klutter. Remember that 30% rule? Ruly takes care of that problem for you. No longer do you have to take time combing through folders and folders to pull out the gems, or throw up everything online exasperated at the thought of it.
What? That's not enough you say? Well, as they say on TV, "But wait! There's more!"

Solving the clutter is only half the solution. You also need a trained eye to fix those photos. Not only will they throw all the blurry and ill-framed shots in the Klutter pile, Ruly will also become your personal stylist and editor. No more red eyes for the kids. No more demon eyes for Scruffy.
Ruly is truly your one-stop shop for great, professional looking photos. Photo filters on cameras, phones, and software work great… IF you know how to use them. Most of the time, however, people over expose, darken, crop, or just plain ruin the parts they're trying to fix in the first place. Ruly fixes that by having trained pros do it for you. Have you spent hours and hours in a Photoshop class learning the ends and outs of the pen tool? I didn't think so. And why should you, when you can afford a pro at such a basic cost? Take a look at what they did for this Christmas pic:
Not only did they correct the exposure caused by taking a picture with a bright light source in the background (that's a big no-no you guys), they also cropped it properly and put the focus on the most important part. Which one of these is going to get more 'likes' on Facebook? A no-brainer, don't you think?
All you have to do is load your pics to Dropbox, which is free (come on… who doesn't already use Dropbox?), and Ruly does the rest. They don't delete your old photos. They make copies and even organize them for you. Do you know what's in folder '111-33453-1-23-15'? How about the one titled, 'Lucy's Dance Recital'? And inside that correctly named folder will be only the best shots. The best memories of that day. Of course, since it's already on Dropbox, everything is safe, secure, and hacking free. What could be simpler?
And here's a final reason to try Ruly: They care about the underprivileged. Ruly is dedicated to training and giving jobs to women in poverty around the world. They find talent where others only see squalor. They are giving a hand up by giving training and compensation to those in dire need around the world. Why on earth would not want to support a company like that?
Get your Free trial of Ruly now by visiting: getruly.com.
[Sponsored Post]
Comments
comments