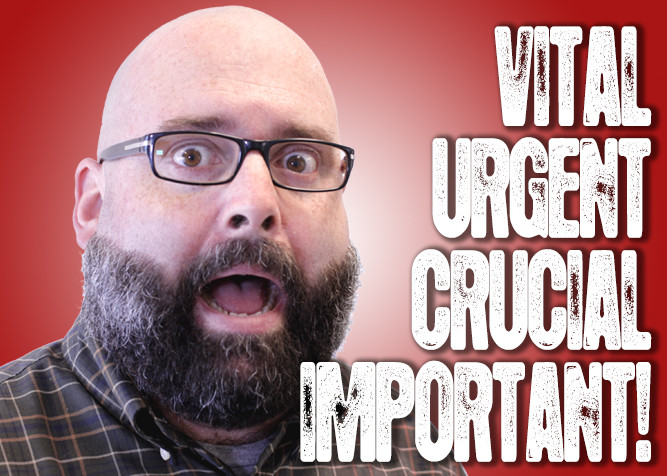 Sunday, August 30.  4:55 PM.
I have exactly twenty minutes to bang out this post.
Life has been so busy recently.  Work (which has, oddly enough, slowed down a little), family, friends, church stuff, this site.  That's all the stuff I can remember at present.  In the next few hours, here's what I've got to accomplish:
Finish this blog post.
Run my eldest daughter to a youth group event at church.
Be home in time for my youngest daughter to be dropped off from playing at a friend's house.
Go back to pick up the eldest daughter from her youth group event.
Kiss the wife good-bye as she heads off to work.
Wolf down some hastily-made dinner (likely leftovers from lunch).
Have a church staff meeting here at the house.
Go to the neighbors and watch the next episode of "Fear the Walking Dead."
Get the kids tucked into bed.
Look over this post for glaring errors.
Wash a few clothes (unfortunately, my workplace is not clothing optional.  Well, fortunately for my co-workers, our workplace is not clothing optional).
___________________________ (whatever I'm forgetting).
5:02 PM. Thirteen minutes left to finish this post…
It's so easy to lose sight of what's important because the urgent constantly pushes everything else out of the way.  It's during intense times like this that I have to remember what's truly important:
I have the most amazing family–a wife who loves me, kids who adore me.
I'm blessed with a roof over my head, clothes for my back, food for my belly, and transportation to get me here, there, and where-the-heck-ever.
I work two amazing jobs that allow me to help people.
I have great friends.
My faith is my foundation–it gets me through times like this and allows me to absorb a large amount of spiritual pain from others who are truly struggling with life.
Now that I've quickly typed those things out, I (once again) realize how vital it is to focus on what's important.  Otherwise, the urgent will take over… and I'll miss out on life.
So take some time (as an old church hymn says) to count your blessings.  Step back.  Take time to breathe.  Remember the people who are most important to you.  And, above all, put the urgent in it's proper place–below the important.
(I have one minute left to spare)
What are some of the "urgent" things in your life that push out what's truly important?  How do you find the proper balance?  We'd love some feedback, so sound off in the comments.
AARON SAUFLEY
Aaron Saufley, author of 'The Jumbo Shrimp Gospel' and 'Deep Roots', is a husband and dad who happens to moonlight as a hospice chaplain and preacher. He thinks Netflix is the greatest human invention next to pizza. He loves hanging out with his family, and when he has the time he also enjoys writing, a good cigar, craft root beer, smoking a mean rack of baby backs, movies, and trying not to die while running. Follow Aaron on Twitter.
---
Comments
comments