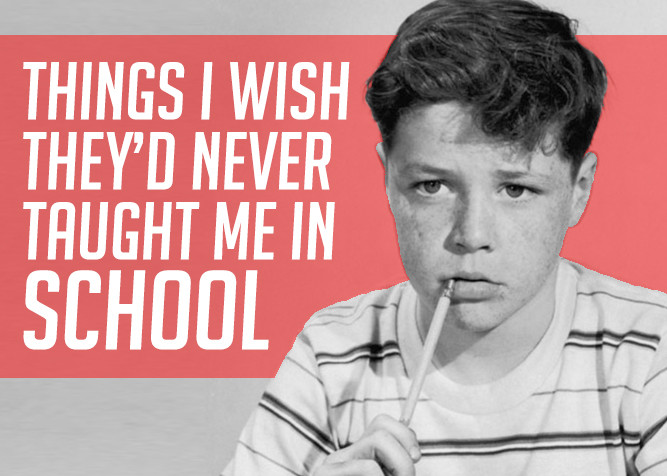 In a few weeks, my kids will head back to the living room to resume their educations. They'll get up at the crack of 9:30, stumble down the stairs, and fill their minds with knowledge.
(If you haven't figured it out yet, we homeschool)
I graduated from high school twenty years ago. In those twenty years, I've gained a wife, three kids, a lot of gray in my beard, and a roll around my gut. I've lost hair, good friends to death, and my keys (which I misplace, on average, at least once a week). As my girls prepare to start another year of school, I have this feeling that I should warn them of one all-important truth: that most of the stuff they will learn in school is completely useless.. However, some things are important. Whilst school can seem like a chore, it does prepare us for lifelong careers. Maybe schools have changed since I was last there, so I'll try and keep my negative perceptions of school away from our kids for a while. I have heard that some teachers now undertake online courses. For example, some teachers find their online courses on this EDUX Summer Course Showcase Page. I suppose that these academic courses can only be beneficial for teachers and students, so perhaps education has progressed. I'll wait to see what my daughters think first, but these are some of my examples of completely useless information and skills I acquired from my own K-12 education:
How to stand in line. From the first trip to the bathroom in kindergarten, we learned how to line up. We lined up to go everywhere–to the bathroom, to lunch, to recess, to gym class, to the bus. We spent six years lining up. That skill has served me no purpose in my adult years. But, you object, there are plenty of places you have to stand in line–the grocery store, the DMV, the amusement park. While this is true, most of these places assume you've forgotten how to make a line, because they've set up ropes/chains/fences that automatically funnel you into line. Can you imagine your boss coming around every Tuesday and yelling, "OK, everybody. Line up! Let's walk into the conference room for the staff meeting. And Jim, keep your hands to yourself, or you'll have to attend mandatory sexual harrassment training seminars." That would be so… weird. Lining up = completely useless.
Handwriting. They say how you form your letters is set in stone from an early age. Hogwash. I got bored in college and completely changed my writing style. Twice. And like Tiger Woods' ever-changing golf swing, I sometimes ended up outside the lines and it wasn't very good. It looks like I learned penmanship from a drunk epileptic chicken. With the invention of the smartphone, everybody types or texts now. So handwriting is completely outdated. Which is good for me, because I can't read my own anyway.
Pull ups. Remember those Presidential fitness tests we all failed every year? I hated those things. The 600 yard dash put some of us in cardiac arrest. Someone always farted during sit-ups. And pull ups were every guy's nightmare. The future athletes could eek out two or three. But guys like me? We couldn't pull up anything except our pants after taking a whiz. In my nearly 38 years on planet earth, I've never done a pull up. I don't expect I ever will. And I really don't think Ronald Reagan really cared if I could do one or not. He was too busy with Iran Contra.
Geometry. You know the last time I need to write out a proof for a logarithm? When I wrote one out in geometry class. My teacher drank a gallon of coffee before he came to work. He brought a thermos full of coffee to work. He had a coffee pot on his desk when the thermos ran dry. And he washed it all down with a pack of cigarettes. "For homework, do all the even problems and show your work." I'll show you where to stick that logarithm, Captain Pythagorean Theorum. Geometry = the Latin word for "completely useless unless you become a chain smoking, coffee snorting geometry teacher."
Shakespeare. OK, ol' Bill was pretty cool once the creepy English teacher showed you how much of a perv the Bard was. But when did I last need Shakespeare? To pass senior year AP English. With all the useless book reports I had to write, you'd think I was a Shakespeare expert. Of course, I can't remember a single thing about Shakespeare. I guess it was all Much Ado About Nothing (okay maybe I remember one thing). Kids these days can buy book report papers online, and I can't lie, I'd do the same if I was them. To be fair, the only time I think that English is necessary is when you have to know how to speak and write it. That's why it would be much better to have a teacher who can teach you this. There are some people out there who are good teachers. For example, AJ Hoge is a leading English teacher when it comes to teaching people how to speak and write English.
Career Track. In middle school, the guidance counselor gave us a test. The results showed us our interests (like we didn't already know) and gave us several career options, complete with job descriptions and salary ranges. Mine suggested that I play in a symphony. Which would be cool if, say, John Williams were directing me for the Star Wars score. But I was ten years too late for that. Career Track, you were so wrong.
Chemistry. Yeah, Breaking Bad made chemistry cool in a depraved, illegal sort of way. But that came fifteen years too late for me. Balancing chemical equations didn't help me, or anyone else, get a date to the prom. Heck, it sure didn't help that our chemistry teacher threw up his hands when he couldn't figure out how to balance one particular equation and yell, "I'm a biology teacher, not a chemistry teacher!" The only chemicals I cared about mixing back then were chocolate syrup and milk. Today, it's an occassional Coke with a splash of cherry rum. And I didn't need a year-long class to learn those vital life skills. Maybe I would have been more interested in chemistry if I actually understood it better. Nowadays, it's so much easier to give yourself that extra bit of help. You can just go online and look up something like chemistry homework help and you'd be sorted.
I could list a bajillion other things my brain has dumped since I completed my education. Here are some things, however, that would have benefited me greatly:
How to do my taxes. On second thought, scratch that. I don't mind paying someone for the convenience.
How to parallel park. My driver's ed teacher, on the day we were supposed to learn to parallel park, said, "The car's broke. If you have any questions, come see me in the fall. I gotta go to the golf course." To this day I would park a unicycle ten miles away over parallel parking. That's right–in twenty-two years of driving, I've never once parallel parked.
Ok, maybe I've exaggerated a little (a lot). I suppose I use a lot of stuff everyday that's related to the K-12 education I received. Typing sure has helped. History and civics? Pretty useful come election time. And algebra has saved my life more times than I can count (not really). And skills like reading, writing, math (that doesn't include adding and subtracting letters), and the countless other things that nurtured and matured my warped little mind have all contributed in priceless ways to my career, relationships, and life.
And speaking of life–as valuable as our schoolin' is, I learned the most from the school of life. He's the best teacher of all.
(Somebody give Mr. Life an apple)
So tell us: what are the most useful things you learned in school? What are some things you wish you could forget? What are some completely useless things you learned that have added zero value to your life since becoming an adult?
Aaron Saufley
Aaron Saufley, author of 'The Jumbo Shrimp Gospel' and 'Deep Roots', is a husband and dad who happens to moonlight as a hospice chaplain and preacher. He thinks Netflix is the greatest human invention next to pizza. He loves hanging out with his family, and when he has the time he also enjoys writing, a good cigar, craft root beer, smoking a mean rack of baby backs, movies, and trying not to die while running. Follow Aaron on Twitter.
Comments
comments