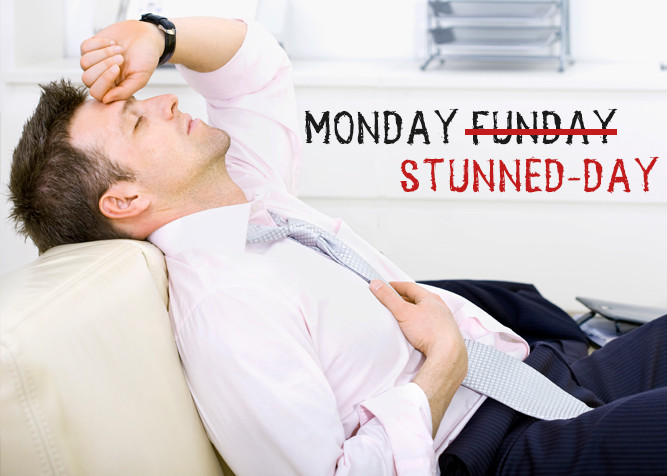 Poor Monday.  You've been treated so poorly.
You're like that kid on the playground–the one with glasses, freckles, forty pounds underweight, all the coordination of a drunk sponge, given a swirly by Bubba everyday after lunch.  He's always picked last for kickball, and only because the teacher forced the captain with the last pick to choose him.  Yeah, you're definitely that kid.
Everybody likes Tuesday, because he isn't you.  Wednesday is HUMP DAY!  Thursday is so close to the weekend you can taste it. Friday is Latin for "Par-tay!!!"  Saturday needs no introduction.  Sunday is the lover called away, whom we're afraid we'll never see again but in our hearts, we know will return.  But you, Monday, are like everybody's creepy uncle who shows up for Christmas.  We acknowledge your presence, but we try to stay as far away from you as possible because you tell crude jokes and smell like a vermicious cocktail of ashtray, Milwaukee's Best, and a splash of gross.
In your defense, you can't help it.  You're kind of stuck.  You asked Tuesday to switch spots with you, but he just ignored you.  Thursday and Friday were making out in the back seat, something of which you know nothing about.  And Saturday and Sunday?  They're the cool kids. They sit at the cool table at lunch.  They pity you, but only because they're glad they're not you.
At least the inventors of the calendar threw you some okay holidays.  Memorial Day and Labor Day are great, but we don't exchange gifts or eat a lot on those days.  We usually drive to the beach.  To get away from you.
Yes, I'll admit it:  I really don't care for you.  You force me away from my family every week after each all-too-short weekend.  Me, and everyone else with a job.  We all dread you. We make a gallon of coffee to chug – not because we really enjoy coffee, but it's like at metaphorical middle finger in your face. In a few weeks, all our kids will hate you even worse, because school will be underway again.  And then we parents will have to wrestle these tiny people who live in our homes out of their beds to go get an education.  There will be kicking, crying, whining, screaming, and the constant begging for "Five more minutes!"  The kids won't like it either.
All because of you.
But I'll give you this:  you take it all in stride.  You take pride in being the first day of the work week. You willingly take the abuse because you know Tuesday doesn't have the intestinal fortitude for it. You're grizzly ol' Quint, scratchin' his nails down the chalkboard, muttering, "Ya'll know me.  Know how I earn a livin.'  I'll take this bird down for ya, but it ain't gonna be easy."  You bear the weight of the week on your back with steel in your jaw, grit in your teeth, and fire in your eye.  To borrow a line from the great thespian Burgess Meredith, you eat lightning and crap thunder.
So here's to you, Monday. Thanks for ushering in the work week.  Thanks for letting us dump the worst of ourselves on you. Thanks for being the septic tank of our calendar. You do it because no one else will.  For that, we salute you (and by salute, I mean flip you the bird).
Wait, there's one more thing: for the love of Pete, would it kill you to take a vacation?
AARON SAUFLEY
Aaron Saufley, author of 'The Jumbo Shrimp Gospel' and 'Deep Roots', is a husband and dad who happens to moonlight as a hospice chaplain and preacher. He thinks Netflix is the greatest human invention next to pizza. He loves hanging out with his family, and when he has the time he also enjoys writing, a good cigar, craft root beer, smoking a mean rack of baby backs, movies, and trying not to die while running. Follow Aaron on twitter.
Comments
comments