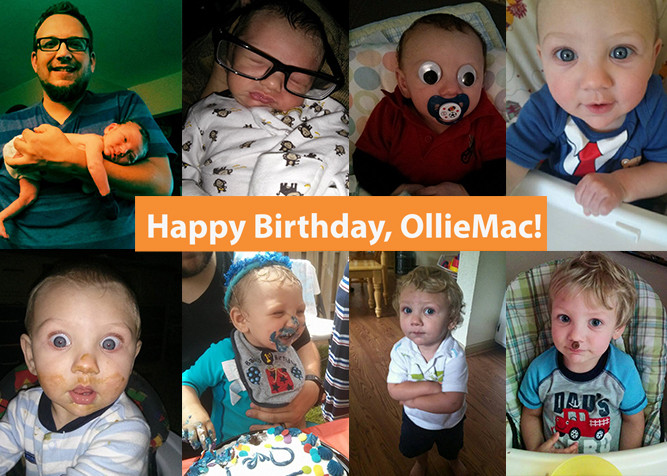 I'm quite horrible at playing the guitar, but did that stop me from uploading this song to YouTube? Heck No! I play for LOVE, man!
After adopting two wonderful kids and being married for 18 years, my wife became pregnant. I don't say 'WE' got pregnant because I blame her entirely. I can't help being this perfect speciMAN. She should have denied herself. Stayed chaste. Kept that bun in the oven. Yet here we are.
Ollie MacGowan is two years old. And on top of that, my wife has gone and gotten pregnant AGAIN. Will she never learn?
After two years with Ollie, I'm reminded of this verse:
And I saw one of his heads as if it had been mortally wounded, and his deadly wound was healed. And all the world marveled and followed the beast. – Revelation 13:3
If I had a significantly larger bank account, I'd be tempted to think OMac is truly the horned beast made flesh, but as it stands, I could not possibly fund his rise to power. So I'm left thinking the kid is just punishment for past wrongs that I'll never right. He's my penance on two quick and deadly legs. If you think "deadly" is hyperbole, you missed my post about my trip to the urologist after many, many swift kicks to the groin. Penance is putting it mildly. On-going torment is probably a more accurate description.
So why did I choose to pick up a guitar and butcher a classic song by Alabama? Well, the kid is just so darn CUTE. I wish it weren't the case, I truly do, but I'm quite taken with the little bastard. So raise your sippy cup-o-chocolate-milk to Ollie. The greatest overlord to ever rule my household.
That is of course until Lex gets here. Yah, that's right. I'm naming my daughter after Lex Luthor. Why beat around the bush? I'm doomed after all.
CHRISTIAN LEE
Christian has had many roles in life. He's been a minister's son, a poor student, a computer geek, a bible college drop out, a corporate suit, a traveling comedian, and a failure at much he's tried. But he counts 2 huge successes in his life. He is husband to a wonderful wife, and father of 2 exceptional kids he wanted… and a third, 'surprise baby', who's likability has has yet to be determined. He draws a web comic about their life at ForeverFamilyComic.com. Having just missed Aaron in college by a few years, they connected online, finding they had a similar sense of humor [read: DARK] and decided to launch PlaidDadBlog.
---
Comments
comments