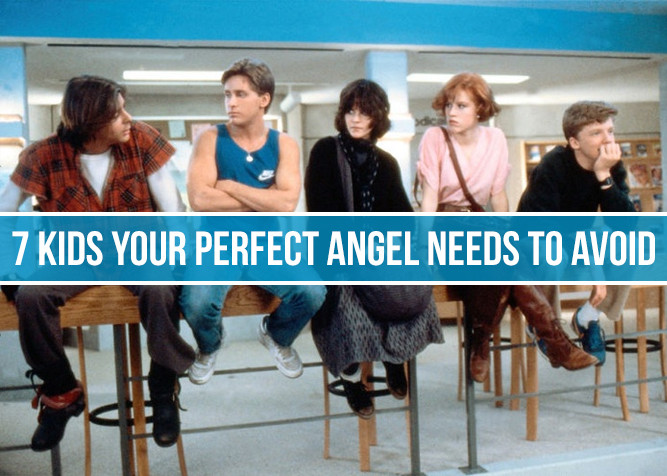 As much as we want to deny it, summer is almost over.  Vacations are nearly complete (except for you slackers who always wait until the last minute).  The days are ever so slightly shorter.  That means autumn is coming, football is almost here, and the kids are going back to school.
One thing parents worry about are their kid's classmates.  They hope their child will make friends, but they worry that there will be kids of (how shall I put this…) an unsavory nature in their class.  What's a parent to do?  How can we protect our perfect little angels from those degenerates and guarantee our precious gems a successful school year?
My suggestion:  avoid those other children like the plague.
Like forbidding your kids from going outside to play in the rain because of those dirty, evil mud puddles, here are seven types of kids your child needs to avoid to get through prison school unscathed:
The cool kids.  These are the homecoming queens, starting quarterbacks, and their entourages.  In elementary school, their personalities just start to emerge.  They start hanging out with the other kids who have the cool toys.  Later on, they sit together at the cool table in the lunchroom.  They may pick on the kids who aren't wearing True Religion jeans.  They develop the look–the I'm better than you look.  Your child will desperately want to fit in. Squelch that longing immediately. I know your gut reaction: you would like for them to fit in with this crowd (their parents usually have a lot of influence in the community).  Popularity, however, comes with a price tag.  A literal price tag.  You'll have to outfit your munchkin with the latest fashions, which means you could go broke trying to make your child look cool.  That, and you may have to take them to a proctologist later in life to have an entitled attitude removed from their backside.
The bully.  This guy was different from the other kids in his kindergarten class–he was eight years old.  If your angel is shorter than him, slower than him, or anything other than him or his little toadies, your kid is in for it.  While most other kids cry and ask for mommy when they puke in the trash can, this guy laughs and shows his mom what he put in the trash can. So either teach your kid to play vigilantly on the other side of the play ground, or instruct him to walk right up to this kid and sucker punch him in the nose so as to establish dominance.  In which case, your kid may be the new bully.
The shy kid.  This one never talks in class.  She sits in the back corner.  She eats by herself.  It's difficult to make friends with the shy kid because the conversations are often just one sided.  So unless your child relishes the idea of talking to themselves while trying to talk to someone else, best keep him away from this loner.
The nerd.  Yeah, he's smart.  And he'll likely be a teenaged millionaire app developer.  But he's got a huge target on his back for the aforementioned bully.  So unless you want your child coming home with a bloody nose everyday, keep him away from Steve Jobs, Jr.
The brown noser.  Also known as the teacher's pet.  This kid will do anything to win the praise of the teacher–the first to raise their hand, the first to say "Hello, Ms. Teacher.  You look pretty today!"  This child will always treat others nicely when the teacher is around.  The child is trying to build enough relational capital to use in a tense situation–like when she doesn't get her way and pulls her classmate's hair when the teacher wasn't looking, knowing that the teacher may likely think, "Oh, that couldn't be her–she's such an angel."  (The brown noser doesn't realize that teacher has been around the block several times–they can spot a brown noser a million miles away) This kid makes Bernie Madoff look like Winnie the Pooh.  The bully despises this kid–he has to back down because he believes the brown noser has the teacher in her back pocket (she thinks she does, too).
The sneezer.  Because GERMS.  This kid is always sick.  Allergies.  Colds.  Strep throat.  Bubonic plague.  Everything Dr. House couldn't diagnose.   You name it, this kid's had it.  They make sure the world's mucas production needs are met.  They miss more school than Shaq missed free throws. Your kid can't afford to miss days.  Because you have to work.  And babysitters are expensive.
The herd.  These are the rest of the kids in class.  They don't lead.  They follow.  They usually don't get in much trouble, aside from one of them talking a little too much in class.  They're normal.  They're ordinary.  And your precious little pumpkin is anything but ordinary.
So there you have it.  Make sure your perfect, angelic, superstar, overachieving, future president/savior of the observable universe child avoids these quirky, strange, normal kids and they'll be so ready for life they won't be able to stand themselves.
And neither will anyone else.
AARON SAUFLEY
Aaron Saufley, author of 'The Jumbo Shrimp Gospel' and 'Deep Roots', is a husband and dad who happens to moonlight as a hospice chaplain and preacher. He thinks Netflix is the greatest human invention next to pizza. He loves hanging out with his family, and when he has the time he also enjoys writing, a good cigar, craft root beer, smoking a mean rack of baby backs, movies, and trying not to die while running. Follow Aaron on twitter.
Comments
comments