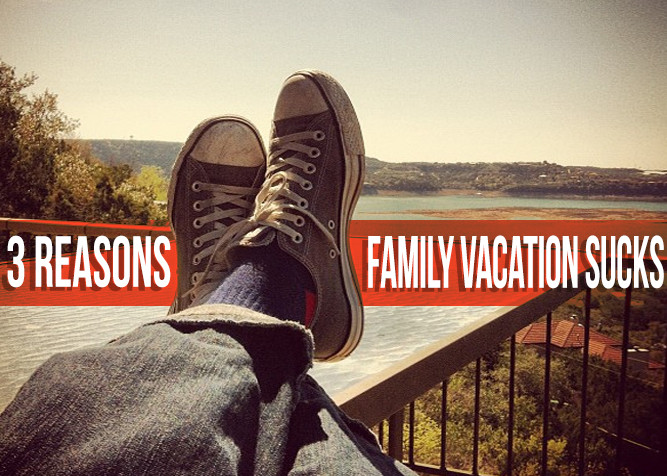 Last week, I went on vacation with my family. When I say "family," I don't just mean my wife and kids. By "family" I mean my in-laws and my brother-in-law and his wife and kids. Six adults and seven kids, all related by blood or marriage, stuffed into the same beach house for eight days. When the wife and I head to one of the Historic Hotels in San Antonio, we will not be welcoming the other members of our family to join us.
It was not like we went anywhere amazing, like Barbados for instance, either. I never thought much about this destination until my friend told me all about how he used Exceptional Villas to ensure he stayed in luxurious accommodation whilst he was there. He showed me some pictures, and it looks amazing! Truly breathtaking is the only way I could describe it. But there are other places I could tolerate on a family holiday. Namely the Cayman Islands, or indeed anywhere else in the Caribbean. I'm sure the sound of the clear blue ocean crashing against the white sand beaches could drown out the noise of my family. If this is going to be a regular occurrence, I'm going to have to persuade them to go somewhere more exotic in the future, but for now, it's off to the beach house we go.
What was I thinking? You, dear reader, probably want to know what drink I poured down my throat to get through it.
I'm glad you asked. In exchange for your concern, I give you three reasons why family vacations suck:
I had to relax all week. I was forced to take it easy for eight straight days. I didn't get to stand in the face-melting sun for hours at an amusement park so that my kids could ride the carousel. I didn't have the privilege of listening to my daughters scream for overpriced ice cream. I didn't experience the bliss that is emptying my bank account for cheap, tacky souvenirs that would find their way to the trash before the week was over. Instead, I was forced to sit on the back deck and stare at the sound, watching the sun set while casting brilliant yellows and pinks into the twilight sky. There's nothing that grates my nerves like reading a book for pleasure or taking a nap (or three). I woke up rested every day. It was miserable.
I had to spend time with these people. My in-laws are jerks. They rent a beach house every year and expect us to come spend the week with them. And we do. This year, I had to sit there with my mother-in-law and talk about how beautiful the sunsets on the sound were. I had to watch all the grandkids go out on the pier with their Papa (what we call my father-in-law) and have the time of their little lives crabbing. My brother-in-law and his wife had the audacity to share the cooking duties. They even made an outlandish birthday cake for my wife. And all the kids–heaven help us, the kids. It was like the circus all week–kids running around, having fun, playing games, swimming in the pool, watching TV. They actually succeeded in getting us to believe that they liked each other. All this family time nearly drove me to drink.
I had to eat local. On the few occasions we did venture out to eat, I couldn't have my way and go to the Outback (because the place we went didn't have one). I was forced to eat locally–local seafood, local pizza, local grilled pimento cheese and bacon sandwiches. All I wanted was a super greasy, 100 percent processed Whopper. What I got was locally sourced and fresh food. My stomach seriously considered rebelling. We actually took a massive risk and ate what the grandkids pulled out of the sound: crabcakes and shrimp. I would have given my left leg for a Wendy's triple with bacon. I drank several bottles of this just to cope with all the local fare.
I came back from our family beach vacation content, well-rested, and slightly fatter. I swear I'll never do it again.
Until next year.
AARON SAUFLEY
Aaron Saufley, author of 'The Jumbo Shrimp Gospel' and 'Deep Roots', is a husband and dad who happens to moonlight as a hospice chaplain and preacher. He thinks Netflix is the greatest human invention next to pizza. He loves hanging out with his family, and when he has the time he also enjoys writing, a good cigar, craft root beer, smoking a mean rack of baby backs, movies, and trying not to die while running. Follow Aaron on twitter.
Comments
comments