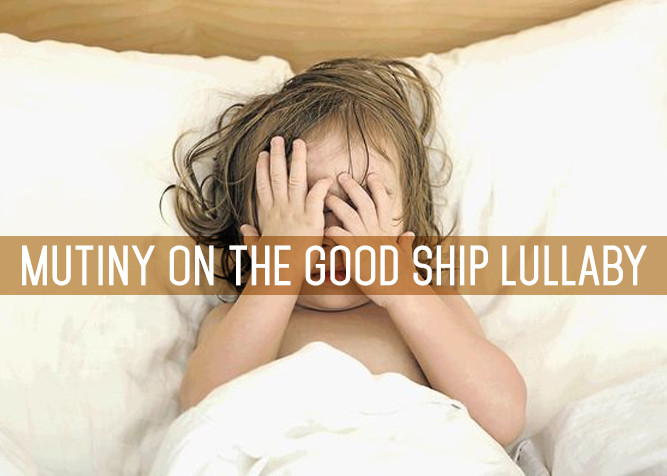 Al Herpin claimed he never slept. The French-born Herpin did not own a bed. He came home from work, sat in his rocking chair, read the newspaper until dawn, and then returned to work.
I swear this guy is my girls' hero.
Every night, around 8:37 PM, I utter, "Alright girls. It's time to get ready for bed." And every night, a rebellion erupts in my house. There's screaming, stuff thrown around the house, and crying. The girls aren't happy, either.
One would think that after years of falling asleep every single night without fail, that these people would realize bedtime isn't optional. Maybe we should actually do what dear old dad says so he doesn't stroke out. I wonder if they've taken out a big fat life insurance policy on me for when my head explodes.
Part of the bedtime routine is the brushing of teeth. Well, it's supposed to be. My darling daughters have convinced themselves that toothbrushes were the torture device of choice during the Spanish Inquisition. They are expert stallers; they use every trick in the book to thwart my efforts at getting them to scrub their grubby little chompers.
"I can't find my toothbrush."
"I don't know where the toothpaste is."
"I already brushed my teeth."
They actually have the nerve to utter this last sentence as green noxious fumes seep out of their pie holes. The inside of their mouths is like Darth Vader–more machine now than man. Well, woman. Little women. With chronic halitosis. Their dentist built a new wing on his house and named it in our honor.
All this to avoid going to bed (or, as they call it, death row).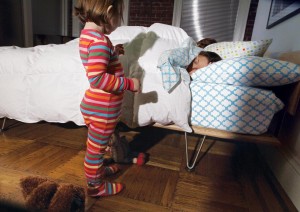 Eventually, I succeed in getting them into bed. We pray together. I give them hugs and kisses (holding my breath so as not to inflict permanent brain damage from accidental inhalation of their dragon breath), and then it's lights out. But it's anything but eyes closed. There's whispering, reading with a flashlight they stole from my toolbox, Barbies (Lord have mercy, the Barbies), and sometimes attempted murder as the older two share a room. The little one, without fail, gets up fifteen minutes later requesting food and drink–like there's supposed to be a meal between supper and breakfast (I swear, she's a hobbit). If she doesn't get food, then she wants to "tell us something," which is usually along the lines of, "I don't want to go to bed" or "I'm scared of my bed" or "I'm afraid aliens are going to sneak in my bed and scan my brain and eat my Barbies." I pray every night for E.T. to show up and take the Barbies. I fear that, soon, the wife and I will forget to lock our door, and the little one will wander in and get a first person look at exactly how she came to be.
OK, I admit it–bedtime isn't quite that dramatic at our house. It often grates the nerves, but most of the above takes place in my head. As frustrating as bedtime at our house can be at times, I admit that our girls are just like us. We are night owls. It's in their DNA to stay up late. My eldest regularly stays up past midnight reading. My two youngest girls often pass out after 11:00 PM. For most families, this is a nightmare surpassing a nuclear zombie holocaust.
It works for us. It may not work for you, but it works for us.
We homeschool our girls, so they don't have to wake up before the sun does in order to catch the bus. That means they sleep later in the morning, so they aren't sleep deprived. I'm totally cool with this sleep schedule. It means a few more snuggles and more reading books to them in a horrible Scottish accent.
Do I wish they were asleep by their designated bedtime of 9:30? Sure. Parents would love for their children to go to bed by a reasonable time. Who wouldn't? But some nights this is just not possible, and I think it's because they spend a lot of time staring at screens before bedtime, which is why we want to try sleeping glasses with them, from somewhere like Felix Gray (https://felixgray.com/sleepglasses) to see if this can make a difference to their downtime. I've heard that the protection that these glasses can offer from the blue light helps people to fall asleep at a faster rate. So, the next time they're not in bed by 9:30, this idea will definitely be considered. Sometimes, I just want to cuddle with my wife knowing that one of the kids isn't going to bust up in our room to tell us about the game they aren't supposed to be playing. But it's OK.
Although, I may find ways for them to make better use of their time awake at night. Like cleaning the gutters, or doing the laundry.
AARON SAUFLEY
Aaron Saufley, author of 'The Jumbo Shrimp Gospel' and 'Deep Roots', is a husband and dad who happens to moonlight as a hospice chaplain and preacher. He thinks Netflix is the greatest human invention next to pizza. He loves hanging out with his family, and when he has the time he also enjoys writing, a good cigar, craft root beer, smoking a mean rack of baby backs, movies, and trying not to die while running. Follow Aaron on twitter.
Comments
comments