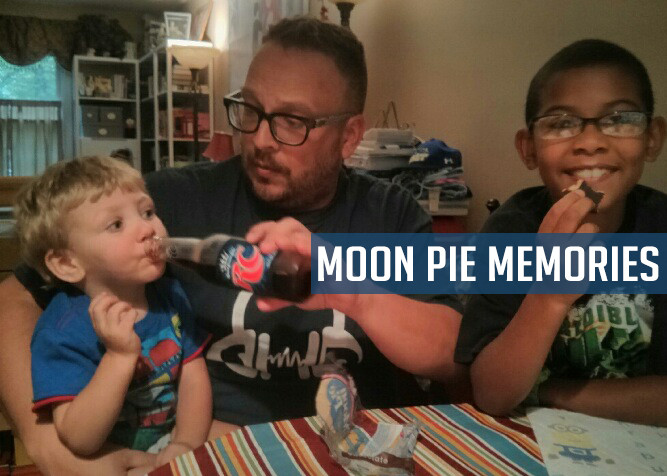 It seems appropriate that on the weekend of the 4th of July, my sons and I shared a Moon Pie and an RC Cola. Why was it the perfect time of year for such a mundane treat? Well, it was something my Grandfather, a veteran, always shared with me.
He once told of the time he and my Grandmother danced with then-General Eisenhower on a voyage back to the U.S. He was a barber who could also fix up an old Pontiac Catalina–a car he would later give me as I went off to college.
He made me rake leaves even though we lived in the woods. He taught me how to garden, which is to say he taught me how to pull weeds. He oversaw my homework each day after school, and on one day off we watched the space shuttle Challenger explode on its way to space.
Sure, he tricked me one time and made me eat liver. I chose to never forgive him, but I forgot that promise within moments of making it. He showed me how to cook real sausage gravy and turn wild blackberries into the sweetest jelly you've ever tasted. And there was the time he missed spitting his chewing tobacco on the ground and hit my foot. He laughed for days. I'd never heard such a great laugh. It was the only time I saw my grandfather cry. Tears of joy squeezed out every time he remembered my face, contorted in disgust.
I remember crying in fifth grade beacuse I knew that while I was sitting in science class, he was going into surgery for a quadruple bypass. I couldn't imaging losing him. He was always there for me, and a world without him didn't make sense at the time.
My Granddad wasn't a great man by worldly standards. Most people would've considered him ordinary. But to me he was a titan. He nearly singe-handedly built his church from the ground up. Every day he was there putting in his retirement years framing and putting up sheet-rock. After their building materials were stolen by some Ne'er-do-well, he took to sleeping in an old school bus they had on site, with only a kerosene space heater to keep him warm. Warm is a term I use loosely, as it's impossible to heat a windowless bus in zero degree weather. He took his job as Elder just as seriously, building up the hearts of men, just as he did the walls of their place of worship.
When he took a moment's break, he would sit down with an RC Cola and a Moon Pie. He wasn't one to ever relax during the day. He kept moving. Kept working. But those little interludes were wonderful. He always had a piece of wisdom to share. Some words of encouragement for his first grandson.
It wasn't champagne and caviar, but it was priceless to me. My sons will never know this not-so-great great man, but hopefully I can impart a fraction of his heart and mind to these future men.
If nothing else, at least they get a good treat to beat the heat.
CHRISTIAN LEE
Christian has had many roles in life. He's been a minister's son, a poor student, a computer geek, a bible college drop out, a corporate suit, a traveling comedian, and a failure at much he's tried. But he counts 2 huge successes in his life. He is husband to a wonderful wife, and father of 2 exceptional kids he wanted… and a third, 'surprise baby', who's likability has has yet to be determined. He draws a web comic about their life at ForeverFamilyComic.com. Having just missed Aaron in college by a few years, they connected online, finding they had a similar sense of humor [read: DARK] and decided to launch PlaidDadBlog.
---
Comments
comments