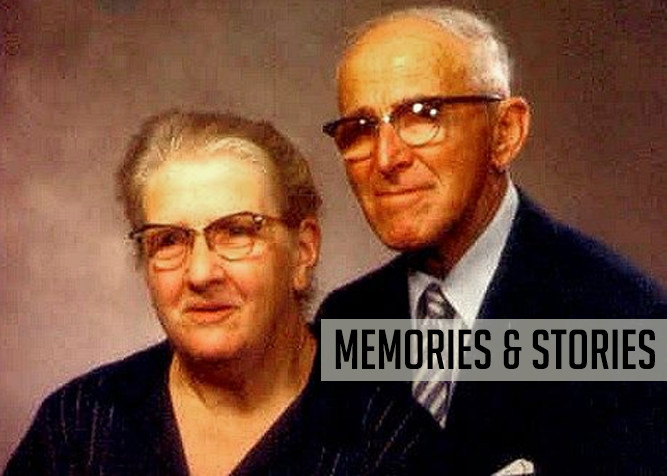 On Monday, Christian published a post about a tradition he passed down to his kids that he received from his grandfather.  Although I would never admit it to his face, Christian's piece moved me.  How cool is it to share something so sacred with your children?  I'm sure as he tore open that Moon Pie and popped the top on that RC Cola, all those memories came rushing back.  And he got to share them with his sons.
I don't have such memories of my grandfathers.
I never knew my mother's father.  He took his life long before I was born.  We never speak of him; the memories are too painful. My grandma Kate, who was such a sweet, giving woman, deserved better. So did my mom, my aunts, and my uncle.
My memories of my paternal grandfather–my granddaddy George–are few.  When I was around five or six years old, a series of strokes slowly robbed him of his mind, his ability to recognize people, and his dignity.  When I entered my grandparent's house, he would be sitting in his chair, staring at nothing.  He would hear me come in, look my direction, and start cussing.  He scared me.  I avoided the old man in the chair. My father assured me that, if well, my granddaddy would have never uttered such things.  It was those damned strokes–it wasn't him.
It wasn't the man who would joyfully take his grandchildren one-by-one onto his lap after Christmas dinner, bounce us on his knee, and lift us to his face, where he would rub his cheek against ours–the five o'clock shadow gently scratching our chubby cheeks.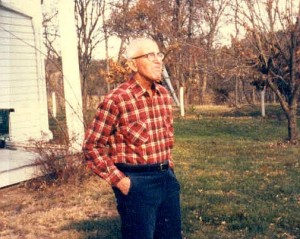 It wasn't the man who would, on late summer evenings, grab his walking stick and meander through the pasture as he herded the cattle into the barnyard.
It wasn't the man who smiled in every single picture we have of him.
It wasn't the man my father told me about–who invited black construction workers into his home to eat with his family during a time when that was socially taboo.
It wasn't the man who, in his sixties, took in several of his grandchildren, providing them with stability when their life crumbled around them.
It wasn't the man who tirelessly worked the land to provide for his family, while at the same time helping preserve a treasured piece of history as his farm was adjacent to a Civil War battlefield.
It wasn't the man who, after sweating for hours in the sun harvesting hay, would tell his boys to grab their fishing poles after a thunderstorm ran them out of the fields.
It wasn't the man who passed down such mountain wisdom as:
"It'll get better before you get married."
"Can't never could do nothin'."
"Cat's fur to make kitten shoes." (This one, meaning "mind your business," still baffles me)
It wasn't the man who loved his wife for fifty-three years through the Great Depression, the second World War, the civil rights movement, the dawn of the space age, and nearly to the conclusion of the Cold War.
And it wasn't the man who had been a churchman all his life, but who didn't start following Jesus until he was 79.  A massive stroke nearly killed him.  God spared his life, and my father shared the gospel with him out at the wood pile where they'd shared so many conversations.  A few days later, my granddaddy was baptized.  He was in church with my grandma Violet every Sunday, listening and learning about Jesus, grinning from ear-to-ear the entire time.
He died on January 4, 1990 at the age of 89.  I was barely twelve.  I missed him then; I miss him now.
I have no traditions from my granddaddy to pass down to my kids.  I never got to share an RC Cola and a Moon Pie with him.  I never got to sit at the wood pile with him and shoot the breeze. I never got to walk the riverbank with him on a cool spring mountain morning and watch the carp run.  But I have memories of a day-old beard, of smiles in church, of him sitting side by side with his bride, and stories from my father that remind me that my granddaddy George was a great man.  Memories and stories I can pass on to my kids. Memories and stories that make me smile, even when I miss him these twenty-five years after his passing.
For me, they are enough.
AARON SAUFLEY
Aaron Saufley, author of 'The Jumbo Shrimp Gospel' and 'Deep Roots', is a husband and dad who happens to moonlight as a hospice chaplain and preacher. He thinks Netflix is the greatest human invention next to pizza. He loves hanging out with his family, and when he has the time he also enjoys writing, a good cigar, craft root beer, smoking a mean rack of baby backs, movies, and trying not to die while running. Follow Aaron on twitter.
Comments
comments