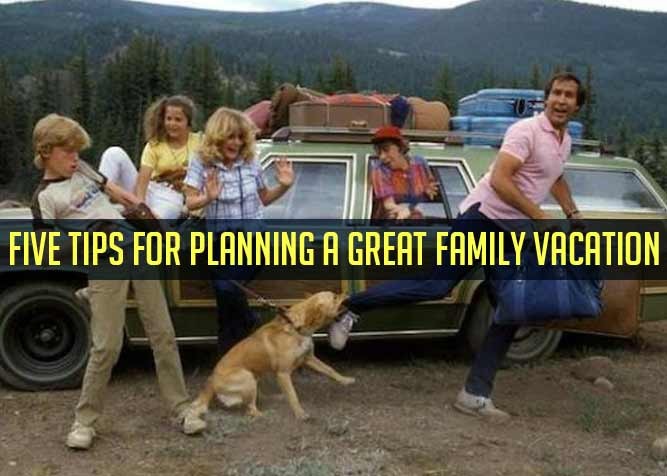 School's out. The kids are running around the house screaming bloody murder. It's 95 degrees at dawn (someone tell the devil to close his freezer door). It doesn't cool off until 3:00 in the morning. That can only mean one thing: it's vacation season.
Everyone should, if possible, take a vacation each year. It's a great chance to relax and spend time with family. I'm flabbergasted when people talk about how they haven't taken a vacation in years, like it's a badge of honor. It's a dunce cap of ridiculousness. There's more to life than work. We need to take time to enjoy time with those for whom we work so hard. My vacation starts in five weeks. And we can't wait. We have everything planned, I've set up my home security camera online viewing system to keep an eye on the house while we're gone and we're already starting to pack our stuff up!
Here are five tips for a great family vacation:
Make "vacation" a budget item. A great vacation does not–no, should not–break the bank. You don't have to–and should not–run up any more debt to have a great vacation. Make your vacation a part of your budget. There are different ways to do this. Some will avoid the fancy hotels and stick to a cheaper, but comfortable accommodation. Something I've seen a lot is investing in a camper van to stay in; though it may be a bit smaller than a hotel room, you'll still have everything you need and you'll save a lot of money with the ability drive around instead of booking a taxi to see the sights. One of my friends booked a camper van when travelling to Iceland and had a whale of a time driving in iceland! Remember, your kids aren't going to remember the luxuries of a hotel; rather the experience! Some people save out a certain amount of money each month. Some set aside a portion of their tax return, or use a bonus to fund their vacation. However you do it, save up so you won't overspend. I have used this code before to get discounted air bnb codes, great for when you need a place to stay!
Lower you expectations. Parents tend to set sky high expectations for their vacations–that this year's vacation will be the best one ever, and that their family will remember all the magical moments they experienced. Let's get real: rarely does everything go according to plan. Something will go wrong. And Junior will likely not gush over every single moment of your Disney vacation… and in a few years, he won't remember it. Speaking of Disney…
Save Disney for later (or for never). There's nothing wrong with saving up half your annual salary for a trip to Disney. But your two-year-old, who hasn't yet mastered English and still doesn't go to the bathroom in the right place, will likely be scared out of her gourd by Mickey. And in a few short years, she won't remember it anyway. Save Disney for the time when your kids are old enough to remember and enjoy the experience. Or be like us, and never take your kids at all. Disney trips are not cheap (even the cut throat rates bleed you dry). And I really have no desire to spend my vacation baking in the summer (or winter) sun on a piece of asphalt the size of a small country (heck, Disney is a small country) with a bajillion strangers waiting in line. If that's your thing, good for you. Have fun in those goofy mouse ears. Not us. No thanks. No way.
Relax. This should be a no-brainer, but we often forget that vacations are for rest. Instead, we feel the need to go, go, go from sunrise to sunset. We wear ourselves out to get to every attraction, shop at every store, and do all the things. And when we get home, we are dead beat from our vacation… and it's another 51 weeks until you can go again. Set aside one or two days at most to go do things, and spend the rest of the time relaxing. Sit around the pool, read books, watch movies, play games, take quiet walks, enjoy sunsets. Take advantage of the time to rest and recharge. Resist the urge to wear yourself out. And if you're the type who takes work on vacation (I did it once… big mistake), your type is the idiot type. Leave the office at the office. Set up an auto reply to the email, let all calls go to voice mail. The office won't crumble in a week. Chill the heck out. My friend went on holiday in his new caravan he got with help from Auto Finance Online but he was worrying so much he kept ringing his work. This mean the couldn't enjoy himself when he was meant to be relaxed.
If you can eat there at home, don't eat there on vacation. I lose my mind when I see the parking lot slam full at the Outback at the beach. Y'all, you can eat at the Outback anytime because there's one in your city. Don't waste food money on national chains. Find the local eateries and chow down on the local favorites. And for the love of Davey Jones, if you go to the beach, do not go to Red Lobster. Go to one of the local seafood places and eat the freshest seafood of your life (because they just caught it that day). Even better, make your own. There's no better eating than a low country boil.
BONUS: A staycation can be just as fun as a vacation. Sometimes, the money may not be there to take a full-blown vacation. The chances are good, however, that your company many only pay you a fraction your full rate for unused vacation time, or you may lose it outright. So take the time anyway, and stay home. Sleep in. Go to a movie. Binge watch some Netflix. Play with the kids. Take a few day trips. You don't have to go to an exotic location and spend a ton of money to have a great vacation. It's about spending time with and relaxing with those you love most.
What are some tips you have for taking a great vacation?
Comments
comments