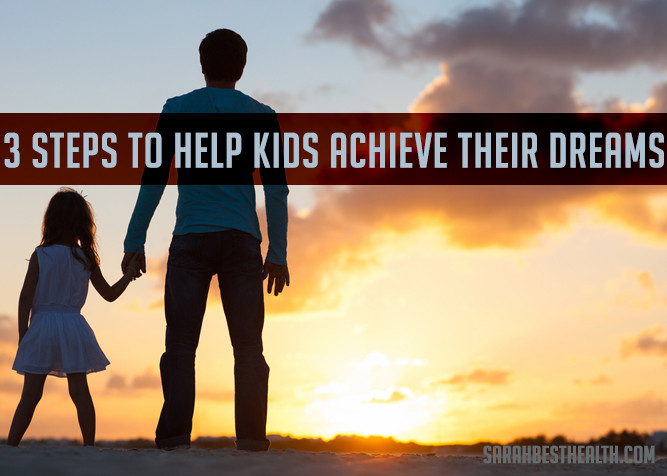 Earlier this week, Christian wrote about how he encourages his kids to pursue their passions of police work and art. I love seeing his son's artwork at Forever Family Comic. And if she follows her dream, I don't want to be the criminal that his daughter slaps the cuffs on and ships downtown in the paddywagon.
My girls have dreams they're pursuing. My eldest wants to do YouTube stuff, so she's doing her own podcast. My middle child loves to dance. Her teacher recently asked if she wanted to do some competitions, and she nearly imploded with excitement. My youngest's passion is demolition. She wrecks the house every single day. I'm still trying to figure out how she can channel that into home restoration, i.e., cleaning up after herself.
As I've thought about letting my kids chase their dreams, their potential future occupations are just a part of the overall picture. Pursuing a passion is also about expression, creativity, and discovering who God made you be. It's an exciting journey, and I'm just grateful I'm along for the ride.
Here are three things I'm learning about helping my kids pursue their dreams:
Make sure it's about their dreams and not yours. I see this a lot in youth sports. Junior gets signed up for football or baseball, lacrosse, and suddenly it's all sports, all the time, and websites like StringKing are needed to help with sports gear and equipment. Clinics, camps, tournaments, training sessions. When did Little League turn into a full-time job? Sometimes, Junior really wants to play. Don't get me wrong, he loves playing sports. He's always asking for a new pair of baseball stockings or a new football, he's sports mad! But other times, dad wants Junior to play because dad's dream of making it to the big leagues didn't come close to materializing. Let your kids decide when they want to play sports! The chances are very slim that football, baseball, or basketball will pay for college for your kid. If that's truly the case, encourage Junior to play a sport where scholarships are offered, but way fewer kids play. Even then, the chances are slim. Let them play sports simply because sports are fun. This can be true of any activity–parent pushes the child to succeed because they didn't. Make sure this is about Junior's passion and not yours.
Teach responsibility. If Junior signs up for something he thinks he'll enjoy, but it ultimately doesn't pan out, make sure Junior sticks it out for the season or through the recital (or whatever the activity's culminating event is). If we as adults quit everything we didn't like as soon as we stopped liking it, we'd all be unemployed. By encouraging Junior to finish out his commitment, you help him build the character that will translate to every area of life–school, work, marriage, faith, etc. Once the initial commitment is over, re-evaluate. If Junior still wants to quit, so be it. If he rediscovers his love (remember, his love; not yours) for the activity, soldier on.
Let them see your passion for their dream. Yeah, guys, we get pumped up for Pop Warner and AAU. We don't get so pumped for dance recitals and gymnastics meets. If you leave all of this to mom, your kids will be crushed. Join your kids in the pursuit of their dreams. Whether it is a tennis club they want to join, kids tumbling classes or music class, do things with them. If they're into sports, help them train. Get them that baseball swing trainer they've been going on about, for example. It is also important to cheer them on, encourage them, praise them, and correct gently when needed. Let them see that you're excited about their excitement.
As our kids grow, their dreams will likely change. My eldest wanted to be a forensic scientist for years… until she saw how much actual science was involved. Now, she wants to pursue a career in computers (which still involves science). I'm sure the same will be true for my youngest girls. As long as their dreams don't involve a stripper pole or illegal narcotics (or anything else that involves the breaking of the law), I'll be there to help them pursue their dreams.
Especially if their dreams involve ice cream. Or pizza.
What are some other ways you can help your kids pursue their passion? We'd love to hear from you in the comments.
Aaron Saufley
Aaron Saufley, author of 'The Jumbo Shrimp Gospel' and 'Deep Roots', is a husband and dad who happens to moonlight as a hospice chaplain and preacher. He thinks Netflix is the greatest human invention next to pizza. He loves hanging out with his family, and when he has the time he also enjoys writing, a good cigar, craft root beer, smoking a mean rack of baby backs, movies, and trying not to die while running. Follow Aaron on twitter.
Comments
comments