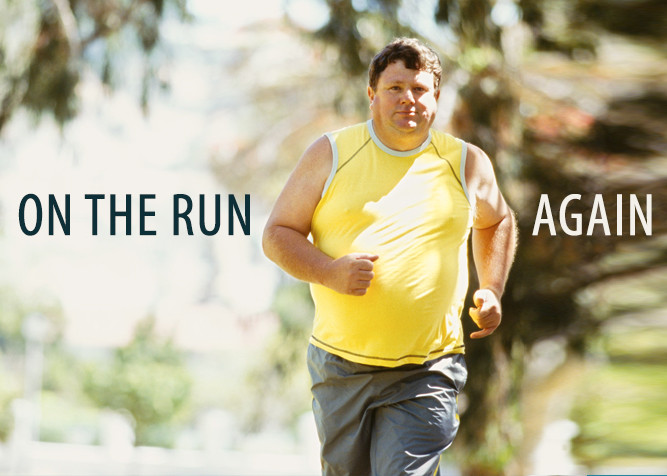 The alarm blared at 7:00 yesterday morning. I groaned, wishing I could roll over and snore for another ninety minutes.  I slithered out of bed, stumbled to the closet, and fumbled with my running shorts and dry weave shirt. I nearly fell down trying to put my shoes on. Barely awake, I trudged outside and clicked the start button on my watch.
Almost forty minutes later, I clicked the stop button.  I had just run–okay, truthfully, I jogged with some walking–three miles. My legs ached, my shirt dripped sweat.  I smelled like the backside of a horse with a stomach virus.
The entire time, I thought, "How on earth did I let myself go like this?"
Two years ago, I completed my first half-marathon.  I'm not an athlete (although I could probably compete in competitive eating). I never believed I could complete such a feat. Two years of running had paid off. I basked in the glow of my achievement.
And stopped caring.
Before the half, I ran 10-15 miles a week.  I was closing in on another goal–running a 5k in under thirty minutes. After the half, however, I piddled around with running. I occasionally got in ten miles in a week, but usually I only averaged 4-6. Although I did pick things up last summer, I had dropped back down by early fall. Eventually, I'd run once or twice a week and follow it up with a two week layoff.
I lost a lot of my endurance. I gained about twenty pounds.
And I realized that I'm not being a good example to my girls. They see me and my gut, overeating like it's my job.  It's not OK.  And I don't want them to fall into the same pattern.
So I'm back at it. Again.  Easing back into it, I got in four miles last week–four slow, but not (for me) super slow miles. Yesterday morning, I got in three for the first time in three months. It was over seven minutes slower than my fastest three mile time, but I finished.  And, by George, I rolled out of bed at 5:30 today and did an easy two mile recovery run. This summer will be brutal, but it will pay dividends come October, when I hope to complete my second half. I'm also going to try to get back into the gym more regularly.
It's never too late to get back in the saddle, whether it's with exercise, volunteering, getting more involved with your kids, or being a good example.  Whatever it is, just get up, put one foot in front of the other, and run.
Or, like me, lumber.
AARON SAUFLEY
Aaron Saufley, author of 'The Jumbo Shrimp Gospel' and 'Deep Roots', is a husband and dad who happens to moonlight as a hospice chaplain and preacher. He thinks Netflix is the greatest human invention next to pizza. He loves hanging out with his family, and when he has the time he also enjoys writing, a good cigar, craft root beer, smoking a mean rack of baby backs, movies, and trying not to die while running. Follow Aaron on twitter.
---
Comments
comments