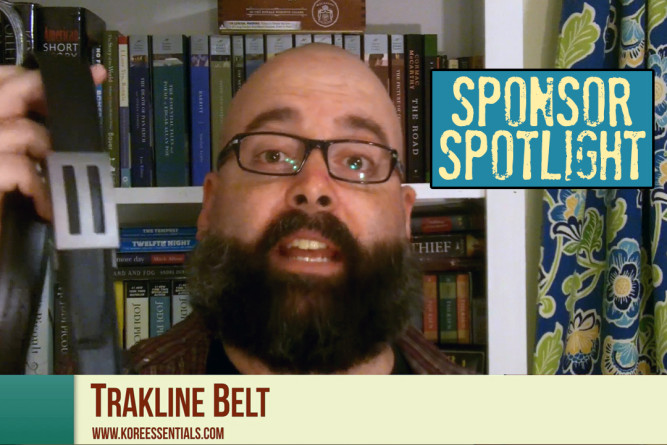 A few months ago, Christian reviewed Kore Essentials's Trakline belt.  He really liked it, saying it was the best belt he ever owned.  I got my Trakline belt three weeks ago, and I have my own verdict.
It's awesome.  With a capital AWESOME.
I can't believe Christian was right. But he was.
Here's what I like–no, love–about this belt:
The look.  This belt just looks good.  Clean lines; a sharp buckle.  No holes like your granddad's belt.
The quality.  I've worn this belt every day, from 7:00 AM until at least 9:00 PM.  There's not one sign of wear.  It looks just as good as the day I got it.  The leather, the stitching, the engineering…
That's right, the engineering.  Whoever designed this belt deserves the Nobel Prize for awesomeness.  Yeah, I know that awesomeness is not a Nobel Prize category.  It should be, simply because of this belt. It's completely customizable to your size.  Just look for your pant size on the inside and cut (I kept it a size bigger, just to give it some extra slack).  Slip the cut end into the buckle, clamp the teeth (fit for a bear trap), and you have a belt specially made for you.  And the buckle pairs with the mind-boggling notches on the inside of the belt, allowing you to further customize by the quarter inch (not the full inch like granddad's belt) how snug you want the belt to fit.  Someone buy that designer a drink.
The hanger.  Yeah, this belt comes with a hanger.  It utilizes the same notches as the belt.  Just slip the buckle on the hanger, listen for the clicks, and your belt always hangs straight.

There is no belt on the market like the Kore Essentials Trakline belt.  Do yourself a favor and get one or three.  Pick yours up at koreessentials.com.
Comments
comments