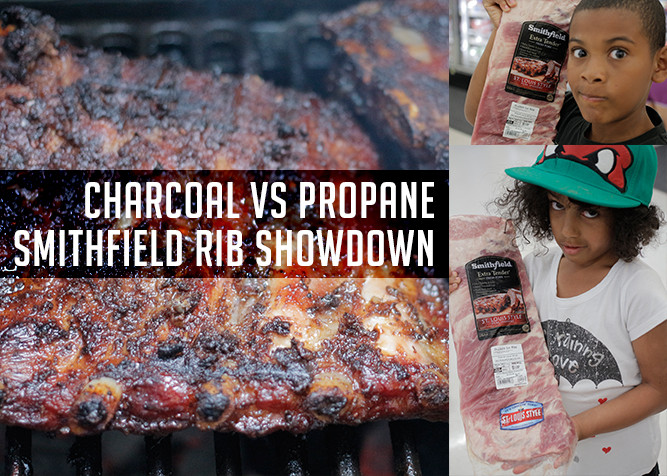 This post is part of a social shopper marketing insight campaign with Weave Made Media® Smithfield® and Farmland®, but all my opinions are my own. #weavemade #GetUpandGrill #GetFiredUpGrilling http://my-disclosur.es/RgFrEH
Today we have a challenge of epic proportions! Charcoal vs Propane. Fellow Plaid Dad Aaron is a big proponent of charcoal. I've always favored propane. Not because of its taste, but its ease of use. When running around after three kids, you don't want to babysit coals.
Unlike my pal Aaron, I've never been a great rib chef. My one shot at ribs was a hit to my pride as well as the bottom of the trash can.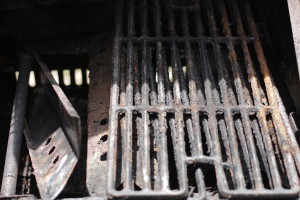 So I was excited to take on this challenge. I had a great rib chef in my back pocket (via text message) and a slab of ribs to perform the ultimate grilling showdown. That's, of course, when it all went wrong.
My split charcoal/propane grill went down in flames before we had a chance to light it. After an unusually harsh winter, I discovered that the propane side of my grill was a victim of climate change. Well, of the climate at least. So, the champion was named and the crown hoisted. Charcoal wins by TKO.
I was excited to get moving on this. Like I said, my pride took a hit the last time I tried ribs. I'm not exaggerating. I happily cook for my family and it gives me all of the warm fuzzies when I get a "Wow, that was awesome', from either the kids or the wife. To be honest, the wife's opinion holds a lot more water. I've gotten a, "This is the best meal ever," after placing a grilled cheese and spaghettios in front of the monsters.
Our recipe is below, but if you want some different options, you can visit the Get Fired Up Grilling website for additional recipes and tips from BBQ Pitmasters Moe Cason and Tuffy Stone. Also enter to win a trip to the American Royal BBQ contest and other great grilling prizes!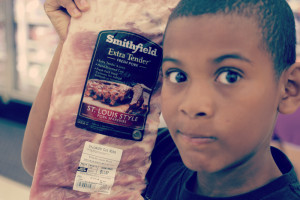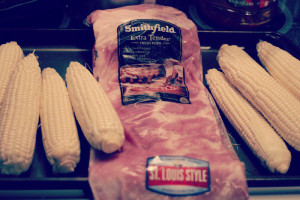 ---
St. Louis Style Ribs
Ingredients
Smithfield® St. Louis Style Pork Spareribs $2.97/lb at Walmart
Walmart's Great Value 100% Apple Juice
A1 Dry Rub Mix
Stubbs BBQ Sauce
Stubbs Wood Chips, Hickory/Applewood
6 Ears of Sweet Corn ('cause you can't just eat ribs, right?)
Preparation
Directions
Rub kosher salt and the dry rub on the ribs the night before. Pop 'em in a zip top bag and refrigerate.
Get the coals nice and hot. Preferably with a chimney starter. Load the coals under half the grill and place the ribs on the other half. The goal is to cook the ribs with indirect heat at 200-250 degrees for 5-6 hours or until tender/desired doneness. Keep the coals hot to maintain temp and mop throughout the cooking time. I used apple juice mixed with dry rub for my mop mix.
After 5.5 hours, I upped the heat and started to baste in ribs sauce. I did this for a couple turns and then wrapped them up in foil with some butter and margarine and let them sit for 30 minutes.
I then unwrapped the ribs and allowed to rest for around 20 minutes before plating.
---
I couldn't be happier with the way the ribs turned out. These tasted as good as any I've gotten at a restaurant. My boy Ollie is even impressed.
---
Next time, I'll probably skip the kosher salt – or make a rub that doesn't contain any. The caramelization and flavor from the grill gives it enough flavor that you don't need the extra salt. A friend of mine has also recommended that I try using a wooden bbq pellet to give my ribs an even more smoky flavor. I know that Bear Mountain sell some great BBQ pellets, so I might have to invest in a bag. I also thoroughly enjoyed the cooking process. Charcoal may be more work than propane, but all that love and effort shows through in the finished product. It looks like I'll be cooking with charcoal until I upgrade my rust ridden grill. I don't think I'll mind.
There were a lot of happy faces around the dinner table. It's awesome to not only cook some great ribs, but also support one of the oldest companies in our region. Right over the river, about 30 minutes away, you'll find Smithfield. Sometimes you'll get behind a trucker hauling hogs down that way. Many people don't care for the smell. They're missing the point. That's the smell of money supporting our local economy. It's also a preview of some sweet tasting ribs. Hopefully some more will be arriving on my grill in the not too distant future.
Don't forget to visit the Get Fired Up Grilling website for additional recipes and tips from BBQ Pitmasters Moe Cason and Tuffy Stone. Also enter to win a trip to the American Royal BBQ contest and other great grilling prizes!
CHRISTIAN LEE
Christian has had many roles in life. He's been a minister's son, a poor student, a computer geek, a bible college drop out, a corporate suit, a traveling comedian, and a failure at much he's tried. But he counts 2 huge successes in his life. He is husband to a wonderful wife, and father of 2 exceptional kids he wanted… and a third, 'surprise baby', who's likability has has yet to be determined. He draws a web comic about their life at ForeverFamilyComic.com. Having just missed Aaron in college by a few years, they connected online, finding they had a similar sense of humor [read: DARK] and decided to launch PlaidDadBlog.
---
Comments
comments