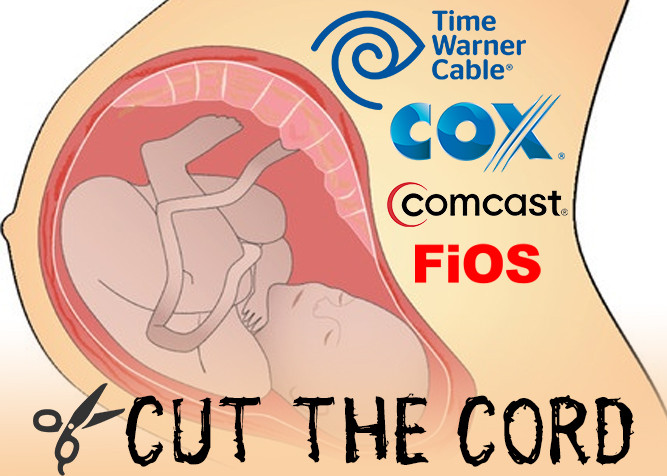 Look, your dollar just doesn't go as far as it used to. I just paid $8.63 for a medium combo at Burger King. Not two combos. ONE combo. For $1 more, I could go to Red Robin and gorge on endless fries. But no soda. That's another, I dunno, $7? Meh. Either way, it blows.
It's time to address that other monthly bill that keeps growing, and growing, and growing. Your cable bill. (And in this article, cable and satellite are the same: BAD)
I know what you're saying. "But Christian! SPOOOOOOOORTS!" Yep. I get it. You have a sacrifice ahead, but is your family worth WORTH the extra money you're paying every month? But if you can't wait, Jump to #7 on the list. You're welcome!
1. Call the cable company and break up. Look, I don't wanna compare your cabile bill to an abusive relationship, but they've been hitting you in the wallet for years and they just won't let up. And every few months they want more and more while giving you less and less. Stop the cycle. Dear John, errr…uhhh… Comcast… We're through!
2. Keep the cable MODEM. There's just no way around it. If you want to consume media other than books, movies, or plays, you're gonna have to have SOME form of internet connection. You can get it through the cable company, phone company, or cell phone company. But you're gonna be paying somebody for it. I got rid of a $160 cable bill in exchange for a $60 (and faster) cable modem. That's a $1,200 annual savings. I don't know about you, but to me, that's a lot of coin. Or diapers (as my future is shaping up). If you don't know much about the options now you no longer have cable tv, read here.
3. Buy an antenna. Do you remember all the hullabaloo a few years ago when people thought they were losing free TV? Yeah, that was the OPPOSITE of what was happening. Thanks to sensational reporting, people missed out on the fact that all broadcast-over-air went HD. That's right. You get HD channels for FREE. I got the cable modem installer to single out one line to the modem. Then, I stuck a very small, but capable antenna on the roof of my garage and ran the line straight into the house via a splitter. It's very easy and I have to point out the antenna for anyone to notice it. You can buy yours here. You can save even more money by buying your own modem instead of renting one from the cable company.
4. Gear up. If you still don't have a flat screen, it's time to buy one. Or else you're stuck watching most stuff on your PC or laptop – or even trying to read overviews like https://www.hdmi.org/resource/cables and work out what HDMI cable you need to connect the laptop/PC to the TV. If that's the case, spend the extra money on a smart TV. It will save you in the long run. If you have a flat screen, but it's not-so-smart, just buy yourself a Chromecast. You can send Netflix, Youtube, etc straight from a phone or laptop right to the TV. There's also the Amazon Fire or Apple TV. All make a dumb TV as bright as Einstein. I prefer Chromecast, but I may try out an Amazon stick, as I'm already a Prime member and it offers a Netflix-like experience.
5. Bigger gear. I bought a PC to hook up to my TV. You can get a PC for the price of one bloated month of cable nowadays. Plus, for $30-$70, you can add a TV tuner card. Plug the antenna directly into that, and with free software (Windows Media PC is already installed) you can turn that $200 PC into a DVR. Pick up a remote control for a couple more dollars. Yes, you'll lay out some money at the beginning, but the rest of the year is gravy!
6. Netflix, Netflix, and more Netflix. Come on. If you're not already on Netflix, you're missing out on some awesome stuff. You cannot beat the price point for what you get. Can. Not. Beat. There's also Amazon Prime, Hulu Plus (which I find is very underrated), Crackle, Google Play, Apple, Paid movies on Youtube… the list goes on and on. Just make sure you've got a broadband package that's quick and unlimited, like the deals available at www.eatel.com so you're not left waiting for your favorite films and shows to buffer.
"But Christian", you squeal. "With all these subscriptions, I might as well pay a cable bill." No. Just no. First of all, cable (minus live events) already pales in comparison to these services. But the fact is, you don't have to order all of them at the same time. Grab Netflix for 3 months and binge out with 'House of Cards' and 'Daredevil'. Cancel and jump over to Amazon for their original programming, then over to Hulu Plus. Find the one that works for you. Not only do they not require a one-to-two year commitment like the cable company, but most of them offer free trials to boot!
7. OK, OK. SPORTS. I like live sports as much as the next guy. I love watching the Sox whoop up on the Yankees. Except, I rarely see the games because they play so late, and I have three kids to get in bed, check home work, clean up… Even when I HAD the channels, I barely saw a game. Be honest with yourself and what your getting for your dollar. Done reflecting? OK, here's some cable cutting options.
MLB TV $115/yr
NFL Rewind Entire games 30 minutes after they end, sans commercials: $30 for one team.
NFL Sunday Ticket Every team. Every Game. $330
I'll be honest, I haven't fully checked out the NHL and NBA options because those teams aren't that important to me, but Google is your friend. JUST REMEMBER you can watch over-the-air games on NBC, CBS, ABC, and FOX FREE in HD with your antenna. Go get some wings for the other game. Enjoy being amongst other fans. Other PEOPLE. It can be fun to argue over who's the best QB… after Tom ("Soft Balls") Brady.
(Christian, you really shouldn't let me [Aaron] edit your posts. Carry on, reader.)
8. Re-evaluate your priorities. I touched on it earlier, but what are you teaching your kids? I love consuming media. As much as I love consuming food, and you know what? They both can be unhealthy. My rear-end was getting bigger as my wallet got smaller. I only get a couple hours with my kids after school before it's dinner, and brushing teeth, and kisses goodnight. Do I really need to watch a re-run of 'Big Bang Theory'? The answer is no. NO ONE should be watching 'Big Bang Theory'.
Even after cutting the cable umbilical cord, I still watch more TV than I should. But I also go bike riding with the tykes. I teach them how to CREATE media instead of just consume it. They'll be healthier and happier for it. Or they'll hate me.
"Papa! Mickey! Now! WHY?!?!?!" Sorry, baby Ollie. You nearly made Papa broke. Say goodbye to Disney Junior.
CHRISTIAN LEE
Christian has had many roles in life. He's been a minister's son, a poor student, a computer geek, a bible college drop out, a corporate suit, a traveling comedian, and a failure at much he's tried. But he counts 2 huge successes in his life. He is husband to a wonderful wife, and father of 2 exceptional kids he wanted… and a third, 'surprise baby', who's likability has has yet to be determined. He draws a web comic about their life at ForeverFamilyComic.com. Having just missed Aaron in college by a few years, they connected online, finding they had a similar sense of humor [read: DARK] and decided to launch PlaidDadBlog.
---
Comments
comments