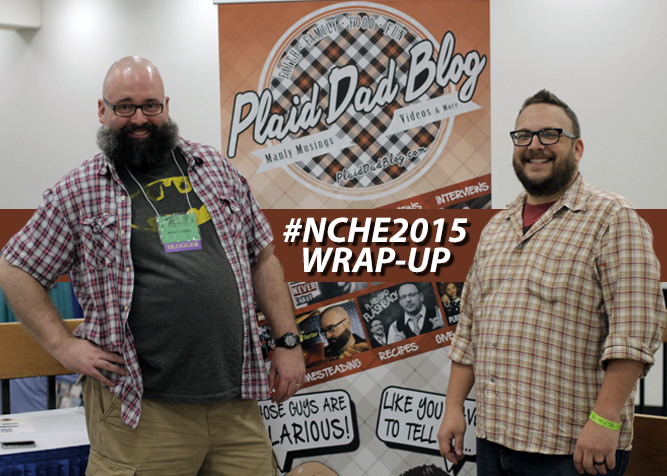 Last week, the Plaid Dads invaded "Thrive!"–the annual homeschool conference of the North Carolinians for Home Education (NCHE). We had a blast hanging out with thousands who gathered to learn, find encouragement, reconnect with fellow homeschooling friends, and purchase new curriculum for their homeschools. We interviewed NCHE staff, conference goers, vendors, other bloggers, and presenters. I attended workshops while Christian edited and posted video. And we ate at some of the best food joints in Winston-Salem. Here's what we learned from our experience:
Homeschoolers are intensely dedicated to giving their kids the best possible education. I've met people who think homeschooling parents sit around and watch TV all day while their kids play. I have yet to meet a homeschooling parent like this (although a rare few may exist somewhere). We met so many parents who are focused on educating their kids. They gathered to learn how to get better organized, how to prepare their kids for college, how to homeschool through high school, how to keep their kids from murdering each other, and a host of other workshops. They love their kids, and are doing everything they can to prepare them for the real world.
The NCHE exists to help homeschooling families. From the president of the organization on down, this organization wants to empower homeschooling families so that they can be successful. The conference was well-attended, organized, and flowed well. It was clear the organizers wanted the families who attended to get a great value for their money, and to feel like their time away from home was well spent. I know my wife and I felt that way.
Social media is playing a growing role in the conference. The conference started a blogging team last year, and it was successful. This year, I believe the plaid dads truly added value to what was already happening. Homeschooling parents can search #NCHE2015 on Twitter, Instagram, and Facebook for content. I believe that social media will have to play an even bigger role in the future of the conference, and for homeschooling in general. Helping us to find homeschooling resources and finding ways to spread the word about homeschooling through catalogs, booklets and other types of printed material using catalog printing services.
Winston-Salem has some GREAT eateries. The convention center is smack in the middle of downtown, only a short walk from many local restaurants. The plaid dads love to eat, and eat we did. From the grilled chicken mac 'n' cheese at Finnegan's Wake to the fried bologna and pimento cheese at Sweet Potatoes, I ate (too) well. I'm glad we had to walk everywhere.
To see all the interviews we did with people at the conference, check out our new YouTube channel (and subscribe to it). We hope to be back for next year's conference.
Comments
comments