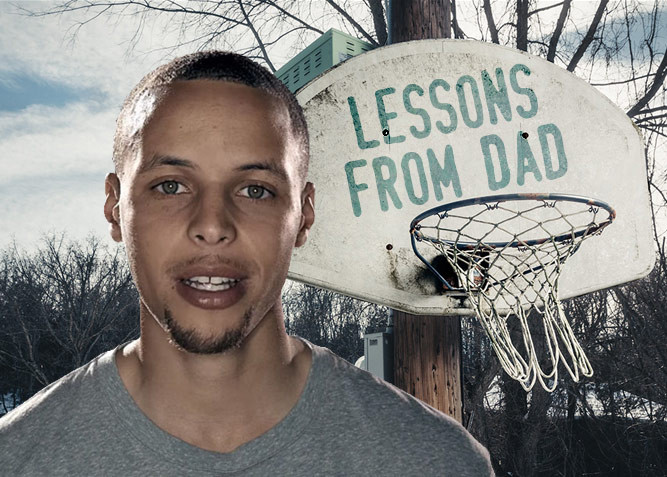 ESPN recently published an article on how Golden State Warriors star point guard Stephen Curry developed his pinpoint jump shot. Curry is the most popular player in the NBA at present. He learned his jump shot from his dad, Dell Curry. The elder Curry had one of the purest shots in NBA history, and it gave him a long career.
Dell Curry grew up in Grottoes, VA, about ten minutes from my house. His father, Jack, helped Dell develop that killer jumper on a lonely goal at the base of the Blue Ridge Mountains. Although Stephen grew up in Charlotte, he spent a lot of time visiting his grandmother in Grottoes. Thus, he put up a lot of shots on that old basketball hoop. That goal was unforgiving. The only way you scored was swishing it perfectly through the net. Learning the lessons his father taught him of hard work, dedication, and focus, Stephen developed his marksmanship on the same, rickety goal his dad did. Marksmanship that has made him the deadliest three-point shooter in the game. Just like his dad.
My basketball hoop was in the barn on my father's farm. I spent hours there, pretending to whip Larry Bird for the NBA title. My father, however, wasn't an athlete. He taught me the lessons of hard work, patience, and dedication through working the farm. Making hay, baling straw, working cattle, plowing fields. Stephen Curry said there were times when he hated shooting, but the lessons learned from his father were worth it. I never liked working on the farm, but the lessons my father taught me will serve me well for the rest of my life. I hope to pass them on to my kids. Now look at where Stephen Curry is now in his career. A six-time NBA All-Star. It truly is admirable, and it's no surprise that people book these inspirational basketball players for motivational speeches. Hearing about how some of these people really work from the bottom and achieve success with hard work and determination is what many of us need to hear. No wonder why basketball fans are so quick to print off a completely blank NCAA tournament match sheet. When Curry plays this season, you'll no doubt want to make this prediction, especially as we finally get to see who he will be playing against. For us at home, it's all a bit of fun, but we're pretty sure Curry and the team will do their absolute best.
You can read the article on Stephen Curry in its entirety here.
And David Fleming: Grottoes is way more than, "a sleepy mix of horse farms and trailer parks." We prefer to think of it as a quiet hamlet nestled in the historic Shenandoah Valley.
Or, as I prefer, home.
What are some of the lessons you've learned that you are passing down to your children? Let us know in the comments.
AARON SAUFLEY
Aaron Saufley, author of 'The Jumbo Shrimp Gospel' and 'Deep Roots', is a husband and dad who happens to moonlight as a hospice chaplain and preacher. He thinks Netflix is the greatest human invention next to pizza. He loves hanging out with his family, and when he has the time he also enjoys writing, a good cigar, craft root beer, smoking a mean rack of baby backs, movies, and trying not to die while running. Follow Aaron on twitter.
Comments
comments