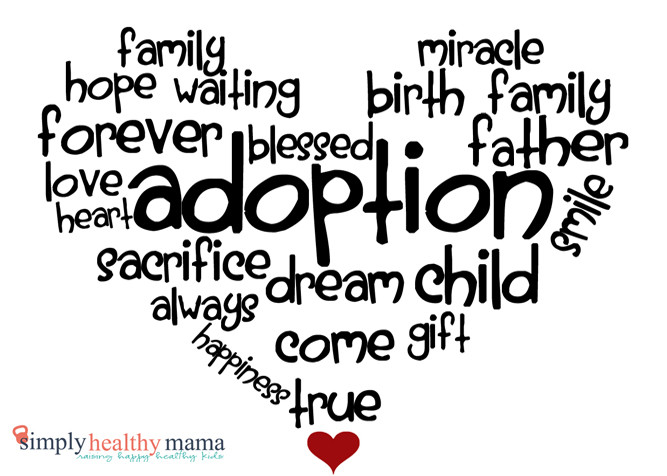 Yesterday, Christian revealed that he's a plaid dad for the fourth time. I couldn't let him have all the fun. My wife and I have recently taken the first steps to adopt. There are currently 390,000+ children in the foster care system. They deserve a family to love them. The following is a recent post by my wife on her blog, Simply Healthy Mama, on our decision to adopt:
"Adding to our quiver"
Four years ago on our drive home from the homeschool conference I mentioned to Aaron that even though I was done birthing babies, I didn't feel like our "quiver was full." I still felt like there was someone missing. I was completely shocked when he said, "I've been feeling the same way but I didn't want to say anything." He was hoping that it was a passing thought and that maybe God would change his mind about the whole thing. The idea got put on the backburner for awhile as we got busy with our lives and with other things.
If I have learned anything over the last few years it is that when God wants us to do something, He is relentless in his prodding. Every time I try to come up with an excuse for why I can't do what He is obviously leading me to do, He finds a way to nudge me a little more. Sometimes it's through a sermon. Sometimes it's through a conversation with a friend. Over the last year, He has been getting through to me with a song.
I first heard the song, "This is Amazing Grace" a couple years ago. Soon our church band was singing it regularly and every time the first lines of the second chorus nearly broke me. "Who brings our chaos, back into order? Who makes the orphan, a son and daughter?" All. The. Tears.
You would not believe how many times I have heard that song on the radio in the last year. It seems like every single time I get in my van it comes on. Once recent Sunday, it played as background music before the service and when the band started their worship set it was the first song.
Relentless, that God.
It has taken us two years to get to this point but we are finally sharing with our friends and family that we are in the very, very beginning stages of (hopefully) adopting through the foster care system. I have been reluctant to post anything about this because there are still so many unknowns. However, I believe in the power of prayer and we covet your prayers as we start this journey. I also want to answer some questions we have already received (and some I'm expecting to receive).
Why adopt? You already have biological children.
Because it's a matter of obedience and faithfulness. I have no idea why God has called my wild, crazy, busy family to adopt. We have been slow to answer him, taking over two years to get to the point where we can say, "Yes, Lord, we will do this." We've tried to talk our way out of it and justify all the reasons why we can't but in the end we have to choose obedience. We believe that God always has a purpose and we look forward to being a small piece of His bigger plans
To go a little deeper, I believe that babies are people with souls from the time of conception. I am firmly pro-life. That being said, if we as Christians believe that women should always choose life then we need to be willing to step up and take care of their unwanted babies. God is very clear in the Bible that we are to take care of widows and orphans.
"Religion that our God and Father accepts as pure and faultless is this; to look after orphans and widows in their distress, and to keep oneself from being polluted by the world." James 1:27
When?
We honestly have no clue. Right now we are focusing on getting our hearts and our home ready. We are spending time praying about it, talking to our girls about it and making plans for rearranging our home to accommodate another child.
We are attending our first foster care/adoption information meeting this week and we will find out more about when we can start the required classes to become a certified foster family.
Where will your child come from?
Although I am glad that there are people who are led to foreign adoption, our hearts are firmly set on domestic adoption from the foster care system. There are almost 400,000 children currently in the foster care system in the United States. Really, y'all…when you consider how many Christians there are in the United States the numbers just don't add up. Of course, different families have different responsibilities, some of which might prevent a family from adopting a child. For some, adoption isn't right for them. Some parents do decide that they want to be involved with the child biologically, which is where the surrogacy process comes in. Whilst surrogacy can cost up to $150,000 in the USA, some families believe it's better for them. If that's the case, then families should be able to do what they want. However, if we as Christians fulfill our God-given duty to take care of widows and orphans then there wouldn't be any orphans. Even if you never feel led to personally care for an orphan, there are ways to support orphans and the people who are willing to take care of them. I'll post more about that another day.
What do your girls think about this?
They absolutely love the idea. It saddens them to think that there are children without moms or dads and they are willing to share us with another child! I'm not saying it won't be a difficult adjustment for them but they are understanding that this is something that God wants our family to do and they are excited about having another sister.
Wait…a sister? Don't you want a boy this time?
Not unless that is where God leads us. If we have a choice, we would like another girl. We love having girls and we can't wait to add another to our family! Plus, it makes the most sense as we will have two bedrooms for the girls to share–two girls per room.
Will you be able to homeschool a foster/adopted child?
Well, for one we want to adopt a child younger than our youngest biological child who is currently 5 years old. School won't be an issue for awhile. Typically you are not allowed to homeschool foster children unless you have special permission. Once they are adopted they are yours to educate in whatever manner you see fit.
Aren't you busy enough already?
Yes, my life is busy. No, I don't really know how we are going to add another child into this craziness. But I believe that God specializes in crazy! This will be a huge leap of faith for us. We trust that He knows what He is doing.
Please keep our family in your prayers. Satan does not like obedience to God and I've felt him trying to sneak in and plant seeds of doubt in my mind. One day a couple months ago, I had a complete emotional breakdown on my way to work and I kept asking myself, "Can I really bring another child into our home? How am I going to manage it? Our lives are too busy! Really, God? Why US?" And then that song came on the radio.
Have I mentioned that God is relentless?
UPDATE: Since my wife wrote this post a few weeks ago, we've attended the initial information class, had our first visit with the Social Worker, and are finishing up our initial paperwork. We start our thirty hours of training for fostering this Saturday.
AARON SAUFLEY
Aaron Saufley, author of 'The Jumbo Shrimp Gospel' and 'Deep Roots', is a husband and dad who happens to moonlight as a hospice chaplain and preacher. He thinks Netflix is the greatest human invention next to pizza. He loves hanging out with his family, and when he has the time he also enjoys writing, a good cigar, craft root beer, smoking a mean rack of baby backs, movies, and trying not to die while running. Follow Aaron on twitter.
Comments
comments