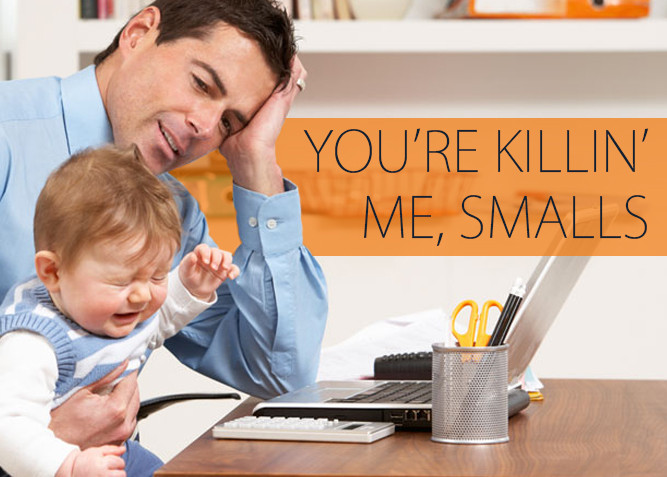 Maybe your day starts off like mine:
Alarm goes off.
You yell for the kids to get up and ready for school. You try to sink into the covers and gain back some of the sleep you lost getting up with a sick toddler the night before. The ruckus from the older kids prevents this from happening. You splash some water on your face and run downstairs only to find your wife asleep with said toddler on the couch. You realize immediately that he didn't stay asleep after your midnight detail and probably fussed and cried until Mom scooped him up, fed him yet again, and then shushed him to sleep on the sofa – all to keep him from waking you up and earning herself a back ache as reward.
You now correct all the things your kids are doing wrong, which basically means they have to re-do it all, doubling the time it should take to get ready for school. You speed around, dolling out medicine and checking homework. You grab the toddler from Mom so she can hop in the shower. He immediately goes into scream mode because he can't have coffee for another fifteen years, and is not thrilled about being rustled from his slumber.
By the time everyone is out the door you realize you forgot, I dunno… thirteen things you needed for the day. Now you're weighing which is more important–the stuff or getting to work on time. The baby stinks. The diapers are inside. The stuff. The stuff is more important.
By the time you're at work, there's no amount of coffee that can right your day or your mood. Owning your own business sounds great most of the time. And it can be, but today you realize you have a backlog of emails to answer, as well as organizing all of the cluttered paper files that have been left on your desk. Can it get any worse? Now may be the time to look for a document management software from somewhere like filecenterdms.com to help to digitalize all of the important files so that they are safely stored in one easily accessible place. That way you can focus on everything else that needs to be done, like having proofs to get out to clients, copies to make, birthday party invites to send for the kids, a Power Point presentation to tweak… and it's not even 9:30 AM.
By the end of the day you're spent. Twice.
You now have a traffic-cluttered drive home before you can relax. But you can't relax. You need to stop for milk and bread . You have to prepare dinner for everyone because the wife is working late and, even if she did have time to cook, she deserves the break. So trudge home with a grimace.
Your kids aren't getting happy Dad tonight. No, they're getting tired and cranky Dad. And you realize that's the only Dad they've seen for weeks.
This is not how I intended to live, let alone parent.
I have a lot of people telling me I should look into a nanny or part-time help. That's not an answer for me. I don't want to spend LESS time with my kids. That's where I want to be more than anywhere in the world. I want to spend less time dealing with tedious jobs at the office.
"So hire an employee," you say. Yeah sure. Because I can afford to pay someone else's healthcare, unemployment taxes, and overtime on top of trying to make ends meet. No thanks.
I do think I recently found a solution. I was watching a news story about very rich, very successful entrepreneurs. They had figured out the way to live life to the fullest was to outsource. And not just one or two things. No, they outsourced EVERYTHING. Shopping, cooking, style management, work, travel. It was all handled by someone else.
So I looked into it, expecting it to be ridiculously expensive. And it was. Well, if you wanted ALL of that. But I don't. I like cooking with my kids. I like hunting around for good travel details. I don't buy a lot of new items, so therefore I shop at thrift stores and flea markets. I like doing it too!
But work. That's where I could use someone. But hiring someone full time is out of the question. I discovered in my research, that you could hire a virtual assistant for pennies on the dollar compared to a flesh and blood person. But I hesitated. They're virtual. They're not in the office for you to talk to. That could be problem.
Then the more I thought about it, that's the reason it's great. No healthcare, unemployment taxes. No extra desk, phone, or PC. Plus, I have the habit of standing around jawing if someone is there in flesh and blood. This nixes my predilection to gab and just focuses on work, work, work.
I'm tired of sending canned email responses. Lining up schedules. Sending out documents. Why can't someone do that for me?
With a 24/7 virtual assistant I can do the work an entrepreneur should be focused on: growing my business.
It really does solve the roadblocks I'm running into during the day. It frees me up to take care of my family's needs, while giving me time to relax. I don't have to sit at home worrying over the next day's schedule. I can be present in my kid's lives. After all, what good is earning a living, if you're never living?
Now if I could only find a virtual way home that avoids traffic. Ah… a man can dream, eh?
Christian Lee
Christian has had many roles in life. He's been a minister's son, a poor student, a computer geek, a bible college drop out, a corporate suit, a traveling comedian, and a failure at much he's tried. But he counts 2 huge successes in his life. He is husband to a wonderful wife, and father of 2 exceptional kids he wanted… and a third, 'surprise baby', who's likability has has yet to be determined. He draws a web comic about their life at ForeverFamilyComic.com. Having just missed Aaron in college by a few years, they connected online, finding they had a similar sense of humor [read: DARK] and decided to launch PlaidDadBlog.
This article contains sponsored links. Please follow accordingly.
Comments
comments