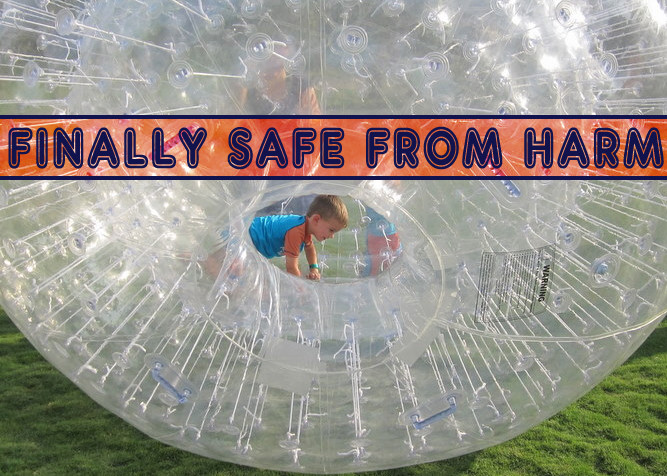 No doubt you've heard about – or seen on Facebook most likely – the Maryland parents that were charged with neglect, for letting their kids walk home from the park alone. The park being one mile away, and the kids aged ten and six. Under Maryland law, any child under the age of eighteen, left unsupervised, constitutes child neglect.
Let that sink in. ANY CHILD UNDER 18.
I guess a 17 year old kid can't take another on a date to the movies. A game of stickball is grounds for arrests if there's not an umpire on the field. Kids chasing down the ice-cream truck? Better chase down a paddy wagon instead – because someone's going to jail.
"Ok, OK. You're right. That law is nuts, but these kids were WELL under eighteen."
Yeah, they were. And they should have been applauded, not accosted.
We're bombarded with the message that kids should be more active. Heck, it's coming down from the White House. There's not a day that a new study doesn't come out saying kids are getting fatter, dumber, and slower from sitting on their ever-enlarging butts watching TV and playing video games. These kids are playing in a park and WALKING (not hopping a bus for three blocks, or riding a motorized scooter) home. That was it.
You know which kids used to do this when I was their age? Ummm… ALL OF THEM!!!
I used to ride my bike two and a half miles to my closest friend's house. On a skinny, curving death-trap-of-a-road. You know what happened to me? I learned how to ride a bike on the right side of the road and pay attention to traffic. When we needed milk? I could walk down to the corner store and get some. I played outside all day and came back when the sun started to dip past the horizon. This is what kids do. It's called childhood.
What we're giving children today is not called childhood. It's more like, "Purgatory Till Adulthood." I remember the first time I heard about a child being killed as a youngster. It didn't seem real to me. It genuinely shocked me. But now, we bundle up our kids in not only a coat, hat, and gloves, but also a stern warning about all the murderers and pedophiles waiting just outside the door.
I'm aware there are bad people in the world. The illusion is that there haven't ALWAYS been bad people in the world. Through salacious news stories, world wide coverage, and the internet, we hear about each and every one. I'm in Virginia. This was a Maryland story. I never would have known about this twenty years ago. But twenty years ago, the government may not have overstepped its bounds as it just did.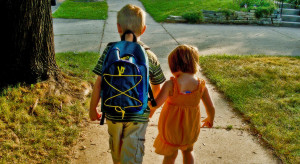 Walking around your town or city used to be the only way kids got around. Parents were too busy working to tote them to and fro at the child's whim. Most didn't have two or three cars. Heck, some families didn't own one. Parents in cities like New York or Boston would give their kids a street map as a window of opportunity. "Stay below 5th and 14th Street, and be home by 5:00." The Maryland parents above are being tagged with the new group label: Free-Range Parenting. Ugghh.
Just like the term 'Helicopter Parenting', the media has once again labeled a subject it does not understand. There is no one form of parenting. It's ALL parenting.
Is my son going up the road to see friends? Free-range parenting. Is my daughter going on a first time outting with a boy? Helicopter parenting. Better yet… shotgun parenting.
There is a right time and place for all approaches.
Before this story hit the news, months ago, my eight year old son had been exceptionally helpful around the house. As a reward, I let him walk to the end of our street and then around the corner to 7-11 to buy himself an ice cream. He had ten people ask him how old he was when he got there. When he got back, I told him he's "old enough." There's plenty of fifteen year olds that don't have the sense God gave a flea, and have no business walking around on their own. The same goes for plenty of people in their 30s and 40s. My son, however, has a good head on his shoulders (most days). And on those days, if I choose to let him walk to the store, that's my decision as a parent.
At least when my wife says it's OK.
Christian Lee
Christian has had many roles in life. He's been a minister's son, a poor student, a computer geek, a bible college drop out, a corporate suit, a traveling comedian, and a failure at much he's tried. But he counts 2 huge successes in his life. He is husband to a wonderful wife, and father of 2 exceptional kids he wanted… and a third, 'surprise baby', who's likability has has yet to be determined. He draws a web comic about their life at ForeverFamilyComic.com. Having just missed Aaron in college by a few years, they connected online, finding they had a similar sense of humor [read: DARK] and decided to launch PlaidDadBlog.
---
Comments
comments