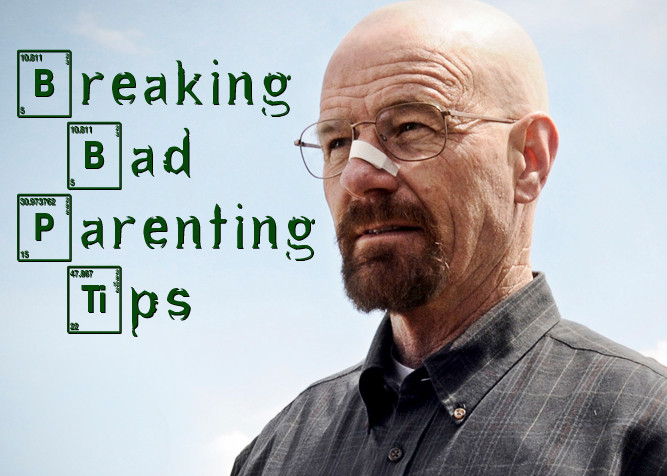 My television consumption consists of three shows: The Walking Dead, House of Cards, and Breaking Bad. The Walking Dead hasn't delivered this year. I binge watched season three of House of Cards in just over 48 hours. Since I have little interest in trying out a new show until Netflix releases Better Call Saul, I decided to go back and watch Breaking Bad in its entirety. Within five seconds of the opening shot, I was reminded why Breaking Bad is the best television show ever created by humans, and possibly aliens (but since we don't have access to alien cable channels, I'm forced to withhold judgment).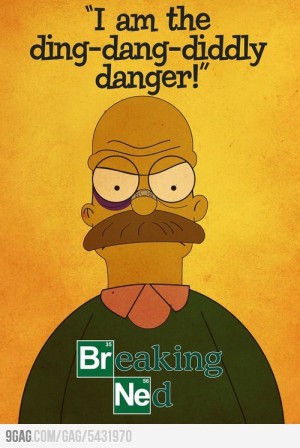 Breaking Bad did what no other show did before it. It took a good man and turned him into a monster. So as I re-experience this television masterpiece, here are five things Breaking Bad has taught me about being a good dad.
We aren't guaranteed anything. Upon discovering he has inoperable lung cancer, Walt realizes he has wasted fifty years on planet earth. He has nothing for his family, and he sees how pathetic and underachieving his life has been. And he has little time to make up for it. None of us are promised more time. Neither are our kids. Tragedy happens, and not always to someone else. What are we doing to make the most significant impact on our kids with the time we have?
One decision can wreck everything. "You know the business. And I know the chemistry." Those words plunged Walt into darkness from which he and his family never recovered. In the same way, guys, one decision can ruin everything we've worked so hard to build. The decision to have sex with someone other than your wife (we've cleaned it up and called it 'an affair.'); the decision to medicate stress and pain through booze or drugs; the decision to surf Facebook for hours or watch yet another game instead of spending that time with your kids. We must be conscious of how our decisions affect, not only us, but our families. Walt's decision to cook meth for quick cash cost him everything. That one bad decision can cost us respect, trust, our marriage, and even our health or life. Ultimately, it might be best to do surveys from your couch instead if you're ever struggling financially. Especially if the alternative is to create your own deadly drug empire.
The ends don't always justify the means. Yes, Walt had not made provision for his family in case of his untimely demise. No, that did not give him the right to manufacture meth to earn some quick cash. Yeah, I get it–that's a no brainer. But are we guilty of doing things because of a goal we have? Working tons of overtime to afford a bigger house or to purchase the latest tech device for our kids. Pushing our children to excel at a sport they may not even like and may not even be good at so that they can possibly get a scholarship (the odds of which are beyond small.) Do we need to honestly assess our goals for our kids and for life? Do we need to step back and see if the means we're using to achieve our goals are actually doing more harm than good.
Money isn't everything. Walt's initial justification for manufacturing meth was money. He had no nest egg, and he wanted to provide for his family. This is a horrible situation to be in, no doubt. But he could have looked into installment loans or something similar instead. In the end, he made a ton of money… and missed out on time with his wife and kids, wrecked his integrity, and destroyed the trust and respect his family had for him. Yeah, money helps us get through life. We can get quick and easy money on a Online Casino if we wanted to! But it cannot buy trust, love, respect, and integrity. Speaking of integrity…
Integrity > Security. From the pilot episode, Walt's integrity quickly erodes. He hides his cancer diagnosis from his family. He cusses out his boss at the car wash. He doesn't tell his wife where he's going for hours on end. He lies. He does it all in the name of security for his family. Security means nothing if you sacrifice your integrity to get it. Our families would rather respect us and live in poverty than to look on us with shame and contempt while living it up in the penthouse.
Toward the end of the series, a completely calloused, evil Walt looks a fellow dealer in the eye and demands one thing: "Say my name." He's so far gone that the only thing that matters is power, but his power was hollow because his family hated him and wanted nothing to do with him. When I'm in the final episodes of my life, I want to have lived in such a way and made such good decisions that my kids look at me and say my name. "Love you, Dad."
AARON SAUFLEY
Aaron Saufley, author of 'The Jumbo Shrimp Gospel' and 'Deep Roots', is a husband and dad who happens to moonlight as a hospice chaplain and preacher. He thinks Netflix is the greatest human invention next to pizza. He loves hanging out with his family, and when he has the time he also enjoys writing, a good cigar, craft root beer, smoking a mean rack of baby backs, movies, and trying not to die while running. Follow Aaron on twitter.
Comments
comments