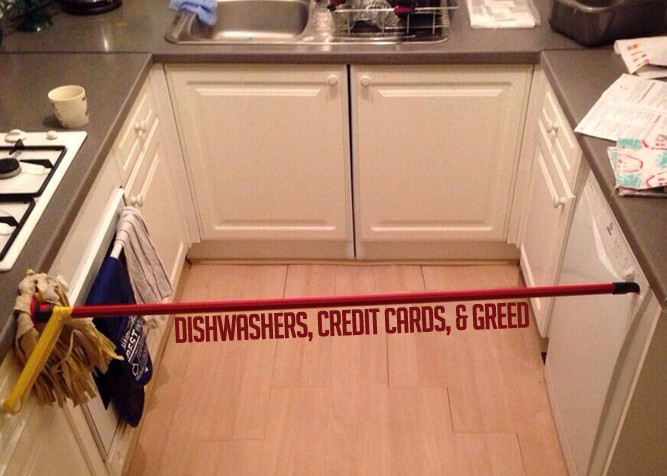 Several months ago, our dishwasher retired to that eternal trash dump on the west side of town. I mourned its demise because I loathe washing dishes–loathe with a capital HATE. I'm convinced that if God sends me to the bad place when I die, I will spend every day hand washing a stack of dishes the size of the Andromeda galaxy, and the pile will never get any smaller.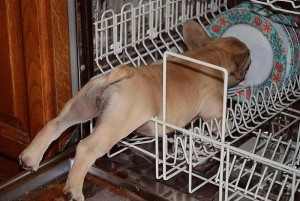 People washed dishes by hand for centuries before the invention of the automated dishwasher. I act like doing dishes is some kind of medieval torture method. I tried to bribe my five-year-old, but her asking price was so high I would have to forego retirement. When I politely ask him to rinse and dry, my dog suddenly loses his ability to understand English. He looks at me like I'm speaking Klingon, then runs to the living room to lick his butt.
I miss my dishwasher. So why haven't I replaced it? Well, simply put I didn't get a warranty on it. If you are in a similar boat save yourself the despair by going to https://www.usahomewarranty.com/.
I refuse to add another monthly payment to our already tight budget. I have to admit it–a dishwasher isn't a need. It's a convenience. A luxury. A greed.
We gripe about the $17 trillion (and growing) national debt, but we ignore our personal indebtedness. We've added monthly payments to our budgets for new TVs, rifles, trucks, and other manly things, knowing we've maxed out our finances, all because we've confused our greeds for our needs. What are we teaching our kids about life when we extend ourselves to the edge of the financial cliff in order to possess the newest whatchmacallit? What are we passing on to them when we buy them everything they want?
That life is all about us. That life is all about them.
It's not.
This isn't a money issue. This is a heart issue.
Guys, there's nothing wrong with purchasing things. In our culture, we need transportation and mobile communication. What we don't need is the newest model truck or the latest version of the iPhone. Our bank accounts likely can't take another hit.
It's time–past time–to realign our needs and our greeds. Here are five ways we can do that (and thus pass this important distinction down to our kids):
Be content with what you already have. As a Christian, I try to apply what the Bible says about contentment (and it says a lot). When we aren't chasing the newest thing and ripping our hair out trying to figure out how to pay for it, we discover that we actually have it pretty good. Our stress level goes down. Our blood pressure lowers. We're not so grumpy. I don't own a flat screen TV because my twelve-year-old 36″ tube TV works just fine. I'll replace it one day, but not now. We have more pressing needs than watching "The Walking Dead" in 4K.
Save instead of charge. Yes, it takes longer to save for something than to run up our credit card balance, but saving reinforces discipline and strengthens our patience. Paying in full for this new dishwasher will feel a lot better than monthly payments with interest.
Pay it off before you spend on something else. There are things we may need get a credit card with no credit for–a house, a vehicle. But most of the things we put on credit cards are greeds. Take a big look at your spending habits and do your best to cut back on what you're spending money on. Credit card debt cripples and enslaves, and even though there are debt relief options out there it is best to keep on top of your financial situation in the first place. Put a plan in place to cut back and put the extra to paying down your credit cards. And when it's paid off, cut the card. Or, at the very least, freeze it in a block of ice and put it at the back of your freezer. Your attitude, your heart, and your wallet will thank you. You could always consider getting a debt consolidation loan to help you out when you're in a bit of a tight spot. See here for more information – debtconsolidation.loans
Buy used. When purchasing a car, you don't need a brand new fresh-from-the-factory model. Buy a new-to-you car. You can find a good used vehicle with low miles and even some features for way less than a new car. Less depreciation, lower payments, and still a nice ride.
Be generous. This is where I struggle. But when we intentionally give away some of what we have to those who lack, it helps us to create contentment, patience, and compassion. And those are all things we all want to pass on to our kids.
There is good news–I now have the money to purchase a new dishwasher. In the months since the old one kicked the can, I've had some great conversations with my wife and helped my kids learn the value of responsibility over many sinks full of dishes. I haven't, however, been able to teach my dog to wash a bowl without using his tongue.
Dads, how do you keep the greed monster at bay? What are some resources you've used to help you get a better handle on your finances? What advice have you passed onto your kids about contentment and the danger of greed? Sound off in the comments. As always, like and share this post on Facebook and Twitter.
AARON SAUFLEY
Aaron Saufley, author of 'The Jumbo Shrimp Gospel' and 'Deep Roots', is a husband and dad who happens to moonlight as a hospice chaplain and preacher. He thinks Netflix is the greatest human invention next to pizza. He loves hanging out with his family, and when he has the time he also enjoys writing, a good cigar, craft root beer, smoking a mean rack of baby backs, movies, and trying not to die while running. Follow Aaron on twitter.
Comments
comments