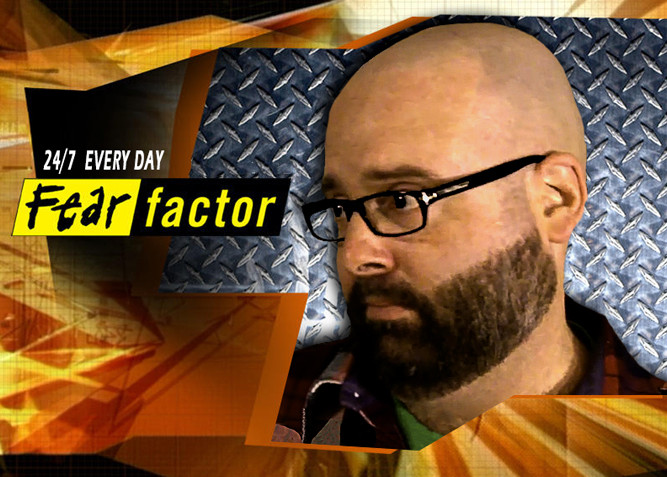 Remember Fear Factor? It was that ridiculous early 21st century show where jocks and Barbie Dolls competed to complete three puke-inducing stunts which usually involved giant bugs and eating animal testicles. The winner, likely covered in guts or sewage, would leap around like a drunk leprechaun who accidentally stumbled into that pot o' gold. They likely needed their gizzards pumped and years of therapy after the cameras stopped rolling. At least Joe Rogan got that MMA gig.
After thirteen (mostly) successful parenting years, I've concluded that the recipe to good parenting is a cocktail of 77 percent love, 3 percent nasty smells, 4 percent sippy cups, 1 percent panic, 12 percent patience, and 100 percent fear. Yeah, that's 197 percent, but nobody told me math would be such a huge part of being a dad. Parenting fear is so intense that it makes the horrors of Fear Factor looked like an episode of My Little Pony.
When we brought our first daughter home, I was ecstatic… and terrified. The people with the advanced medical degrees sent us home with this tiny human, (who had just been pulled from my wife's body only a few days before) with no instruction manual. No lessons. No hotline. No mentor or coach. Just home, to raise this fruit of my passion without messing it up. Questions raced through my brain:
What if I drop her?
What if I feed her too much, or not enough?
Is she wet? Can I just leave her sitting in her poo diaper until her mom wakes up? (NO)
Is her car seat too tight? Is it facing the right way? Is it OK that I use it as her bed?
Why won't she stop crying? Did I break her? What if she's just a pompous, self-centered jerk?
How the heck can such tiny body manufacture so much poo?
So much fear. Crazy scared. Crazy with a capital CRAZY.
We got enough unsolicited advice and heard enough horror stories (mostly about poo and germs) to fuel Stephen King's next writing project. In those early days, all I could think was, "How am I not going to ruin her and end up in jail?"
And yet, as time passed, our fears started to fade. We didn't mess her up. She grew, mastered the art of spoken English, learned to poo in the proper place, and has now become a well-rounded, intelligent young woman. And, somehow, her younger sisters have survived our parenting, too. If it wasn't for help from friends/family and useful advice from sites like Mommyhood101, parenting may have been a lot tougher, not to say that it was easy. But no one says that people who become parents have to do this on their own.
And now I have a new fear: the teen years.
Yesterday, I confessed my fear as the dad of a just-turned-13-year-old. Puberty, boys, bras, feminine hygiene products, arguments. I'm so unprepared for this. So, today, I make a second confession:
I don't know what the heck I'm doing, and the only thing I can do is dad on the best I can.

Fear will force us to do one of two things: freeze up or face it. There are those moments of panic as a dad that freeze you for a split second:
Where are the diapers?
How did she find the sunscreen, and why is it spread all over the TV?
Where did she learn that word? (Me)
Who taught her how to sass me?
I have to go buy her what at the grocery store?
Why is this world so jacked up, and do I really have to let her go out into it?
Once we have that crap-our-pants moment, we can either wallow in it (gross) or we can look our fear in the eye and face it. Tackle it. Put it in a figure four leg lock and make it submit. It's in those scary moments that we learn so much about who we are as people and as parents. And our kids–those little people we're so afraid to corrupt–will see our hearts, and they'll love us for it.
So whether you're new to the dad game, are struggling with communicating with a person who speaks a mixture of Klingon and gibberish, or (like me) facing the teen years, or getting ready to walk your daughter down the aisle, remember to keep calm.
And dad on.
Aaron Saufley
Aaron Saufley, author of 'The Jumbo Shrimp Gospel' and 'Deep Roots', is a husband and dad who happens to moonlight as a hospice chaplain and preacher. He thinks Netflix is the greatest human invention next to pizza. He loves hanging out with his family, and when he has the time he also enjoys writing, a good cigar, craft root beer, smoking a mean rack of baby backs, movies, and trying not to die while running. Follow Aaron on twitter.
---
Comments
comments