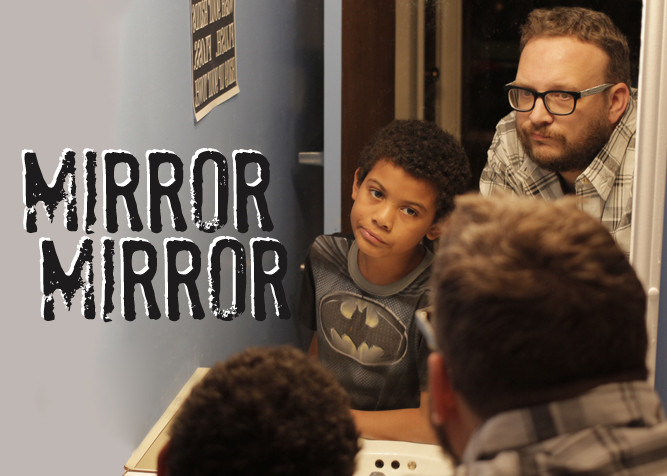 At what point do we look at our offspring and see ourselves? Not better versions of us, oh no. The dark creature. The flawed individual. The brokenness. At what point do we recognize the worst of our DNA has been passed down to this other human being? A mirror of our former selves at that age. And here's a real head scratcher…
What if they don't have your DNA at all?
When I was young and performing minor acts of rebellion, my father would say things like, "I hope you get one like you, but twice as bad." Now, let's ignore the fact that wishing a WORSE experience on your own child is the polar opposite of what you should be portraying as a parent. Instead let's delve into the truth that your children ARE made up of little bits of you and the person you talked into 'doing the deed' with. These little doppelgangers burst from the womb with not only physical traits common to their parents, but emotional ones as well. Knowing this can be half the battle in parenting, because you can cut them off at the pass. This does, of course, rely on you being somewhat self aware–a trait that is less less common within our vanity culture.
A perk of jumping on stage after stage every night to tell jokes is, eventually, you run out of made up things to say and must talk about yourself. At some point, a comedian either tells the same jokes forever or becomes self aware. Find a self-deprecating comic, and you'll meet a fellow that has been looking inwardly (even at a detriment to himself) for quite sometime.
"Hi, my name is Christian, and I'm that guy."
I tend to be upfront about my flaws to the point it bothers other people. Outright honesty, it seems, is gauche. People like their lies and facades. This is the way the world works. And that is not to say I don't have them. I have vanities aplenty – but I'll probably cop to them as soon as they've left my mouth. This, however, wasn't always the case. When I was a child, I lied. Oh boy… did I lie.
I told doozies, whoppers, and tall tales. Mostly to escape punishment or trouble, but lies nonetheless. When we adopted our children, I told them that the worse punishment they would receive in our house, or as we call it "Big Trouble," would only come if they hurt someone or lied. I knew the trouble lying wrought and I was determined to have a life of truth with my kids, no matter what the issue.
It's then I realized my father's wish–nay CURSE–had come true. My son was a liar. He lied about anything he thought would get him in trouble. The smallest of infractions. Often things that would just get an eye roll from his parental unit. And worse: he wasn't even good at it.
Over the past 2 years I have stressed the importance of telling the truth in our house to no avail. Punishments have been doled out and the behavior doesn't change. New punishments invented, more discussion. There's a lot of nodding and "yes sir"s, for a few days; yet it reappears. Like Hydra, you cut off one head, two grow in its place. I was overwhelmed. At one point I'm positive I went too far in punishing my son. Then I laid awake for hours, feeling I was a failure, fearing I'd left mental scars on him that would not–could not–be healed. Then I would punish myself.
Adoption & LYING
Every book you read on the subject contains a similar passage to this: "Telling lies is often linked to early loss, especially of caregivers, and leaves children with difficulties distinguishing between fact and fantasy."

The fact they leave out, however, is that so does EVERY kid. It's impossible to determine if this lie is rooted in adoption, or because he's in trouble, or because he's eight, or because the moon is in its waning gibbous phase, or……
I can't pinpoint why he lies, but I have to address the behavior.
I finally said to my son, you're not just disappointing me, but the one who made you. I almost felt bad for using the dreaded G.O.D. card on him. The YOU DISAPPOINTED THE CREATOR OF ALL THE UNIVERSE card. The big whammy.
There are many verses in the Bible on lying. It's hard to explain to a young one that lying is just as dangerous as murder. But, in a home… in a family, it is. It hurts all those around you. It causes distrust and second guessing every time a falsehood is told. At it's root, a lie murders trust. And trust is a bond, that once broken, is the hardest thing on this earth to repair.
I still don't know if we've solved the problem. I'd be kidding myself to think I finally found the magic bullet. With that bit of self awareness comes the realization that you yourself are broken. And you will fail. And that to think otherwise would be lying to yourself.
I've realized a lot of my writing about parenting does not come with answers. No cute little bow at the end. Maybe that's where I need YOUR help. What advice do you have for myself and others in my place? What answers have you found?
Christian Lee
After he and his wife adopted 2 children, and his burgeoning stand-up career sidelined, Christian re-routed his comedic efforts into a web comic at ForeverFamilyComic.com. Having just missed Aaron in college by a few years, they connected online, finding they had a similar sense of humor [read: DARK]. Christian now has 3 children and 1 wife, and he will tell anyone he meets that's plenty of each.
Comments
comments