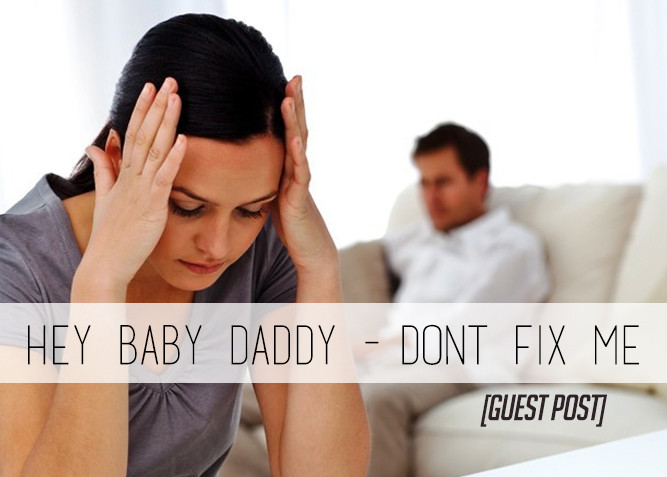 Today's guest blogger is Aaron's wife (and Plaid Mom), Laura. She blogs at simplyhealthymama.com.
Several years ago, Coldplay had a popular song called, "Fix You."  Front man Chris Martin penned this song for his then wife Gwenyth Paltrow after the death of her father.  Chris sings, "Lights will guide you home…and I will fix you."  I'll admit that it's a great song but unfortunately Chris believed like many husbands—that when things are wrong, their wives need to be fixed.
Here's the thing fellas—we women don't need you to fix us.  We aren't broken appliances.  We have our own brains and we are usually able to solve our own problems.  When we are having a bad day and we vent to you, we aren't necessarily asking for your advice.  Sometimes, we just need to talk to someone.
Now I know that women can be difficult to understand.  Trust me—I have a difficult time understanding other women at times.  But there are a few things I recommend that will help you when your lady is having a bad day.
 Listen.
Put down your phone.  Turn off the game.  Look at us (preferably keeping your eyes above our necks) when we are talking.  Don't think about what you are going to say next.  Don't start planning in your head how you are going to solve our problem for us.  Don't fantasize about punching the person who has caused us pain.  Just.  Listen.
 Don't give us advice unless we ask for it.
You'll know we are asking for it when we say, "What do you think I should do?"  Unless you hear those words, keep your advice to yourself.  By just talking it out we usually can solve the problem on our own.
 When we are sad, let us be sad.
We women need to cry.  We are emotional creatures and although it may sound strange to you, crying makes us feel better.  Feel free to offer us a hug but don't take it personally if we just want to be alone.
 Don't trivialize our problems.
I know it may be hard for you to understand why we are so upset when someone defriends us on Facebook or when we get incredibly sad at the loss of someone's child—even if that someone is "just an internet friend."  Like I said, we're emotional creatures.  We take things personally.  We are more likely to hold grudges.  We easily sympathize with others.  We tend to carry the weight of the world on our shoulders.  And if you have children, I can almost guarantee you that this weight will be ten times heavier.
 Understand that there may be a deeper reason for our pain/anger/sadness.
I loved the show Parenthood.  Recently I was giving Aaron a recap of the last two episodes of the series and I became overwhelmed with emotion.  It wasn't over the characters or the fact that the show had ended—it was because I was envisioning myself in those characters shoes.  I see my husband and I growing older, our children having children, and one day one of us leaving the other behind as we go on to our heavenly reward.  On the surface, it may have seemed to be about the tv show but in reality, it was about so much more.
Aaron and I have been married for almost 17 years and we still have those moments when I am a complete enigma to him.  But he's getting better at understanding me every day.  Once he realized that I didn't need to be "fixed" it became much easier for him to just be there for me.  If he, the self described knuckle dragging caveman, can understand the inner workings of the female mind, then trust me–anyone can!
Laura Saufley
I met my sweet hubby in 1995 when we were students at Mid-Atlantic Chrisitian University. And now here we are: three apartments, three houses, two states, multiple jobs, two dogs, and three kids later! Read more from Laura at SimplyHealthyMama.com.
---
Comments
comments