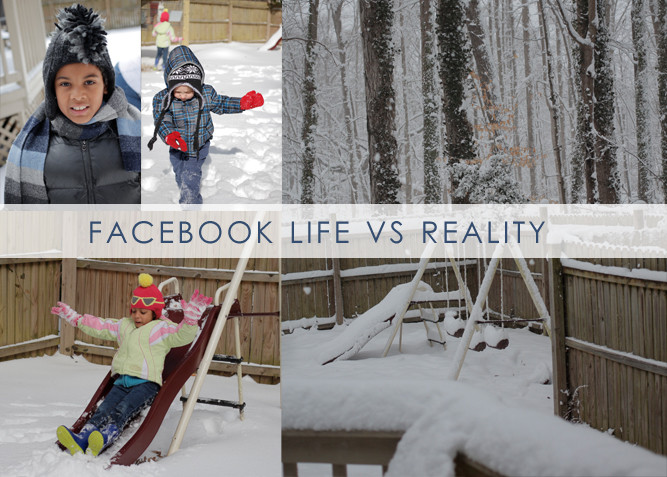 The beautiful snow has blanketed the ground, turning your world into a monochromatic, Ansel Adams picture come-to-life.
You bundle up the tykes with memories of sledding in your youth, armies of snowmen to wage war with, and assaults on your friends' snow forts. You can't wait to share that moment with your children. You are the cool parent today. It's time to play in the snow. You step outside and your little ones stare in wonderment at the winter wonderland in front of them.
Yeah….. that lasts for about five minutes.
"Dad! My hands our freezing!"
"He got snow in my boots!"
"My pants are wet from making snow angels!"
"It's cold! Can't we get some hot chocolate?"
"Waaaahhhhh", the toddler crie, frightened at this white quicksand you've placed him in.
"The dog keeps jumping on me and pushing me in the snow."
"Can we go inside? It's freezing and I'm soaked."
It's been ten minutes. This is the hell that is your life–dreams crashing into reality.
So you scream at the top of your lungs, "JUST SHUT UP AND SMILE WHILE I TAKE A FEW PICTURES!!!!!"

You snaps some pics, then rush the little demons inside as they strip and leave a strewn path of nakedness and puddles throughout your house. You quickly make some hot chocolate so they'll be occupied as you upload your pictures to Facebook. Desperately staring at them. Burning these images into your memory over the real ones. Forcing your brain to believe the constructed reality you share with all of you 'friends.'
Yes. It happened this way. Believe. Believe.
"DAD!!!!!"
"The hot chocolate is too hot! I burned my mouth. Can I go get some snow to make it feel better?!?"
Christian Lee
Christian has had many roles in life. He's been a minister's son, a poor student, a computer geek, a bible college drop out, a corporate suit, a traveling comedian, and a failure at much he's tried. But he counts 2 huge successes in his life. He is husband to a wonderful wife, and father of 2 exceptional kids he wanted… and a third, 'surprise baby', who's likability has has yet to be determined. He draws a web comic about their life at ForeverFamilyComic.com. Having just missed Aaron in college by a few years, they connected online, finding they had a similar sense of humor [read: DARK] and decided to launch PlaidDadBlog.
---
Comments
comments