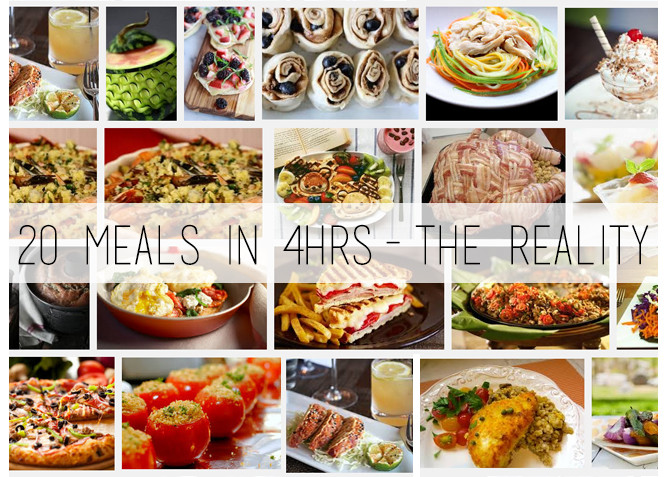 So, this week we covered how I'm not a Prepper. Honest.
We've also had some fun at the preppers expense. At least the image of preppers that's portrayed in the media. Since I don't know any hard core Preppers, that's the only image I know.
But what about those mini Preppers? You know, the ones that can their summer vegetables for the winter. The extreme couponers with a year's worth of dish detergent.. The month-long meal makers. Well, my granddad canned and so does my mother-in-law. I know a few couponers. These all seem like common sense to me – not necessarily 'prepping'. But the 1 month of meal folks? That sounded a bit daunting, but I was also intrigued. So what do I do when I'm confused, yet interested? I dive in. The following contains tips and results.
Where I got the recipes: stockpilingmoms.com
I usually like to follow recipes from Alton Brown, or the folks over at 'America's Test Kitchen'. They're well thought out, rigorously tested, and solid. These are are not. There's gaps in the information of some recipes. Some are missing cooking instructions, some have the measurements mixed up. These have not been fact checked by a kitchen full of Culinary Institute interns just begging to get hired on by a nationwide cooking show. And that's fine, but use at your own risk. I've always been the cook in my house, so I noticed some of the foul ups in the instructions and adjusted accordingly. A less experienced cook like my wife, might have missed a couple of the mistakes. That said, I still screwed up one meal royally. Mainly because it is most definitely NOT a freezer meal. Again, use your best judgment and skip the trouble recipes. If you feel like you don't have the time to prep your meals but are constantly annoyed by food wastage or never having what you want in your home, then meal delivery kits might be a suitable choice for you. There are numerous kits you can choose from, like dinnerly vs everyplate or any other kit you may have seen. With a kit, you have various ingredients delivered right to your door, helping you create some delicious dishes, some of which you can freeze the leftovers and save for another time. You can also keep the recipe card and continue to make that recipe whenever you like. You may even learn a few prepping tips along the way!
TIP #1: DO NOT use Ziploc gallon bags to make these meals.
Buy yourself some freezable containers or food saver bags that have the air sucked out of them (the later of which we're trying next time thanks to a gift from a friend). Gallon bags move. They break. They have air which means they get freezer burn. They also take on the shape of your freezer shelf. May I present exibit A, your honor?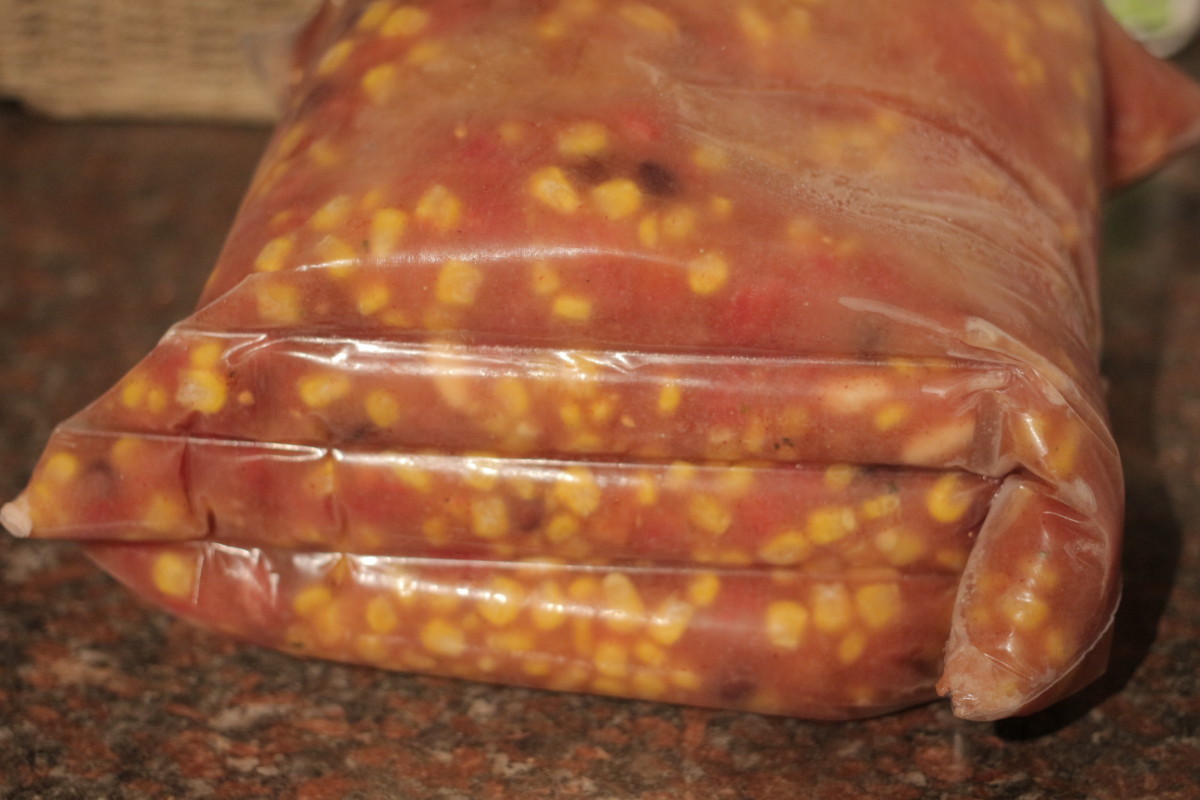 I busted my knuckles using a spatula to pry the bags apart and nearly broke my ice maker in the process. We do have a chest freezer in the garage, but that was mostly full from the 1/4 cow I buy each year. —Oh my gosh. I AM a Prepper, aren't I?— MOVING ON!
TIP #2:

DO

try something different
My wife does not like sweet potatoes. Mostly because she's not a true southern woman or maybe an alien I guess. Either way, she tried a recipe that was at least 1/2 sweet potatoes and I give her credit for that. It even received the rave review of "It's OK". Wow. That's a show stopper. When you're looking for freezer meals there's going to be a lot of Baked Spaghetti and Crock Pot Roasts (man that's an awesome 'Wheel of Fortune' Before & After). You can't eat that everyday, so step out of your comfort zone and try that curry vegetable monstrosity. Worse case scenario? PIZZA NIGHT!
TIP #3: Empty your kitchen counters completely
20 meals is hard to do in a medium sized kitchen. If you have a small one, you should probably consider just cooking a week's worth of meals in one day. Seriously, we had food and condiments everywhere. I finally had to kick the dog and the baby out of the room, because while I thought it was safe to place bags of onions and potatoes on the floor, they saw it as a challenge of "Who can throw or eat the most of these before getting a swift hand to the backside?" This is a lot more labor and space intensive than you think. Plan accordingly.

REAL RESULTS
If you follow the link above, there are 2 pasta dishes. One is useless as it's a mirror version of the other, minus the cottage cheese (and the cottage cheese version wins hands down). That's the problem with doing this stuff. Variety…well… lack of. I would recommend gathering recipes from different sites that have 'like' ingredients to save time and money. There are a lot of places where you find cottage cheese recipes that you could use to make delicious meals. I guess that's also, TIP #4.
Most of the meals were 'OK', some were good. The French Dip sandwich was exactly this: One pot roast + 2 cans of beef consomme. That's it. That's not a meal. It also is not good dip until you pop it on the stove and reduce it to at least half (Tip #5?). It does however, with that change, have good flavor.
The best thing I can say about the experience is that it kept us from eating out as much. We knew there was a dinner waiting either in the crock pot or ready to be popped in the oven.
It also gave my wife and I the opportunity to cook/prep together in the kitchen, and minus some potato peeling, we did it sans children. This was nice. We shared some good moments in that 4 hours, including the "GRAB A NEW BAG! IT RIPPED! IT RIPPED! WHERE'S THE CLOROX WIPES!?!?!?!"
Ok.
TIP #6: BUY THESE and have them ready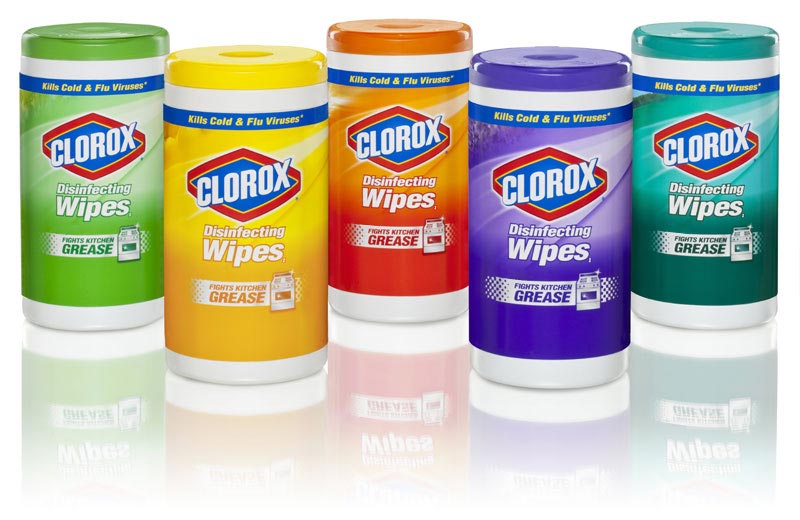 Then play some music, grab your wife, and dance a little on that filthy tile floor. With 3 kids, I don't get that many opportunities to spend quiet time with the one I promised to spend my forever with. Sure, I can prep meals for 20 days, but sometimes you gotta let the tomato sauce drip and prepare for that next 20 years. With a little love, some laughs… and a full belly of course.
Christian Lee
Christian has had many roles in life. He's been a minister's son, a poor student, a computer geek, a bible college drop out, a corporate suit, a traveling comedian, and a failure at much he's tried. But he counts 2 huge successes in his life. He is husband to a wonderful wife, and father of 2 exceptional kids… and a third that has yet to be determined. He draws a web comic about their life at ForeverFamilyComic.com. Having just missed Aaron in college by a few years, they connected online, finding they had a similar sense of humor [read: DARK] and decided to launch PlaidDadBlog.
---
Comments
comments