Our New Look: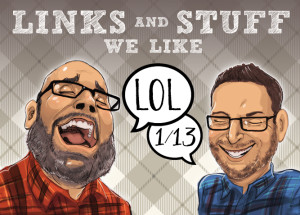 Our new 'Links and Stuff We Like' Banner image was designed by Ash Jackson. Aaron and I really could not be happier with how it came out. Not only can you check out more of Ash's work, you yourself can get some caricature art of your own by going over to Fiverr and contracting Ash for a job.
I've used Fiverr many times over the years [you can actually buy advertising on PlaidDadBlog HERE] and Ash is by far the quickest and most competent artist I've worked with. Give him a try… you won;t be disappointed!
There's A McDonald's-Themed Black Sabbath Cover Band Called Mac Sabbath
This Is What Happens When You Let People Buy All The Frozen Yogurt That Fits In A Cup For Five Bucks:
TIME TO GET SWEATY & HOT… WITH ALAN THICKE AND CRYSTAL LIGHT??
AN INTERNET CLASSIC: The EPIC OVER-THE-TOP CHURCH DRUM SOLO
Comments
comments