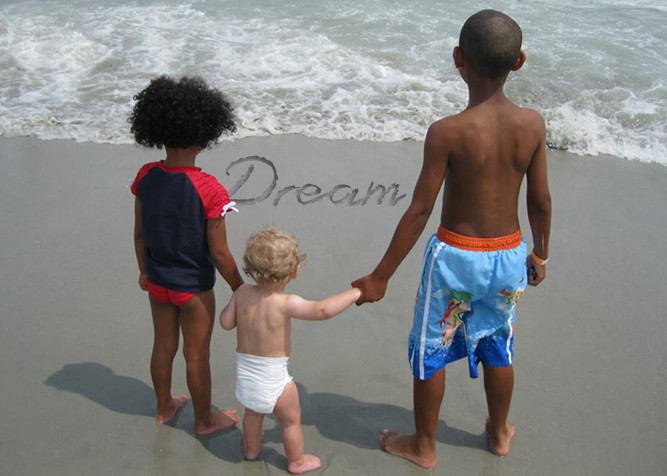 When Martin Luther King made his famous "I Have a Dream" speech, many thought it would never come to fruition. Worse, some WANTED it to stay a dream, to have it snuffed out like its speaker was five years later.
But it's hard to contain the spark of ideas. They grow as long as there's air to breathe. And much like a wild fire, they jump from one spot to another. As soon as you put out one outbreak, it multiplies and you soon have a forest fire on your hands. Yes, Martin Luther King Jr.'s dream was definitely a fire. One that burned in the heart of Americans seeking justice and then burned down the establishment that fought against it.
My pastor said this morning that MLK had studied Christ and discovered that passive attacks were more powerful than aggressive attacks, when attempting to right the wrongs of this world. This rang true to me. Just look at the current state of the world. Religious fanatics are using fear and murder to attack our way of life. In doing so, they are causing former enemies to unite in support against them.
Juxtapose that to Dr. King, who attacked our way of thinking with love and grace. People recognized the darkness in their hearts and country then made a change. A change for good. A change for equality. For right.
I'm proud that my family is a shining example of Dr. King's dream and legacy. When I leave the house with my children, there's an obvious difference when you see us and some other families…. we're in love. Yes, of course the pigment of our skin are shades apart, but we love each other truly. We embrace each other fully, noting our differences as opportunities to strengthen each other, not tear each other down. My children may be one of the last generations to care about Black vs White. Sure, there will still be hate in the world. Truthfully, it may just take on a new form [I secretly want aliens to visit our world, only to unite our planet for the first time as the human race – but we'd probably screw that up too].
We were ready for King in the 60's. He was murdered not only for his ideas, but because it was working. People across the land were hearing the message and it lit a spark inside them. The murder of Dr. King did nothing to contain it. If anything, it was like throwing water on a grease fire. It flashed higher. Spread quicker. It exploded and engulfed the hate surrounding it.
We are better because of this great man. we owe it to our children to share his words.
"I have a dream that one day little black boys and girls will be holding hands with little white boys and girls."
Indeed, his dream has begun to come true. Let's help bring it home, not with ugliness and malice, but the love and grace that he, and the Lord showed us by example.
Christian Lee
Christian has had many roles in life. He's been a minister's son, a poor student, a computer geek, a bible college drop out, a corporate suit, a traveling comedian, and a failure at much he's tried. But he counts 2 huge successes in his life. He is husband to a wonderful wife, and father of 2 exceptional kids… and a third that has yet to be determined. He draws a web comic about their life at ForeverFamilyComic.com. Having just missed Aaron in college by a few years, they connected online, finding they had a similar sense of humor [read: DARK] and decided to launch PlaidDadBlog.
Comments
comments