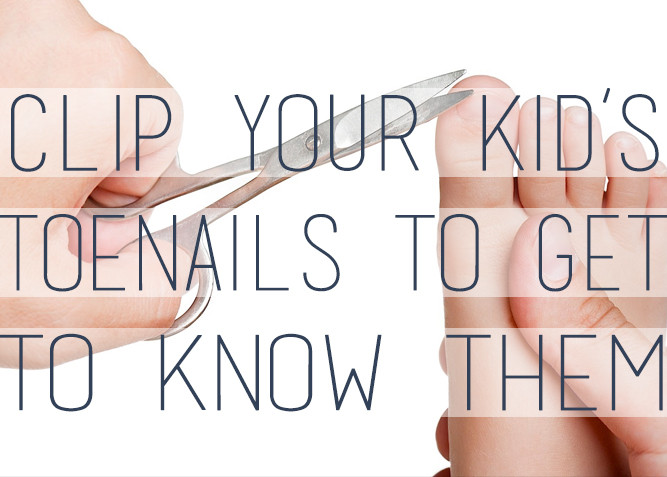 There's nothing quite like that moment when you clip your kid's filth-caked toenail and it shoots in the air, defying gravity and randomness only to land in your mouth. You, my friend, are now a dad. You're no longer the seed bearer, the father, or the one who made mommy's feet swell for 9 months. No, you are officially a dad.
I get the honor of this job in my household because from the beginning, my wife informed me she deals with enough of the gross aspects of parenting. To her credit, she's right. So I took on the task with dread and hesitation. It's an important task to take on since I'm constantly checking if they have any infections or ingrown toenails. My friend told me to check out Footlogix if I did find an infection but thankfully I haven't found one yet! I discovered something wonderful. This is a great way to get to know your kids. "What," you may ask, "could you possibly learn from snipping dead body parts from your children?" A lot:
FIND OUT WHERE THEY'VE BEEN
My kid's fingernails are filthy, my daughter's moreso than my son's. If there's a pile of dirt or mulch, she's going to be queen of it. Stand back. Watch yo-self befo she wrecks you. You're going down.
This is a great opportunity to ask, "Why are these so dirty? What did you DO?!?!" The sly smile, "Well Papa, you see there was this kid who said I couldn't climb as fast as him. Then…."
You see, you get to know about some of the moments in their day. Find out they conquered some feat of strength. Maybe they failed – who knows? You didn't know to ask before, but now you see the evidence of their hard work. Maybe they broke a nail in the effort. Get all the gory details.
BONUS TEACHING MOMENTS
"OUCH!" they scream. "Well, pay attention to me and not the television."

"OUCH!" they scream. "Well, pay attention to me and not the television." This is when you can take a little moment of pain and use it as a parable on concentration. Maybe you've noticed the tell-tale signs of nail biting. This is a great opportunity to talk about personal hygiene and germs (maybe it helps you stop being a hypocrite and biting your own nails as you write this article).
It's just one more opportunity to talk about their bodies. Cleanliness. Items of not you normally just lecture on as it travels in one ear and out the other, but now it has a concrete application.
YOU GET TO BE THEIR DOCTOR
You will inevitably find cuts and scrapes all over their hands and feet. If you don't, you might want to reassess how much time your young-lings sit in front of the boob tube (once so-named for what it turns you into, now aptly named for what it shows you). Every active kid should have some scrapes and war wounds. Even an artist gets paper cuts and a smashed digit now and then.
You get to apply Neosporin to the tough spots, or that magical ointment you carry in your dad arsenal: kisses. This is a great time to be a healer, a caregiver, a fixer of all things 'ouch'. When they get older, they'll realize you hold no medical degree. They can buy their own salves and ointments. And your kisses? A placebo effect at best. Take this opportunity to squeeze in as much extra love and 'mothering' as you can.
IT GIVES YOUR SPO– USE A MUCH NEEDED BREAK
Mom can't be all things to their child, nor should she. Take some of the child labor (pun intended) off her plate. This is five minutes she can sit on the bed and take a breath. Better yet, line up all your kids in a row and give mom enough free time for a quick bath or even a moment to give herself a mini home manicure. Even if she just sits and plays 'Hayday' on her phone, she's getting a break from the constant to-do list that has become her life.
HOLD THEIR HANDS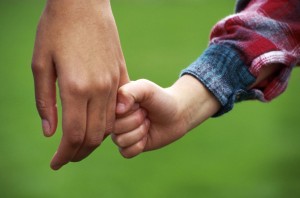 Your little girl may hold your hand for a couple extra years, but it will soon become awkward for your son. Steal this moment from father time. Feel their hand in yours. See how it's grown. Is it getting closer to yours in size? Look with amazement at what God has done. This precious little one that used to fit in the palm of your hand, now has hands big enough to throw a ball, write literature, create great art, change the world.
These are the hands that may shape the future of our world. Hold them as long as you can. Keep them clean. Teach them to take care of these tools that can cause as much harm as they cause joy. Hide little lessons in these moments, because in a blink of the eye, they will be holding a tiny hand that they helped make. What will your son or daughter be teaching them?
Christian Lee
Christian has had many roles in life. He's been a minister's son, a poor student, a computer geek, a bible college drop out, a corporate suit, a traveling comedian, and a failure at much he's tried. But he counts 2 huge successes in his life. He is husband to a wonderful wife, and father of 2 exceptional kids… and a third that has yet to be determined. He draws a web comic about their life at ForeverFamilyComic.com. Having just missed Aaron in college by a few years, they connected online, finding they had a similar sense of humor [read: DARK] and decided to launch PlaidDadBlog.
---
Comments
comments