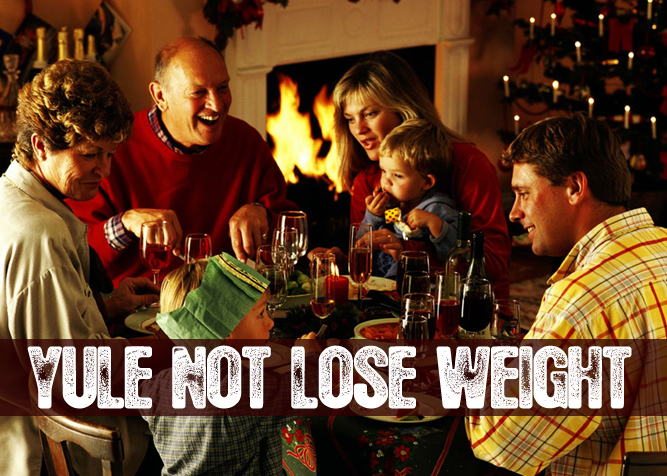 Week 9: Where We're At
Christian: I haven't been to the gym in more than a week. Trying to heal up and move forward. I have, however, mostly kept myself from pigging out left and right. That said, it's now the season of pies and ice cream. I don't see a win in the coming weeks.
Aaron:  I got a run or two in last week.  I made it to the gym twice.  Having said that, I forgot to weigh in this morning, and I'm having a breakfast fit for an elf.  A really fat, greasy elf.  Hot chocolate and a Hershey bar.
So here is our progress through week 9, in all its glory:
Week 9

| Christian | Aaron |
| --- | --- |
| Original Weight: 260 | Original Weight: 268.8 |
| Current Weight: 255 | Current Weight: Don't know.  Honestly, today, I don't care. |
| Total Loss: 5 | Total Loss: +3.4 (as of last week) |
| Win of the week: No buffets and I've kept my eating out to a minimum. | Win of the week: Had a good run on Sunday.  Made it to the gym several times last week.  Got a clean bill of health from my doctor. |
| Fail of the week: That extra McRib for $1 deal. Oh, and I haven't been to the gym yet this month. | Fail of the week: Crack bread.  Oh my word, that is a recipe that will never make it on these posts. |
| Mood/Thoughts: I'm just tired of this re-occurring health issue. It's bothered me for years and it keeps me from doing cardio. It sucks, and then I feel like I do too. | Mood/Thoughts: I know what I need to do.  I know how I need to do it.  I just have zero motivation.  I really don't care this week.  That's scary. |
Skinny

Holiday

Meal of the Week: 
Baked Mini Spinach and Sausage Arancini
Ingredients:
1 Italian chicken (or turkey) sausage link, removed from casing
cooking spray
1/4 cup all purpose flour
1 large egg and 1 large egg white, lightly beaten
1/2 cup seasoned bread crumbs
1 cup cooked brown rice, hot
1/3 cup shredded mozzarella
1/4 cup chopped spinach
1 large egg white
3 tbsp Pecorino Romano
2 tbsp quick marinara sauce, plus more for serving
PreparationDirections:
Preheat the oven to 400° F. Spray a rimmed baking sheet with cooking spray.
Place the flour, beaten egg and egg white, and bread crumbs in separate bowls.
Cook the sausage in a small saute pan, breaking it up as it cooks until cooked through. Set aside to cool then place in a small chopper to mince.
In a medium bowl, combine the rice, sausage, mozzarella, spinach, egg white, pecorino romano cheese, and 2 tbsp marinara sauce mixing well. Roll about 1 heaping tablespoon of the rice mixture into a round ball.
Roll the ball in the flour, then the egg, and then the bread crumbs, shaking off any excess at each step.  Place the breaded rice ball on the prepared baking sheet.  Repeat with the remaining rice mixture until it has all been used up.
Bake the balls for 8 minutes, turn over, and bake for another 8 minutes, until they are a crisp golden brown.  Let the rice balls cool before serving, and serve with hot marinara sauce for dipping.
Note: This recipe originally ran on skinnytaste.com
Comments
comments