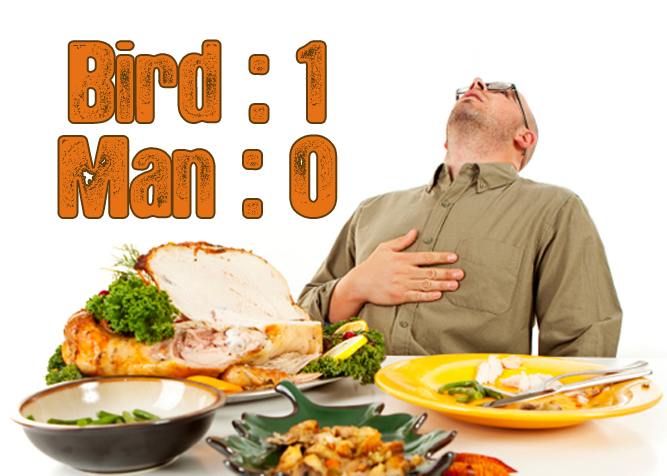 Week 8: Where We're At
Christian: Well, I made it through Thanksgiving without eating every thing in sight. This may be the first year I didn't consume an entire Swiss colony Beef Log and a wheel-o-cheese. There's always Christmas.
Aaron:  Three Thanksgiving meals in twenty-four hours, plus a smoked rack of ribs and tenderloin for my kid's birthday on Saturday.  Did I eat as much as usual?  Maybe.  I don't know.  And when it's covered in gravy and/or my homemade barbeque sauce, I really don't care.
So here is our progress through week 8, in all its glory:
Week 8

| Christian | Aaron |
| --- | --- |
| Original Weight: 260 | Original Weight: 268.8 |
| Current Weight: 255 | Current Weight: 272.2 |
| Total Loss: 5 | Total Loss: +3.4 |
| Win of the week: I didn't consume a whole turkey on my own.That's not something normal people brag about. | Win of the week: Ribs–covered in homemade rub and smothered in homemade sauce.  Only had two out of the entire rack. |
| Fail of the week: It's Thanksgiving and I have 4 days of catching up to do. | Fail of the week: One cannot do Thanksgiving correctly while simultaneously doing Fatoberfest correctly.  I proved that point. |
| Mood/Thoughts: I've lost less than a pound a week since we started. This is really a failure across the board. I have a legit/serious issue that keeps me from doing cardio right now, but I still feel like a l0ser. | Mood/Thoughts: Christian needs to stop whining. You're dropping it the right way… and I seem to be picking it up.  I've got a race in March that I started training for yesterday, so I'm doing my best to amp things up.  This crap is hard.  I'd rather just sit on the couch and eat something. |
Skinny Meal of the Week: 
Fish Tostadas with Chili Lime Cream
Ingredients
1 pound fresh tilapia or cod fillets
1/2 teaspoon chili powder
1 lime, halved
1/2 cup sour cream
1/2 teaspoon garlic powder
8 6 inches tostada shells
2 cups shredded cabbage mix
1 avocado, halved, seeded, peeled, and sliced (optional)
1 cup cherry tomatoes, quartered (optional)
Bottled hot pepper sauce (optional)
Preparation
Preheat broiler. Sprinkle fish with 1/4 teaspoon of the chili powder and 1/4 teaspoon salt. For chili-lime cream, in bowl squeeze 2 teaspoons juice from half the lime. Stir in sour cream, garlic powder, and remaining chili powder; set aside. Cut remaining lime half in wedges for serving.
Place fish on unheated greased broiler rack; tuck under thin edges. Place shells on baking sheet on lowest rack. Broil fish 4 inches from heat 4 to 6 minutes per 1/2-inch thickness, until fish flakes with fork. Break in chunks. Serve tostadas with cabbage, chili-lime cream, avocado, tomatoes, lime, and pepper sauce. Serves 4.
Nutritional Facts
(Fish Tostadas with Chili Lime Cream)
Per serving:
278 kcal cal.,
14 g fat
(5 g sat. fat,
1 g polyunsaturated fat,
2 g monounsatured fat),
67 mg chol.,
303 mg sodium,
17 g carb.,
2 g fiber,
2 g sugar,
25 g pro.
Percent Daily Values are based on a 2,000 calorie diet
Note: This recipe originally ran on bhg.com
Comments
comments