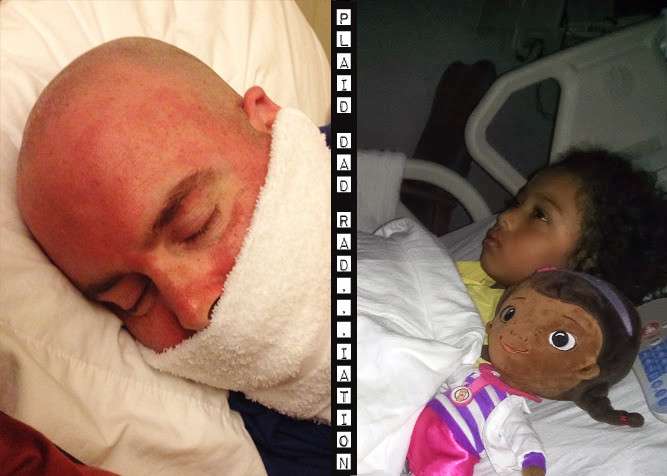 So, my partner in crime, Aaron Saufley, recently endured a painful skin cancer prevention treatment. Physically painful and emotionally painful, as he had to shave off a glorious beard. R.I.P Beard of Fall 2014.
This hit home for me on two fronts. One:
I've been truly blessed to have Aaron in my life this past year. I've tried to partner with other people in the past, but it's fallen apart, either due to our differences in sensibilities, or the other party's lack of commitment to the project or idea. Aaron has been the polar opposite of my past experiences on both of these issues. While his memory is as foggy as the hospice patients he ministers to, I don't have to push him to produce or put his heart into PlaidDadBlog. A gentle reminder? Yes. Prodding with a hot poker? Nope. He's in like Flynn. I never have to worry about offending him with my often dark sense of humor and I know he will give it to me straight when I'm searching for an answer.
So when it comes to him being ill or facing physical trouble, I care. Not only because I've found a great partner, but a true friend.
On the second front:
I worry because Aaron's experiences may be a glimpse into my daughter's future.
Seventeen years ago, Aaron received a life saving kidney from his father. Truly a Plaid Dad, Aaron's pop gave him the gift of life TWICE. This is worth noting and celebrating. It is his anti-rejection meds, however, that make him extra susceptible to skin cancer. Thus is the trade-off in the world of kidney failure and salvation.
As many of you know, my daughter was only born with one kidney, and through the negligence of her birth mother, the one she has only operates at 65% on a good day. Eventually, she will need a transplant of her own.
Aaron has often told me the drug cocktail he currents ingests is far behind the current mixology given to younger patients. He chose to stay on his current regimen because it's worked so well for him. That said, side effects come with any drug, especially one trying to convince your body every second of every day that you really need that foreign entity sewn inside you, and to reject it means a world of hurt, if not death.
If my 6 year old daughter was to get a new kidney today, she could possibly need two to three more in her lifetime.

Each time my daughter complains her shoes are too tight, we wonder if she's hitting a growth spurt. We've been told by the nephrologist that steady growth is the best prayer to make, as a sudden jump in size could tax the kidney beyond it's current capabilities (inefficient as they are). My wife and I were un-aware that kidney implants don't last a lifetime. If my 6 year old daughter was to get a new kidney today, she could possibly need two to three more in her lifetime. This was mind blowing to us. After all, didn't those feel-good Sunday night Disney TV movies of the 80's always end once the sick child finally made it to the top of the transplant list – winning that prized red giblet? They never stuck with the lucky recipient for the next fifteen years of daily meds and chemical & laser skin peels to fight off the death rays from Earth's yellow sun.
It's tragically funny that in order to fight cancer we use radiation, but if you receive natural radiation, you're sure to get cancer. If that doesn't make your head hurt….
So, I guess this penning began as a kind-of Bro based love letter to a friend, and then turned into a cautionary tale of woe and worry for my daughter. But that's OK. When I get down about the future's dark possibilities, I know I can ring up my friend and compatriot, who'll say, "Take it easy. Take a breath. It'll all be OK."
So say a prayer for the health of my buddy Aaron. Pray his kidney can keep up with his body's needs. And pray he can still have the energy after being a great dad and minister, to sum up the strength required to help prop up your's truly as I enter a world he knows all too well. One of struggle, but ultimate glory. Surrounded by a loving family and blessed beyond his needs.
Christian Lee
Christian has had many roles in life. He's been a minister's son, a poor student, a computer geek, a bible college drop out, a corporate suit, a traveling comedian, and a failure at much he's tried. But he counts 2 huge successes in his life. He is husband to a wonderful wife, and father of 2 exceptional kids… and a third that has yet to be determined. He draws a web comic about their life at ForeverFamilyComic.com. Having just missed Aaron in college by a few years, they connected online, finding they had a similar sense of humor [read: DARK] and decided to launch PlaidDadBlog.
---
Comments
comments