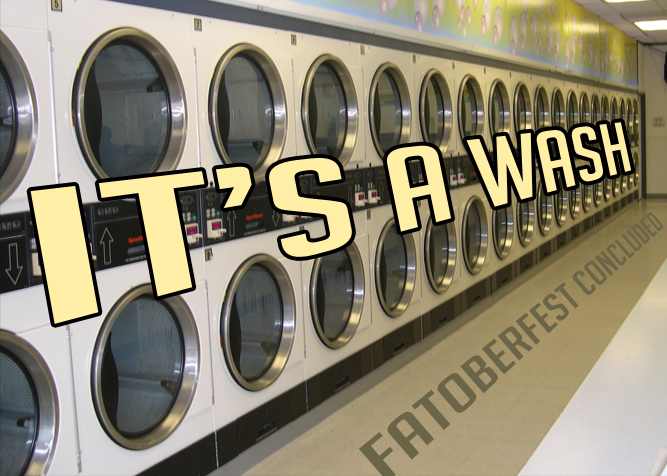 Christian:
So for me, Fatoberfest has been a wash. No big gains, no big losses. On it's face that's a failure. I have, however, figured out that I need to apply myself twice as hard this coming year.
I know you can go to the gym and have kids, but I WANT to spend my extra time with the family.

Look, it's easy to blame my kids for gaining back 50 lbs of the 100 lbs I lost, because… well… it's their fault. Don't get me wrong, there's a difference between blame and resentment. The fact is, a year before we adopted my kids, I spent two hours a day in the gym and cooked perfect meals every night without eating out. And that just isn't possible anymore. I know you can go to the gym and have kids, but I
WANT
to spend my extra time with the family. I want to take them to Dairy Queen. I want to sit and watch 80's movies, introducing them to
Goonies, Gremlins, 
and
Ghostbusters
. Obviously, I want to be with them more than I want to be thin.
But on the flip side, I know the longer I'm fat, the less time I can spend with them in the future. Statistically, I don't have as many years on this earth as a skinny counterpart. So there's the rub. Do I care more about NOW or THEN?
The truth is both. I need to find a happy medium of family time and gym time. I need to find the opportunities to have food fun (ice cream) while keeping food healthy (dining in). This is easier said than done. It's truly about time management and I plan on going into 2015 with a solid plan that is realistic and will be followed.
We'll keep you updated with our progress, although not as often. There are some big changes coming to my household that I'll be unveiling in the coming months – some of which effect this topic directly. As I look forward to the new year, I see new possibilities, new journeys, and hopefully more successes than failures.
Aaron:
Fatoberfest, for me, was worse than a wash.  It was like washing in the septic tank.  It was a complete and total failure.  Any weight Christian lost, I actually gained.  I didn't even get on the scale the last two weeks.  I can point to several reasons:  an injury in September while we were planning this that lingered into October, planning this for the busiest and tastiest time of the year, schedules interfering with gym time, and (most of all) I'm a lazy glutton.  I like to do nothing, and eat while doing it.
I stated at the beginning that this is mainly a spiritual issue for me.  It still is.  I realize how entrenched this sin is in my life, and how horrible of an example I'm being to my three girls.  I stated my plan was to run 12-15 miles a week. I ran eight miles during November.  It's no wonder I gained some weight.  That 10-12 miles I was running in the summer was keeping my weight down, and I chose laziness over fitness.  I chose to be a hypocrite.
Dang.
All is not lost.  I'm still here, breathing.  I still run–my first goal is to get back to running doube digits a week.  I did start going to the gym.  I'm only able to go, at best, twice a week for about an hour at a time (it's usually around 45 minutes).  Don't tell my wife, but I'm actually enjoying it–especially the part where I get to stare at myself in the mirror as I'm doing curls, thinking to myself, "Wow, you're sexy."  Actually, I'm just trying not to fart while doing ab work… on my ab.
Next year, I'm hoping to get everything to work together at once–12-15 miles running a week with two trips to the gym.  I also need to get serious about the spiritual aspect of it–repentance.  Like Christian, I look forward to the new possibilities of 2015.  Until then, I have Christmas dessert to try and avoid.
Aaron Saufley
Aaron Saufley is a husband and dad who happens to moonlight as a hospice chaplain and preacher. He thinks Netflix is the greatest human invention next to pizza. He loves hanging out with his family, and when he has the time he also enjoys writing, a good cigar, craft root beer, smoking a mean rack of baby backs, movies, and trying not to die while running. Follow Aaron on twitter.
---
Christian Lee
Christian has had many roles in life. He's been a minister's son, a poor student, a computer geek, a bible college drop out, a corporate suit, a traveling comedian, and a failure at much he's tried. But he counts 2 huge successes in his life. He is husband to a wonderful wife, and father of 2 exceptional kids… and a third that has yet to be determined. He draws a web comic about their life at ForeverFamilyComic.com. Having just missed Aaron in college by a few years, they connected online, finding they had a similar sense of humor [read: DARK] and decided to launch PlaidDadBlog.
---
Comments
comments